The 5 Best CRMs for Banking Success
What is a CRM as it relates to the banking industry?
Like in any industry, finding a CRM for a financial institution is not easy. CRM stands for customer relationship management. In a CRM you will store customer data and use marketing automation, and sales pipeline to engage with the right client at the right time.
Most CRM nowadays include workflow automation and customer satisfaction algorithms to improve your customer relationships.
CRM solutions are key to improving sales and marketing efforts. For financial institutions, data storage is a major issue. InvestGlass took the decision to offer both, on-cloud in Singapore, Luxembourg, the UK, France, and Switzerland, and also on-premise.
Of course, small companies will be satisfied with cloud-based solutions. Larger institutions may need on-site to store customer data in a perimeter they trust.
Banking CRM is a hot topic and sales team are seduced by modern and AI-based tools to ease customer acquisition and customer retention.
And the industry is only growing:
Why use a banking CRM system?
Many benefits – but #1 is reduced time to build with a little customization of the customer relationship management systems: Here is a list of what :
Converting more leads into clients
Marketing automation
Contact management
Customer experience tracking
Personalizing and improving customer experience and communication
Improving sales and marketing productivity by making all client information easy to access
Enabling internal data cohesion and collecting customer satisfaction data in a coherent sales CRM
There are quite a few to choose from, though, so let's take a look at the five leading CRMs for banking.
The 5 best Customer Relationship management platforms for the banking industry
#1. InvestGlass.com
Recently awarded by CAPGEMINI, InvestGlass.com is the CRM made for banking teams that choose to close deals faster and with more relevancy. InvestGlass is the only Swiss CRM with no dependencies to the Cloud Act.
We build the CRM around an open ecosystem that benefits from legacy pillars such as digital onboarding, KYC automation, marketing automation tool, portfolio management, and workflow automation.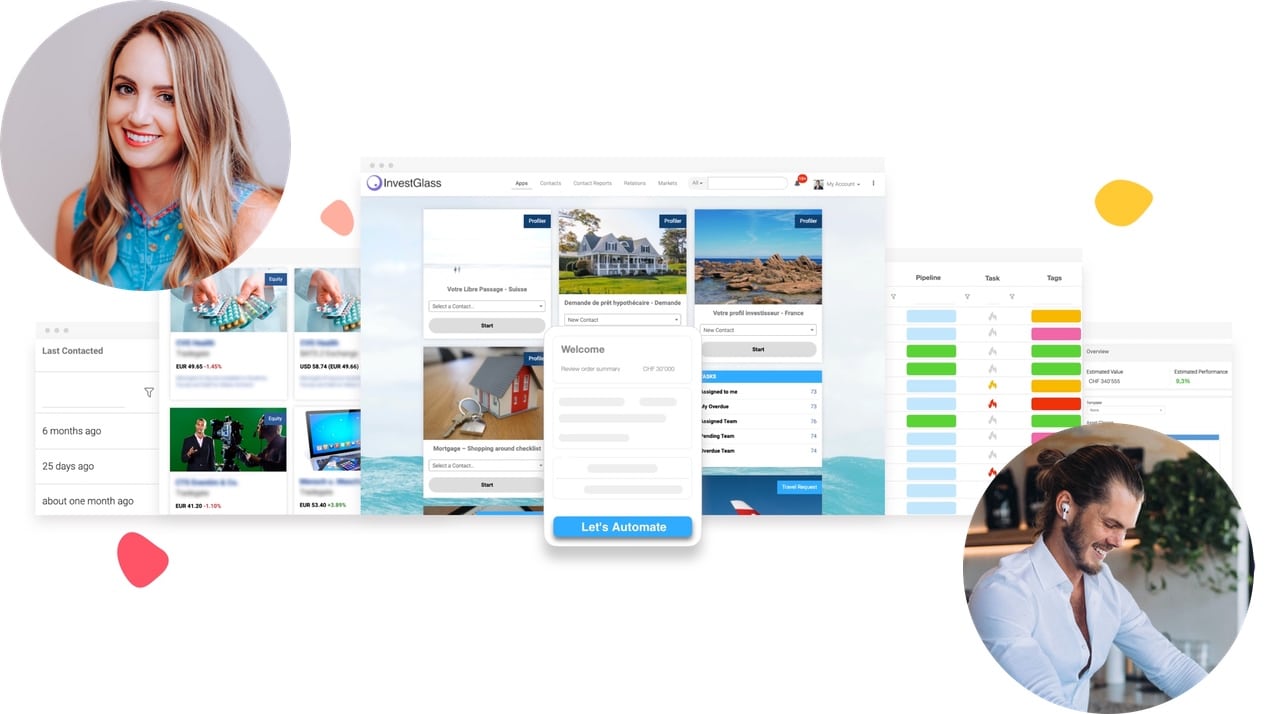 Customers' interactions are prioritised with a sense of suitability of the latest deals you wish to promote. Marketing tools are helping you to individualize each solicitation.
You will find here a list of CRM you can connect to with InvestGlass Swiss Cloud:
InvestGlass has prebuilt templates for sales automation in the financial industry environment. With digital forms embed into the CRM software, the data collection from lead capturing or complex account opening forms is made easy.
Prebuilt templates are specially tailored for a bank's customer relationships and marketing automation is refined with a Swiss touch to make sure that you communicate with your customers are the right time, with the right information, and in the right manner!
It's more than a simple CRM software, it's an ecosystem of +30 fintech partners which connect with the API a simple yet complex enough customer relationship management software.
#2. monday.com as a CRM software
A joyful and colourful CRM – Monday. com is a tool that will help teams with opportunity management. The CRM offers pre-built templates and it's a real integrated markets tool with many features.
Here a view of Monday.com
(Image Source)
Specific benefits for banks of this CRM system:
When using Monday.com you will instantly find customer information and a cloud-based CRM with all you need to automate sales.Monday.com is perfect too for small businesses looking for mobile apps and of course top industry project management tools.
#3: Salesforce Sales Cloud CRM software
If you want to build a novel or a full 3-D video game, salesforce with more than 20% market share would definitely be Madame de Bovary of Flaubert or WOW level 100…
Dissolution offers sales force automation which is definitely nice to have if you wish to shorten your life cycle management and your sales pipeline. The solution Sales Cloud is Salesforce's fully customizable CRM for sales, marketing, and support and it needs a lot of adjustments.
Find here a snapshot of the Sales Cloud dashboard:
Specific benefits for banks of this CRM system:
Sales force automation has interesting AI features for sales reps that will shorten their sales cycle and marketing efforts.
The Sales Cloud will analyze customer behaviour, manage leads and score leads, prioritize certain activities that present the best opportunities, and creates bespoke workflows for your reps to ensure a high standard of communication with your clients. It is a state-of-the-art banking CRM software which has complex templates for financial services and insurance.
In a nutshell, the Sales Cloud artificial intelligence tells your sales reps what to do and when to do it, and organizes customer interactions, based on what it thinks presents the best opportunity!
Sales Cloud CRM is very helpful to create reports and offers modern mobile capabilities.
#4: SugarCRM
Yes you might not think about SugarCRM but it's a truly complete experience and full CRM tools build all the CRM functionality you would require for banking. The machine helps to build marketing campaigns and automate processes.
Here's a snapshot of SugarCRM:
Specific benefits for banks of this CRM system:
This is clearly a cheap banking CRM, offering similar products to Salesforce Sales Cloud but with more aggressive pricing.
Despite being a relatively low-price option, SugarCRM is a powerful sales CRM that has helped many banking achieve strong growth and operational efficiency.
The CRM platform isn't just about customer retention. SugarCRM also offers a powerful marketing automation platform called Sugar Market.
#5: Creatio
You might know it as Bpm'online, Creatio CRM platform is a low code platform for both CRM and business process management (BPM).
Business process management (BPM) is an operations management discipline that involves modelling, analyzing, improving, optimizing, and automating business processes. The tool your COO would dream to improve operational efficiency.
Here is a Creatio dashboard example:
Specific benefits for banks of this CRM system:
If you want a CRM platform to match customers' needs and respect customer lifecycle then Creatio is a fantastic solution. Creatio offers too for opportunity management as well and will help you filter sales leads with a colourful approach. Creatio offers multiple tools but the automation process part is the key element of this CRM solution.
#6. Microsoft Dynamics 365
No need for an introduction to Microsoft! Do you know their CRM solution Microsoft Dynamics 365?
This is a very powerful CRM for financial institutions looking to embed email marketing, sales automation and social media platforms.
A picture of the Microsoft Dynamics 365 dashboard:
This platform is more than a simple banking CRM, it is a full ERP (enterprise resource planning) product with powerful analytics that will match most customer needs. The CRM capabilities with Microsoft Dynamics CRM are endless. Definitely in the top 5 of the CRM programs!
Specific benefits for banks of this CRM system:
Most CRM systems have a bias, Microsoft Dynamics CRM is a powerful tool including customer communications and direct connection to emails which is important as a marketing solution. Integrated marketing strategy is becoming key to COVID-19 issues and here you will find a top tool for customer profiles and direct email marketing.
We could also mention top CRM systems such as
Oracle CRM is perfect for large financial institutions collecting potential clients' data
Zoho CRM is perfect for small companies starting to collect customer information
Zendesk CRM perfect CRM software for contact management and marketing automation
In conclusion which customer relationship management CRM system should you use?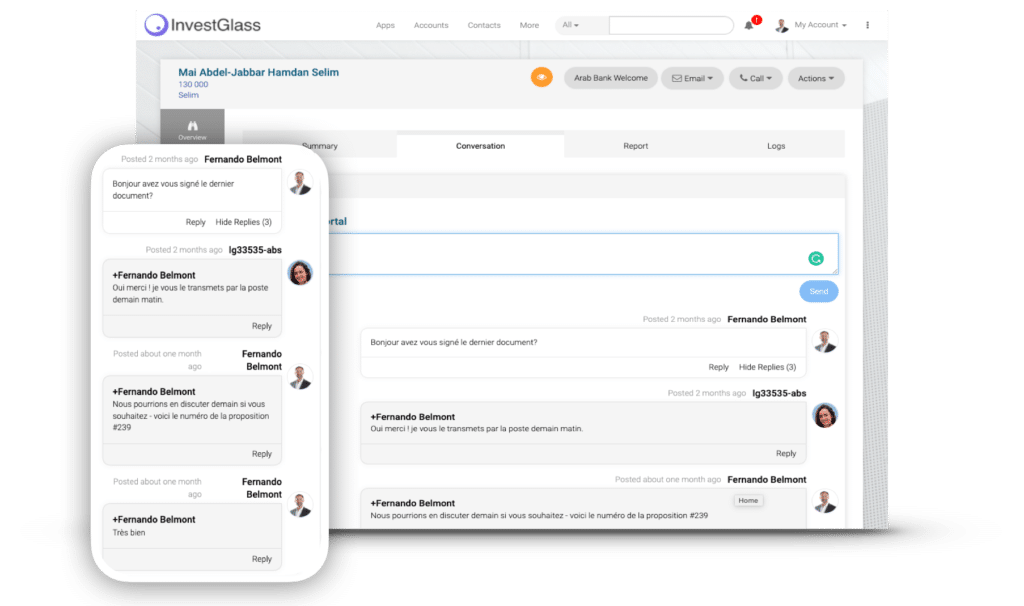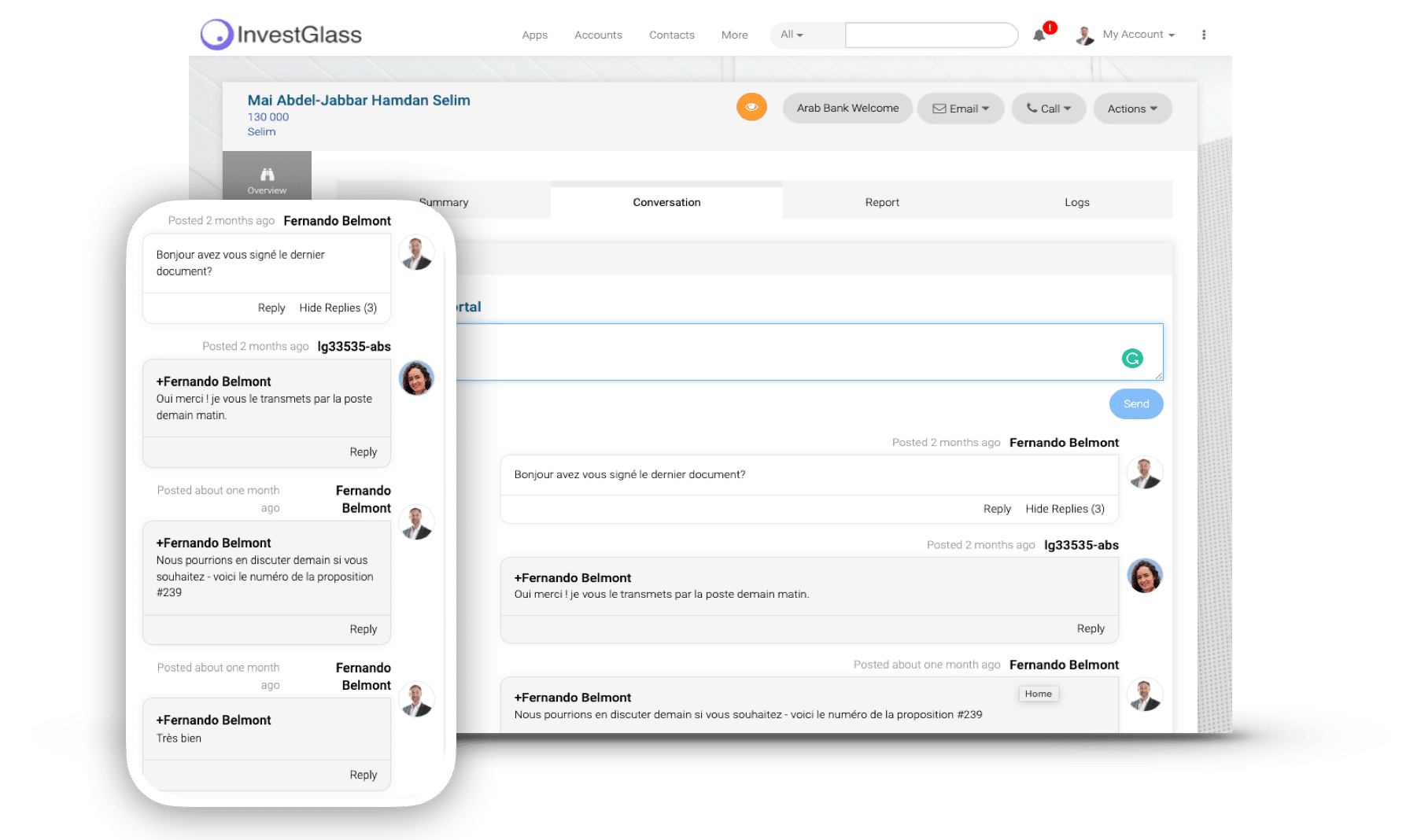 InvestGlass is the best CRM software in the small world of banking CRM. Customer relationship management solutions are about the way you are going to present customer data including their portfolio. Those top CRM can help you with workflow automation, financial services, and email marketing, but few have the investment tools and portfolio management tools aspects.
As a regulated financial institution, choosing a customer relationship management CRM solution is about your priorities too… are you going for a cloud-based CRM software, or an on-premise, meaning installed on your servers or on a private cloud?
Do you have sufficient staff to customize the CRM, and sales forecasting, create reports, and understand the customer experience to match with the right mobile apps?
Get started today with InvestGlass.com's free banking CRM template.