Digital Forms Builder
Transform your Digital Onboarding Operations & Substantially Improve Customer Satisfaction. No programming is needed. All data is hosted in Switzerland.
What Is Digital Onboarding & How Does It Work?
Online quiz maker
Create a quiz that engages new customers, generates leads or promotes your brand.
Feedback form
Customer feedback, investors feedback, employee feedback, or event feedback, it all helps growth.
Application form
InvestGlass builder gives you the power to transform a chore into an engaging experience.
KYC remediations
Digiltalize your account opening and product subscription. Check AML and KYC completion. Ensure that clients are not taking part in any money-related crimes.
Human Resources (HR) Surveys
Managing employees, onboarding new staff, gauging employee engagement rates, to name a few.
Financial institutions
Digital forms are compatible with financial planning, robo advisory, mortgage onboarding.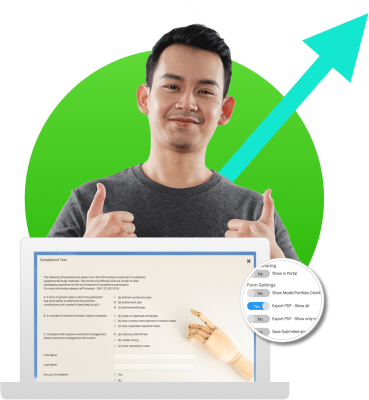 Boost your ROI using the top-rated Success Ecosystem.
From unparalleled support and expert advice to the resources available from our InvestGlass Partners, the Success Ecosystem is dedicated to helping you harness the complete potential of your investment.
Packed With Features
Your Team Will Love
API & Webhooks
PDF Document Generator
Built for robo advisory
Mobile-Responsive Forms
Task automation
Cloud Storage in Switzerland