Close Deals faster.
Automate the whole customer journey with #1 Swiss CRM. All data is hosted in Switzerland or on your own premise.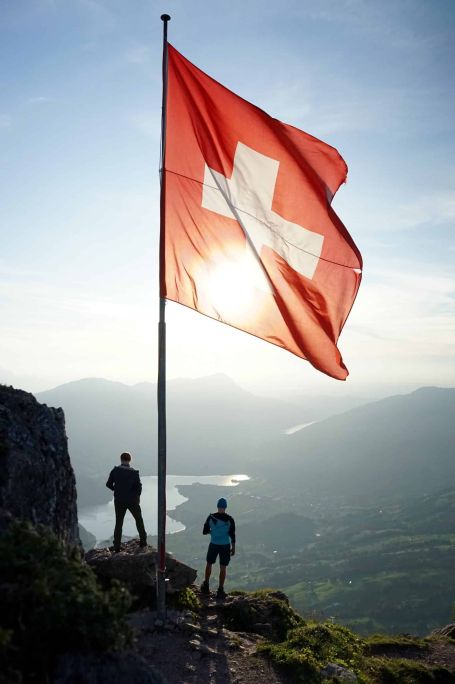 Unleash growth now with Sales GPT.
Sell more swiftly and intelligently with the synergy of AI, Data, and CRM. Enhance productivity and discover a transformative approach to growth with the leading AI-powered CRM for sales.
Get Closer to your Audience
Pipelines
To forecast and plan growth effectively, understand your product/service life cycle. Track sales from start to finish, identify successful stages, and make improvements. InvestGlass's pipeline feature keeps you organized, empowering data-driven decisions for future growth.
Fully flexible CRM
InvestGlass is a flexible CRM, no coding needed. Customize tabs, records, fields, layouts. Access reports, dashboards for tracking and informed decisions. Perfect for all users, from beginners to experts.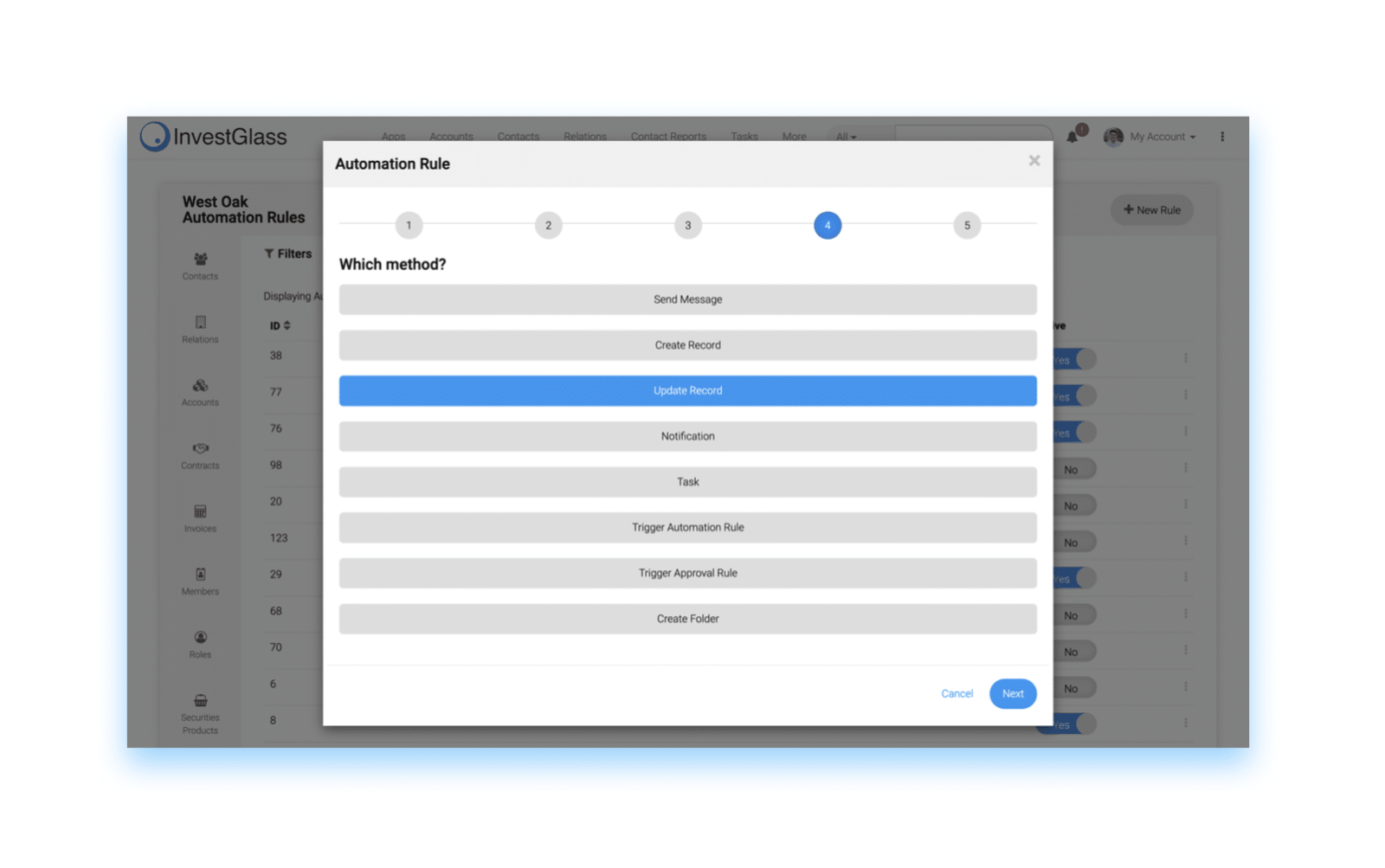 Automation
InvestGlass provides powerful automation for CRM management, streamlining approvals, emails, events, and notifications. It offers complex templates for banks and insurance companies, boosting customer service. Its functionality saves time and money, making it an ideal business tool.
Approval process
InvestGlass has a robust approval process for quality work. It requires dual manager/group approval to ensure top-notch results. Catching problems early, it exemplifies how businesses ensure quality through multi-level approval.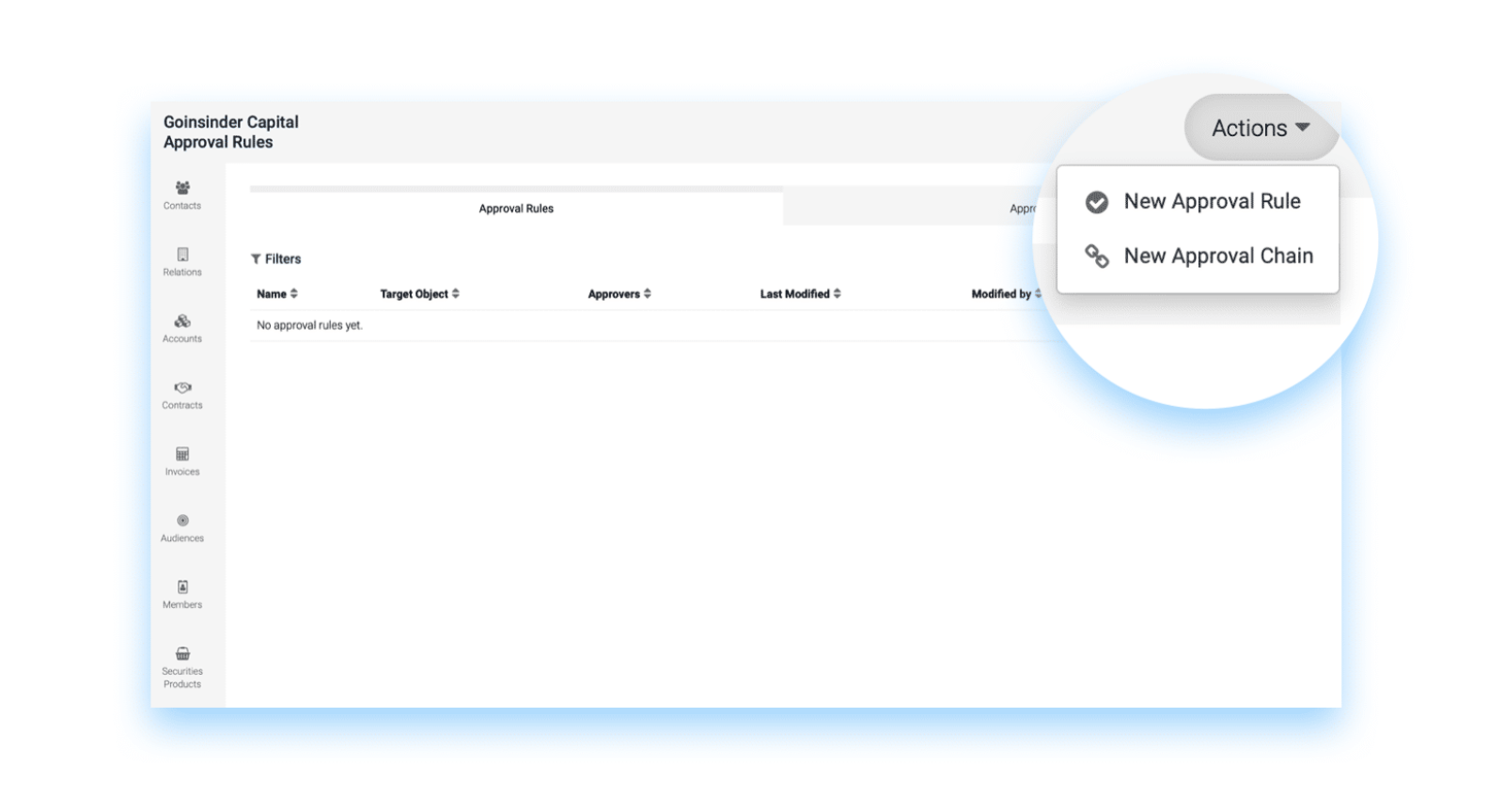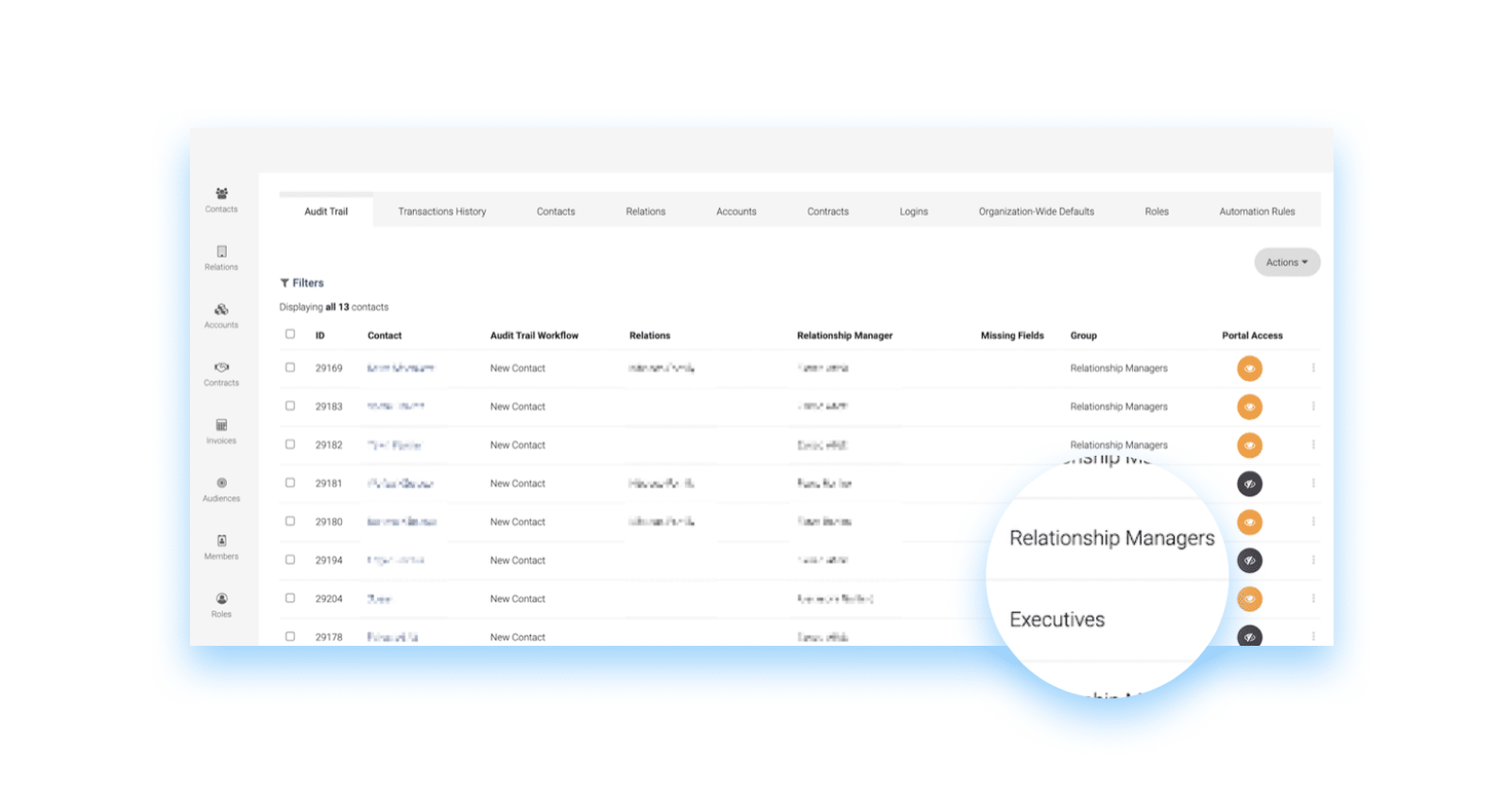 Record permission and Audit
InvestGlass ensures industry regulation compliance by controlling data access through object permissions. These permissions define user capability to create, read, edit, and delete records. Additionally, it offers a Field Audit Trail to maintain archived field history for up to 10 years.
Calendar
InvestGlass's Calendar organizes client meetings and prevents omissions with its auto-generated consolidated system. It allows easy event modification and color-coded categorization. Also, it ensures privacy with a clients-only calendar feature.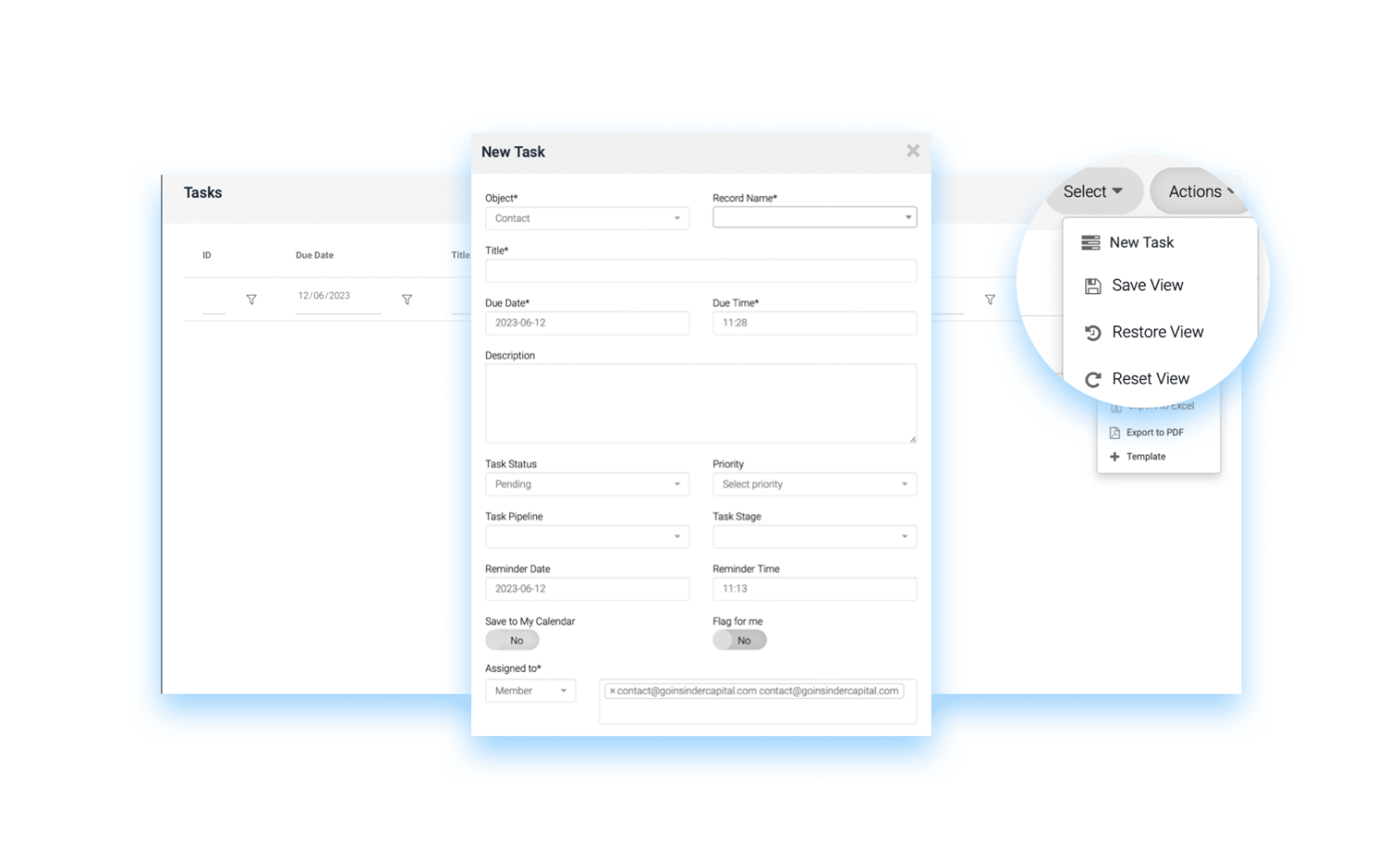 Task Management and Assignments
InvestGlass simplifies the process of managing tasks and assigning team responsibilities across accounts, contacts, and portfolios. With calendar reminders and ready-to-use templates, the platform enhances productivity and organization, ultimately saving you valuable time.
Sales Campaign 
InvestGlass facilitates GDPR-compliant, hyper-targeted email campaigns with audit trails. It provides detailed reports and personalization features. Start using InvestGlass today to actively reach your customers in their inboxes.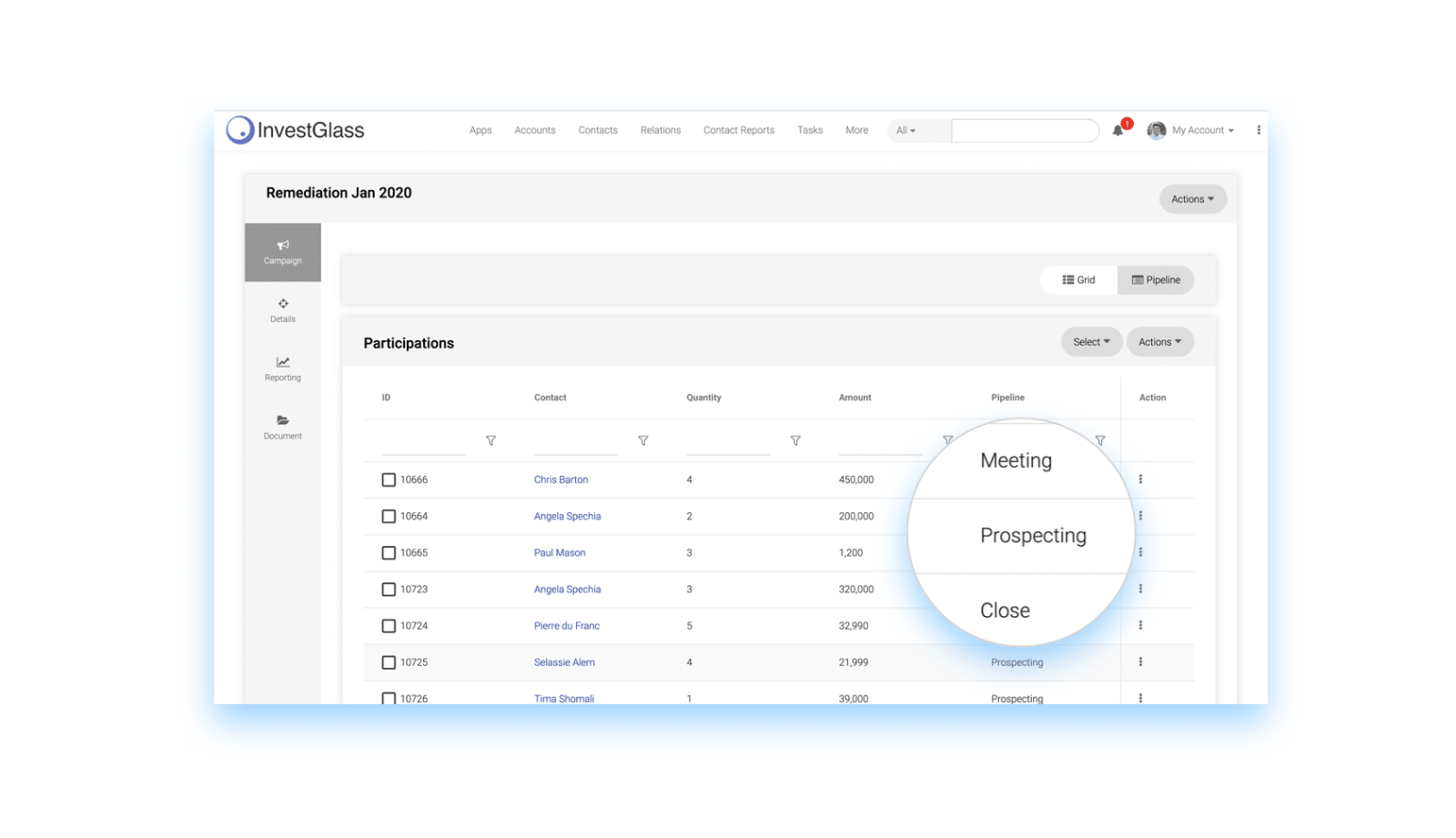 The avantages at your pace with InvestGlass CRM
Grow revenue with confidence
InvestGlass provides financial organizations with comprehensive wealth management tools, allowing them to confidently increase their revenues while maintaining extreme confidentiality.
Make digital your new normal
Whether they are on the go or at home, your team will have access to all of their essential tools with a single app. That means no more running around looking for different applications and wasting time.
Close deals faster
Give your reps the tools to sell more and close deals faster with regular feature releases, a global community of experts & free on-demand training.