7 benefits of digital banking in 2022
1 ­– Go digital it's never too late for a mobile banking
The global pandemic has tremendously impacted the speed of technology adoption. Indeed, lockdowns and remote work has made face-to-face encounters rarer. This trend forces executives in banking branches and managers to, if not yet the case, accelerate digital adoption and offer digital products and services:
pay bills online
mobile apps
send money
self-service
debit card ledger
banking tasks – such as KYC remediation for missing pieces
pre-payment cards
account balances online
saving accounts apps
contactless money transfer
online onboarding process
online customer experience
In the wealth management industry, this implies a greater focus on digital advisory. Where InvestGlass loves to implement artificial intelligence to build a smart experience.
Top digital banking features to ensure an unparalleled customer experience. Threats, of course, exist everywhere, including inside the bank branch. A digital transformation that improves the customer experience has many features to consider. This is not a growing trend, it's a major shift. Traditional banks have to adopt online banking solutions. Banking online companies must improve mobile banking app too.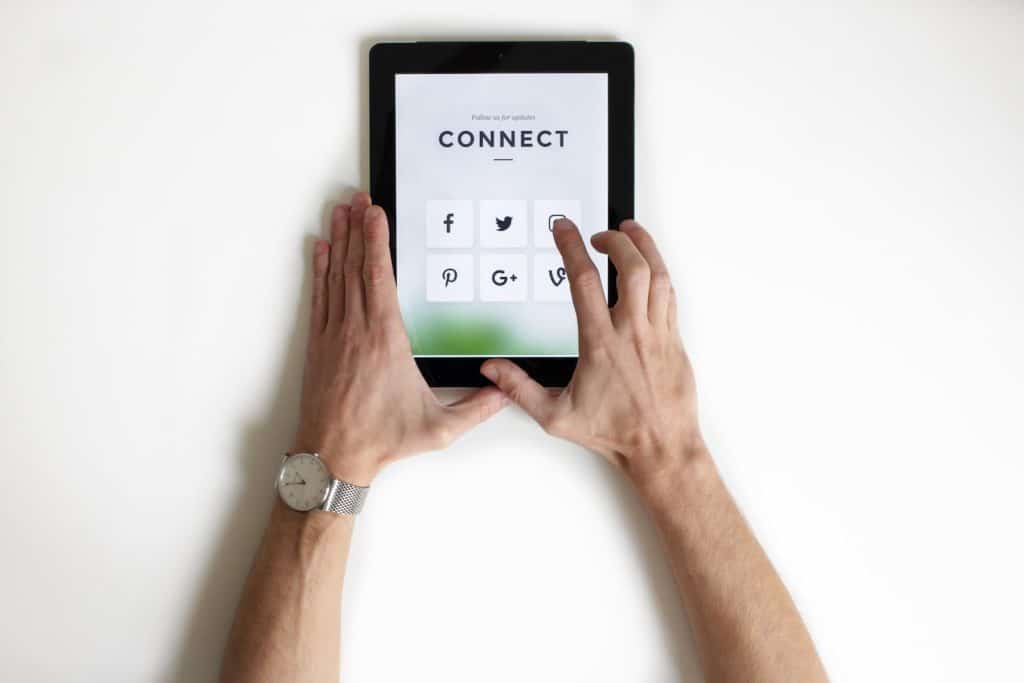 2 – Financial institutions have to collect all data in all segments
Over the past years, the role of wealth managers, as well as their client targeting, has changed. From a pure wealth focus, wealth managers are now considering other customer segments. Pricing structures of wealth managers are shifting to include lower balance prospects. Indeed, in order to succeed and be able to provide their service to all market segments by reducing costs or improving efficiency, wealth managers need to partner with Artificial Intelligence advisory providers or similar fintech solutions and SAAS solutions.
Correspondingly, these previously underserved markets are surging as key interests for the future.
Women's and mass-affluents' presence in the financial markets is getting important and the trend can be assumed to grow. The increasing interest in underserved markets enhances the wealth managers' need to reformulate their pricing strategies to convince these customer segments and partner with InvestGlass. InvestGlass let you build turn-key digital banking services thanks to a fully customizable CRM and digital. Wealth managers are now offering more personalized products and services to meet the needs of their clients. This is made possible by the wealth of data that is now available to them.
Financial needs and consumer spending have to be analyzed to offer better digital transations. Artificial intelligence could be a greater threat on the process if banking customers' data is not well digested. Indeed to consume mobile phone data, deposit checks, saving costs, bill payments, transfer funds, online payments and regulatory aspects of the investment portfolio to produce one piece of advice seems impossible!
The risk is that you don't know what to share with your customers. Should it be a discovery experience with a supermarket mobile phone experience, a Mario Bros progressive enabling new digital transactions once the previous level is achieved, or a hyper-targeted experience?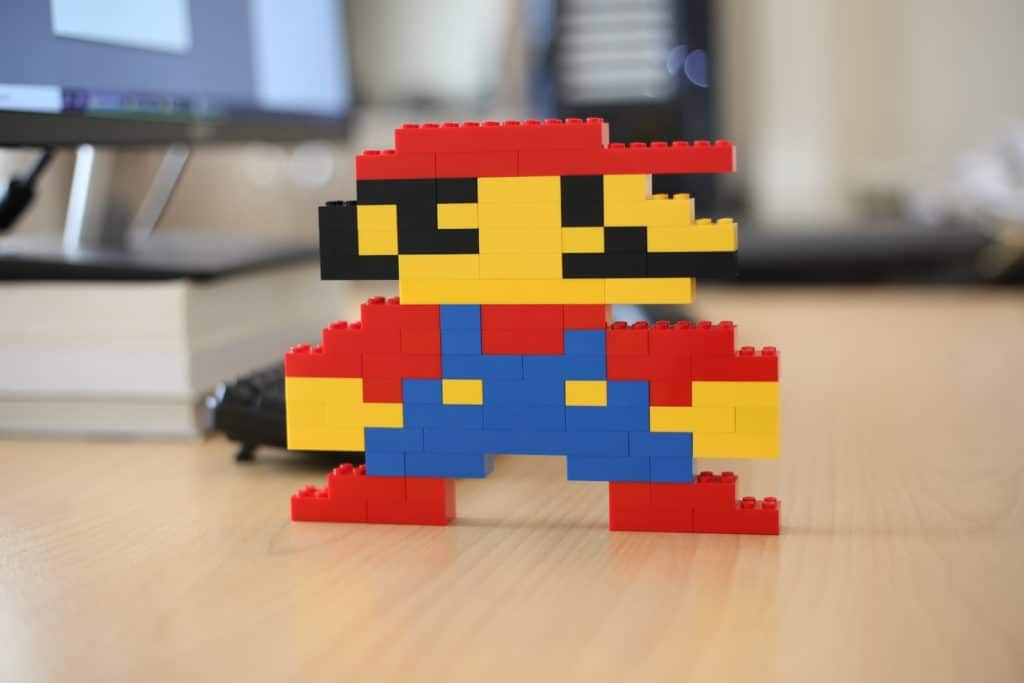 Segments are like lego together they form better experiences
3 – Trust me I am your digital banking bot!
Studying the client's expectations and behavior, only 27% of Swiss individuals have worked with a financial advisor and over 50% manage their finances internally. This trend of behavior is a worrying aspect for wealth managers with the rise of new, more efficient, advisors such as Artificial Intelligence and Fin-tech companies.
Fintech companies are technology companies that provide financial services. These services can include anything from payments to loans to investment advice. Fintech companies often use digital technologies to provide these services, which is why they're sometimes called "digital banks."
The Swiss financial environment clearly showcases a duality: most use a bank but choose other means to manage their wealth. This opens a large array of opportunities to convince skeptics, yet, it also conveys long-term risks.
The challenge for wealth managers is that every decision of any individual is now demanding some kind of advice, ranging from buying a house to which insurance a client is selecting. This is where wealth managers need to evolve in the future, in order to gain market shares and fulfill clients' expectations more thoroughly.
InvestGlass's platform enables compliance with the need of the market by providing the means to make fast and efficient investment decisions. Satisfy your clients' expectations starting today!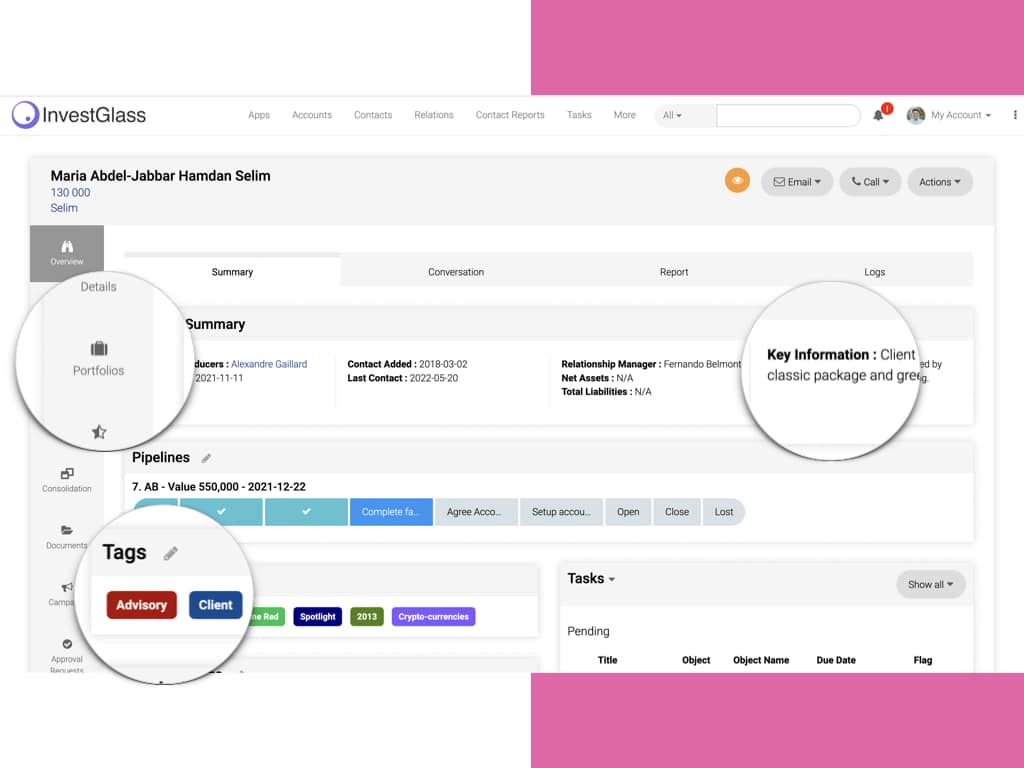 InvestGlass CRM build for digital banks
4 – Marketing hyper-personalization and all-in-one solution
Our customer-focused society has long supported mass customization. This trend is slowly but surely impacting financial services and wealth managers and has been exacerbated by the pandemic as the health crisis creates and enhances a plurality of needs within customer segments. Wealth managers are thus expected to connect with Artificial Intelligence and digital advisory fintech to tailor their offering to each customer.
The two main focuses are going to be risk-assessing firms, whose technology can interpret a client's risk profile, and predictive analytics firms, which are expected to have extreme growth potential within the wealth management industry. Use InvestGlass CRM and tailor your offering to each customer with our customizable client portal.
InvestGlass CRM is a customer relationship management system that helps wealth managers connect with their clients and tailor their services to meet their needs. It provides a customizable client portal that allows clients to access their account information and make transactions online.
Additionally, customers' expectations have been changing and shifting towards all-in-one solutions. Indeed, clients and prospects aim at the most inclusive offer on the market. Therefore, wealth managers and financial companies, in general, need to include supplementary services or products in order to compete against inclusive competitors. Wealth managers, who can recognize this trend and act on it, will experience higher client satisfaction and retention. InvestGlass's all-in-one solution, fin-tech ecosystem and open API embrace the trend.
5 – Get out with trendy thematics – even if you don't share them. It's the client first!
Over the last decades, before the pandemic became the main topic of discussion, sustainability and sustainable investment trend were gaining ground. Global warming, child labor, and, more generally, ethical and environmental issues were increasingly important for investors. The pandemic accelerated the trend and wealth managers' clients consider ESG (environmental, social, and corporate governance) criteria more closely than in the past. The focus is thus to understand clearly the values and needs of your clients.
You may have heard of the term ESG before, but you're not sure what it means or why it's such a big deal. ESG is an acronym that stands for environmental, social, and corporate governance. These are the three main areas that investors consider when they're looking at a company's sustainability. Sustainability is becoming more and more important to investors because they want to make sure their money is being put into companies that are doing good in the world. This is especially important now, during the pandemic when people are looking for ways to help support businesses that are making a difference.
Consequently, wealth managers are expected to strengthen their sustainability offerings and showcase priority in sustainable compliant products. InvestGlass provides the means and ends to integrate ESG criteria in your offering as well as an AI rebalancing advisor to match your investment strategy.
6 – Next-Gen Reporting when less is more – how to fit all in mobile banking apps
For any business, the tech-age our society is in has redefined competition. Firms, companies, stores, and individuals are fighting for awareness and attention. In order to foster engagement and attention from clients, processes have to be easy to use, interactive, and customer friendly. Therefore, technologies and innovations try to enhance clients' attention by providing visualizable data, graphs, and images to engage and interact with them. Similar account aggregation makes a more friendly and comprehensive view of the clients' assets.
There are a few reasons why bank branches will continue to be important for high-end customers. First, bank branches offer a more personal experience that customers may prefer. They can talk to a banker in person and get more personalized service. Bank branches can also offer a more secure experience, as customers can talk to someone in person if they have any questions or concerns. Finally, bank branches provide a more luxurious experience that some high-end customers may prefer. They can enjoy exclusive services and amenities that are not available online or through mobile banking apps.
7 – Instant Data is not flying cars, it's made for online bank account
Data is the most important source of information for any banker, or sales manager. For wealth managers, it is imperative to know your customer and, thus, to base your advice and product propositions on data. New customer data can be enriched easily with InvestGlass digital forms.
The more data is gathered, the better tailored your service or product will be to the client and the higher will be his/her satisfaction. As the way to gather such data is limited, advisors and wealth managers are now aiming for an alternative source of information such as behavioral data or localization data. Additionally, machine learning is an important asset when pursuing predictive analytics and alternative data collection. E.g., Artificial Intelligence can scan the web and extract complex data on sentiments and social network critical trends.
Hence, it is clear that wealth managers will have to develop competencies and capabilities to deal with alternative data and to support machine learning processes, capabilities inherent to the InvestGlass solution.
Are You Ready to Unlock the Power of Digital Banking in 2023?
The digital banking landscape is not just changing; it's evolving at breakneck speed. As we dive deeper into 2023, the opportunities are not just abundant—they are transformative. For wealth managers, the time to adapt and innovate is now. Expect to see cutting-edge features like next-gen reporting, instant data analytics, and alternative data sources becoming the norm rather than the exception. But it doesn't end there.
Online Banking: The New Frontier
Online banks are leading this digital revolution, offering more than just a platform to check your bank account online. They are fully-fledged financial hubs where you can perform banking tasks, transfer money, and even engage in complex banking transactions, all from the comfort of your home or on the go.
Machine Learning and AI: The Game Changers
Harnessing the power of machine learning and artificial intelligence (AI) is no longer optional; it's a necessity. These digital banking tools allow wealth managers to offer hyper-personalized services, from recommending investment options to tracking expenses in real-time. This level of customization provides a significant benefit that was previously achievable only through personal interaction at a physical branch.
InvestGlass: Your Digital Partner
At InvestGlass, we're not just keeping pace with these digital shifts; we're setting the pace. Our digital banking solutions can be hosted on your server or on the secure Swiss cloud in Geneva and Vaud canton. The platform is as flexible as you need it to be, compatible with both neobanks and traditional banking operations.
Key Benefits
Lower Fees: Say goodbye to hefty monthly maintenance fees.
Easier Access: Real-time access to your digital bank account and online banking account.
Time-Saving: Automatic payments and electronic transactions save you time, unlike banking systems of the past that relied heavily on manual processes.
Future-Proof Your Operations
Our technology solutions—spanning AI to machine learning algorithms—are designed to create seamless experiences for FIDLEG and MIFID compliance. Whether it's transferring funds, checking account balances, or even depositing checks remotely, we've got you covered. Websites generally can't offer this level of service and security.
Security and Compliance
Safety is paramount. With InvestGlass, not only do you get more control over your financial goals, but you also benefit from enhanced security features. These include options for mobile check deposits and e-wallets, ensuring that your transactions are not just fast but secure as well.
Attracting New Customers
In a world where consumers are increasingly making the shift from carrying cash to digital payments, offering such advanced features can help attract new customers. Moreover, it allows existing clients to access banking services with greater ease, offering more security than traditional methods.
So, are you ready to step into the future and leverage these incredible benefits of digital banking in 2023? With InvestGlass, the future is not just bright; it's revolutionary.