What is CRM in an Insurance Company? Boost Your Productivity with InvestGlass CRM and Digital Portal Solution
In today's competitive insurance market, it's crucial to maintain an edge over the competition. One way to achieve this is through effective customer relationship management (CRM). CRM is a software platform that enables insurance companies to manage their interactions with customers, streamline business processes, and drive overall efficiency. In this blog article, we'll discuss the importance of CRM in an insurance company, and how InvestGlass CRM and digital portal solution are the best tools for boosting productivity.
The Role of CRM in Insurance Companies
CRM plays a crucial role in insurance companies, as it helps them to:
Organize customer data: CRM systems centralize all customer-related information in one location, ensuring easy access for team members and improving decision-making.
Streamline processes: By automating routine tasks, CRM solutions reduce manual work and help to maintain a high level of productivity.
Improve customer service: CRM platforms enable agents to better understand and address customer needs, resulting in increased customer satisfaction and loyalty.
Increase sales: CRM systems allow insurance agents to identify and nurture potential leads, ultimately converting them into customers.
Why InvestGlass is the Best CRM Solution for Insurance Companies
InvestGlass CRM and digital portal solution offer a unique set of features designed to help insurance companies streamline their operations and increase productivity. Some of the key benefits include:
1. Customizable and Scalable
InvestGlass CRM can be tailored to meet the unique needs of insurance companies, ensuring a perfect fit for businesses of all sizes.
2. Enhanced Collaboration
With InvestGlass collaborative portal, team members can work together seamlessly, ensuring efficient communication and collaboration.
3. Powerful Automation Tools
InvestGlass offers automation tools that help insurance agents automate routine tasks, freeing up time for more important activities.
4. Effective Marketing Solutions
InvestGlass CRM provides marketing tools that help insurance companies target the right audience, driving customer acquisition and retention.
5. Seamless Digital Onboarding
The InvestGlass digital onboarding feature streamlines the customer onboarding process, resulting in a better experience for both customers and insurance agents.
6. Secure and Reliable
InvestGlass can be hosted on insurance servers, ensuring a secure and reliable platform for your business.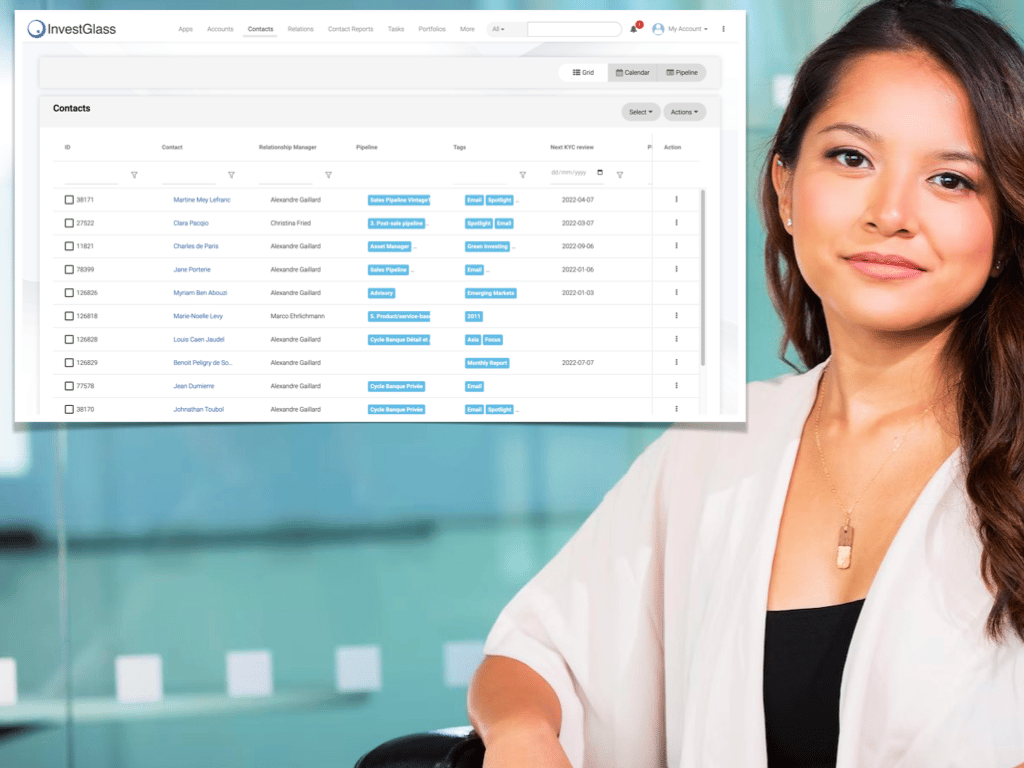 Conclusion
CRM is essential for insurance companies to effectively manage customer relationships, streamline business processes, and ultimately boost productivity. InvestGlass CRM and digital portal solution are the best tools to achieve this goal, offering a customizable, scalable, and secure platform with powerful features designed to meet the needs of insurance companies. To find out more about how InvestGlass can benefit your insurance business, visit the InvestGlass website.