How Do I Create a Digital Banking Platform?
Creating a digital banking platform is a highly sought-after objective in today's modern financial landscape. With an increasing number of digital banks emerging, the demand for efficient and convenient digital banking services continues to grow. In this article, we will guide you through the process of building a digital banking platform and discuss how InvestGlass CRM and digital portal solution can significantly boost your productivity.
Step 1: Define your Business Model and Value Proposition
Before diving into the technical aspects of building a digital banking platform, it is crucial to define your business model and value proposition. This includes understanding your target audience, the services you want to provide (such as personal loans, payment services, or mobile banking solutions), and what sets you apart from existing digital banks and traditional banks.

Step 2: Conduct Market Research
Conduct thorough market research to understand the needs and preferences of your target audience. This will help you tailor your digital banking platform to their needs and ensure your success in the highly competitive banking sector.
Step 3: Acquire a Banking License and Ensure Regulatory Compliance
Acquiring a banking license is essential to operate as a legitimate financial service provider. This process may involve significant initial capital and meeting regulatory requirements such as anti-money laundering (AML) and two-factor authentication (2FA) for customer data security. You might want to consider first a license shelter before you receive your own e-money and payment institution license.
Step 4: Choose Your Core Banking System and Technology Stack
Your core banking system is the foundation of your digital banking platform. It is responsible for managing customer accounts, transactions, and other banking services. When choosing your core banking system, consider factors such as scalability, ease of integration, and the level of customization required.
In addition, select a technology stack that is robust and scalable. This includes choosing a programming language, database, and other key components necessary for building your digital banking platform.
Step 5: Develop the Digital Banking App and Integrate Third-Party Services
Develop a user-friendly digital banking app that provides a seamless banking experience. Consider integrating third-party services, such as payment infrastructure and mobile phone verification, to enhance the functionality and convenience of your platform.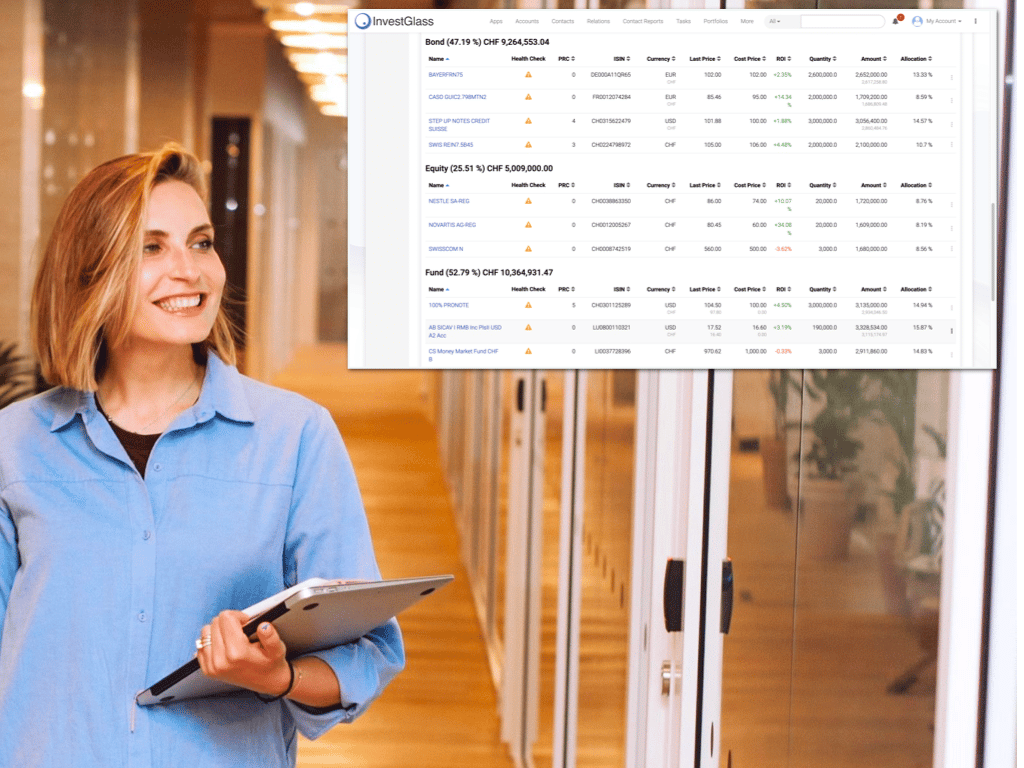 InvestGlass CRM and Digital Portal Solution: The Ultimate Boost for Productivity
InvestGlass offers a comprehensive suite of tools that can significantly enhance the operational efficiency of your digital banking platform. By leveraging the power of InvestGlass, you can build a more robust, feature-rich, and efficient digital bank.
Sales Tools made for digital banks
With InvestGlass Sales Tools, you can automate your sales processes, track customer interactions, and manage your customer base effectively. This enables you to provide a personalized banking experience to your clients and enhance customer satisfaction.
Automation Tools
InvestGlass Automation Tools help automate repetitive tasks, freeing up your staff to focus on more critical aspects of your digital banking platform. These tools include transaction management, reporting, and more. The tools are ready for financial service providers in retail or private banking. The solution includes suitability, appropriateness and 10+ risk metrics to warn bankers and compliance officers.
Marketing Tools
Maximize your digital bank's reach and engage customers with InvestGlass Marketing Tools. They provide email marketing, lead scoring, and other features to help you grow your customer base and increase brand awareness.
Collaborative Portal
InvestGlass Collaborative Portal allows your team to collaborate effectively, streamlining the development process and ensuring a more cohesive end product.
Digital Onboarding for any digital bank
Speed up customer acquisition with InvestGlass Digital Onboarding. Their seamless onboarding process ensures your clients have a smooth and hassle-free experience when joining your digital bank. The digital onboarding tool will mimic any paper contract and fulfil online banking onboarding needs.
On-premise, Swiss Servers or Dubai Servers
InvestGlass can be hosted on Dubai servers, ensuring that the data will stay where you need. This is a unique advantage we are offering as tech giants are always hosted in AWS, AZURE or US-based servers. Then all clients' data and sensitive data stay next to your tech stack.
Conclusion
InvestGlass is a Swiss family-based company which will understand your expectation of digital transformation. The solution can be connected to your existing technology stack and core technology. It's not only for fintech companies…. The portfolio management system is connectable to your transaction history and reporting tools too. We have proved to be faster and respect time to market. If you are start up bank or a traditional bank we will help you upgrade your banking product and physical branches.