How to choose a CRM in 2023?
Choosing the right CRMS for your business can be difficult. CRM means Customer Relationship Management. There are a lot of options out there, and no two CRMs are alike. That is why it's important to do your research before making any decisions. In this blog post, we will discuss what factors you should consider when making a decision about which CRM is best for you and your business in 2023.

How do I choose a small business CRM?
To choose a CRM you have to plan the ratio cost to revenues you will save using will the CRM. A good CRM should have an affordable price, be easy to use and provide the features you need.
It is also important to consider what type of CRM will work best for your company. There are two main types:
– On-Premise CRM which means on your server which is more expensive
– Cloud-based CRM (also known as off-premise) is cheaper.
On-premise CRMS usually costs less than the cloud.
Then your CRM should have good email marketing tools. Email marketing is an important part of marketing and should be considered when making a decision on CRM.
If you want to use your data in other software, then make sure the CRM can export or import your data into different formats like CSV for example. This is called interoperability.
Most CRM will have a free trial and SAAS pricing. You can pay per month and per seat your CRM to grow the number of seats as you grow.
How do small businesses keep track of sales?
You should have with any CRM a little learning curve. We publish weekly webinars and videos and direct help. Small businesses will appreciate seeing sales forecasting, sales pipeline, lead scoring without programming or complex setup.
CRM for small businesses should be more or less ready to run in the hour. Sales team will easily import their contacts with a drag and drop solution.
The COM can be connected to phone calls and a direct connection between both solutions will prevent dual data entry. Businesses of all sizes can connect to this calling system. We suggest you have a look at Aircall.
Dissolution with S pipeline management will facilitate the reading of the sales process. Marketing and sales staff if you have both he'll appreciate that the user interface is easy to use. The marketing specialist will appreciate the marketing campaign replacing tools commonly used like Mailchimp, Freshworks CRM, Hubspot CRM, Zoho CRM or Pipedrive CRM.
InvestGlass is hosted on Swiss servers which you will definitely appreciate if you care about your data privacy and hosting. Customer support also is important and we offer a premium version of InvestGlass where our team will spend the time needed to setup your CRM and make business owners confident of tool.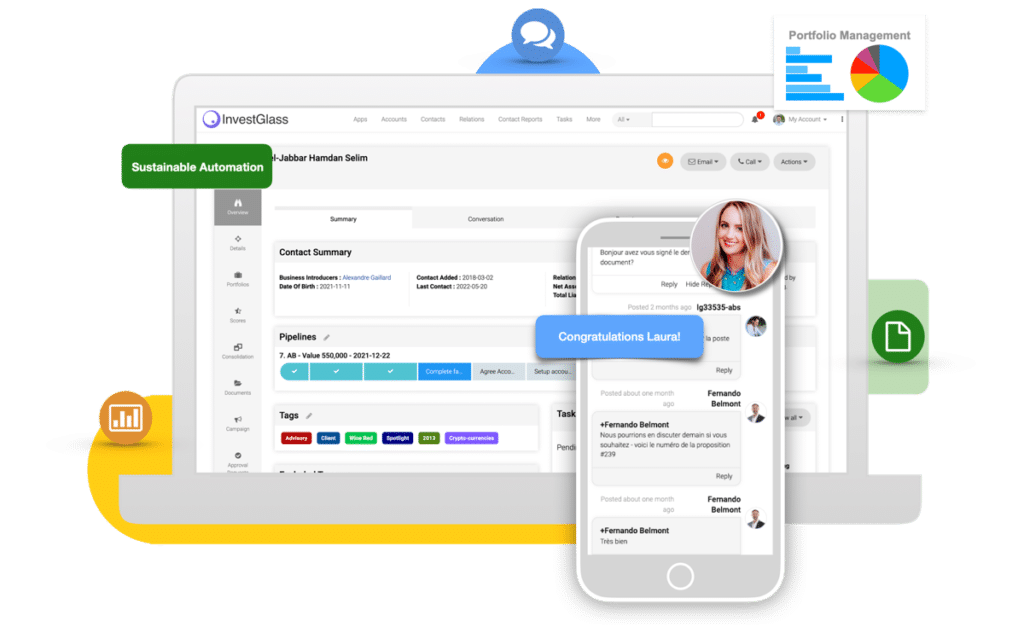 What about sales workflow automation?
If your small business wants to scale fast and your number of users is limited we suggest you have a look at our automation tool. Those tools are connected to Zapier which is a bridge to connected to +1000 cloud-based applications. Business owners dream right?
We can suggest, like an art curator, which mobile apps will better suit your business needs, and which pieces of customer data will connect into which features.
There is no programming for your marketing and customer service and InvestGlass will do the "plumbing" between the cloud-based applications if it's needed. If you wish to connect Intercom, Docusign, Slack, even Whatsapp this is possible. Sales reps will progress with new needs so it's important to connect new bricks to existing CRM features.
Once you pick the bricks, you will create into your CRM for small businesses a sales workflow automation like a Forbes 500 company! Yes, customer relationships with artificial intelligence are accessible to small businesses. For example, based on your customer data collected from lead generation, the AI can filter the leads and address them to the right sales or service.
If sales pipelines are slowing down too much, the CRM will send a nudge to your sales reps to speed up the project management. No more stress for business owners and sales teams because the machine does sales automation WITH you.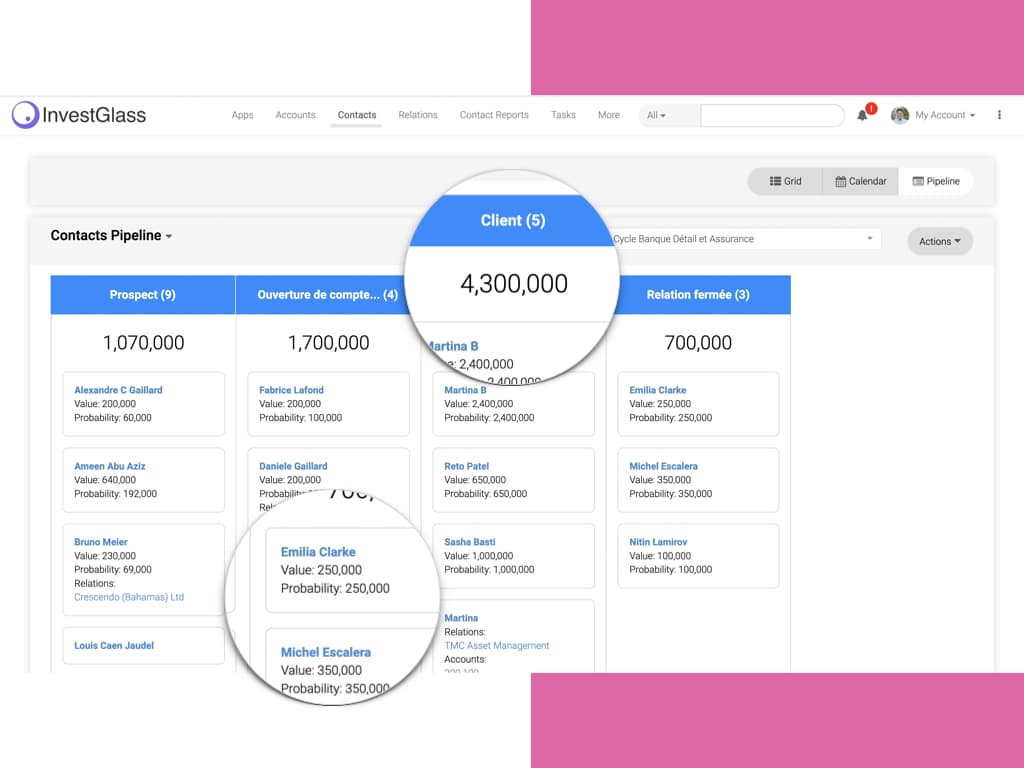 Marketing campaigns also are an important tool as you are growing. When a campaign is not properly open, the CRM can trigger another sequence to make sure that your marketing sales team is actively following customers. Now you deserve the best CRM possible and marketing automation is easy to set up. Sales and marketing teams will collaborate because it's simple EASY.