InvestGlass Announces Copilot AI GPT
InvestGlass Announces Copilot AI GPT for Portfolio Management Software to Transform Every Investor Experience with Generative AI
InvestGlass, a Swiss leading provider of portfolio management software and CRM, is proud to announce the launch of its new feature, Copilot AI GPT. With the use of generative AI technology, Copilot AI GPT will revolutionize the way sales and bankers interact with their investors' portfolios.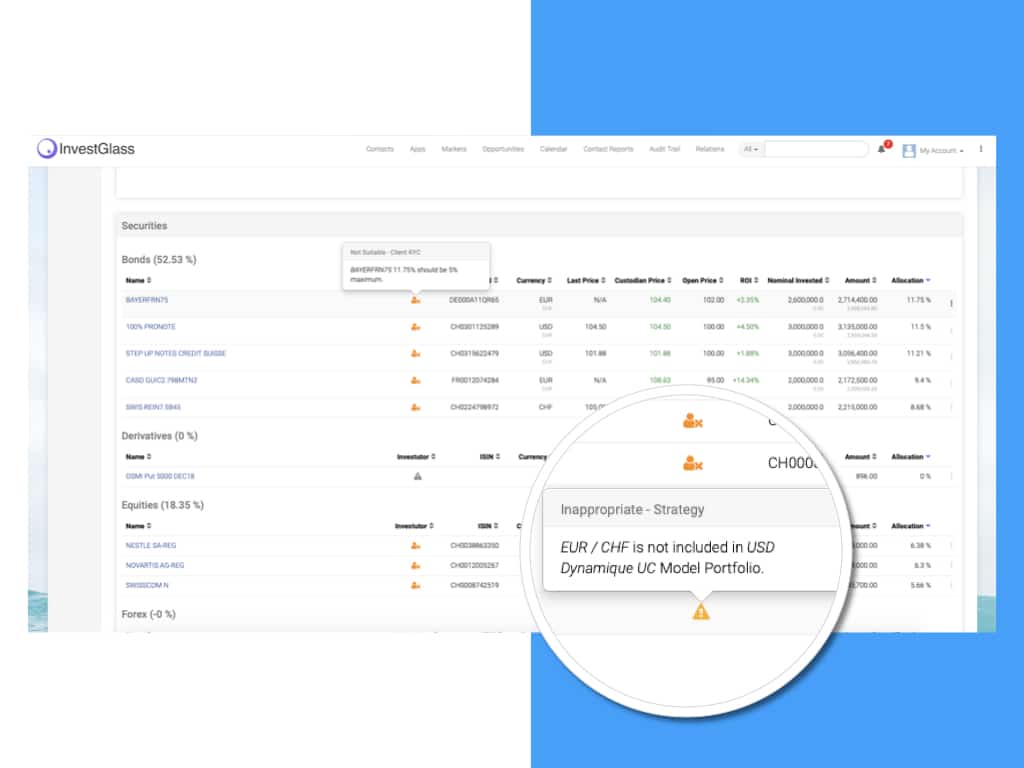 InvestGlass' Copilot AI GPT is a revolutionary breakthrough in portfolio management software, combining a CRM and high-level artificial intelligence techniques with intuitive user experience to create an unparalleled experience for bankers and advisors to engage with their customers. Its use of generative AI technology allows the platform to develop and present personalized investment recommendations that are tailored to each individual investor's needs. Copilot AI GPT will be able to provide highly accurate portfolio management strategies and advice, giving investors an edge when making decisions.
The PMS platform can detect changes in market conditions and alert users of any potential risks or opportunities, ensuring that they stay up-to-date and informed about their portfolios. InvestGlass Copilot AI GPT is designed to help bankers and advisors generate investment solicitation at a lower cost and respect investor's protection rules such as universe list, trending investment thematic, suitability, and appropriateness.
Quote CEO:
Alexandre Gaillard: "InvestGlass celebrates its 9th year anniversary with an outstanding present for its customers Copilot AI GPT. This tool will increase user engagement and enable customers to enjoy a more precise and intuitive approach to portfolio management. We are ecstatic to have released this feature as it is one of the most innovative and bank-robust AI-powered technologies we've developed in our 9 years of serving the industry. If a financial professional could generate 10 proposals per day without InvestGlass, and 100 with InvestGlass, we now forecast that they could push up to 1000 proposals per day with this new tool!
Technology context:
InvestGlass investment tools leverage the full power of the suitability and appropriateness engine to deliver personalized experiences at scale that are intelligent, automated, and real-time, while driving efficiency, productivity, and time to value. InvestGlass portfolio management tool is used by tier-one and tier-two banks in European and the Middle East. Its PMS is robust and scales to meet the needs of large portfolios, while its advanced automation features help reduce manual workload.
The machine blends strict rule based rules, with supervised guidelines and reinforcement learning mechanism to improve predictions. InvestGlass also offers user-friendly dashboards and customizable widgets for informed decision-making: swapper for advisory teams, direct trading tools for brokers. With this in mind, it's no surprise that Copilot AI GPT is being introduced as an addition to their already-impressive portfolio management platform.
Fast facts:
A recent survey of more than 1000 senior IT leaders found that a majority believe generative AI is a 'game changer,' with 85% saying it will help them better serve their customers.
InvestGlass Copilot AI GPT, the world's first generative AI CRM fintech, delivers AI-created content across every sales, banking, marketing, at a hyper-scale.
InvestGlass is incorporating the technology across its product line: marketing, and portfolio management to transform every client and investor's experience with generative AI.