Foreigners to be Allowed Property Ownership in Saudi Arabia
Abdullah Alhammad, CEO of the Real Estate General Authority (REGA), recently acknowledged that real estate prices in Saudi Arabia are high due to a gap between demand and supply. In an attempt to rectify this imbalance, the authority chief announced that foreigners will soon be allowed to own real estate in the country. This new law will have broader implications and impact the real estate market as a whole.
The High Real Estate Prices in Saudi Arabia
According to Alhammad, the high real estate prices are detrimental to the sector as a whole. He stated that the largest percentage of those seeking real estate do not have the purchasing power to obtain suitable property. The high prices have also affected investors and landowners, making transactions more difficult.
A New Law for Foreign Ownership
Alhammad revealed that the new law regarding foreign ownership of real estate is in its final stages and will be made public soon. This new law will be broader and more comprehensive than the current one, allowing foreigners to own various types of real estate, including commercial, residential, and agricultural properties, in accordance with the regulations.
The authority chief stated that the initial reading of the law allows foreigners to own property everywhere in the Kingdom, including Makkah and Madinah. To mitigate any negative effects of foreign ownership, the law has been designed to address potential problems and unacceptable practices.
Implications for White Lands and Fee Changes
Alhammad also touched upon the issue of imposing fees on white lands. He mentioned that fees were first imposed in 2017 and that the Ministry of Municipal and Rural Affairs is currently working on proposals to increase or raise the efficiency of these fees by a further 10 percent.
To learn more about how this development may affect the real estate industry, consider exploring the following resources:
Boosting Real Estate Agents' Profitability with InvestGlass CRM and Property Management
InvestGlass CRM and property management system is an all-in-one solution that can significantly increase profitability for real estate agents. By streamlining and automating processes, providing valuable insights, and enhancing communication, this platform can help agents work smarter and more efficiently. Here's how InvestGlass CRM and property management can drive growth and profits for real estate professionals:
1. Efficient Lead Management
InvestGlass CRM offers a centralized platform to manage leads and client information. Agents can easily track and follow up with potential clients, ensuring no opportunities are missed. The system can also help identify high-value leads, enabling agents to focus their time and energy on those with the highest potential for conversion.
2. Automation of Routine Tasks
Real estate agents can spend more time on revenue-generating activities by automating routine tasks such as data entry, appointment scheduling, and document management. InvestGlass CRM offers various automation tools to streamline these processes and free up valuable time.
3. Enhanced Communication and Collaboration
The collaborative portal within InvestGlass CRM allows agents to easily share information with colleagues, clients, and other stakeholders. This centralized communication hub improves collaboration and ensures that everyone is on the same page, reducing misunderstandings and speeding up deal closures.
4. Targeted Marketing Campaigns
Using InvestGlass marketing tools, agents can create personalized and targeted marketing campaigns to reach the right audience. The platform's analytics provide insights into which campaigns are most effective, allowing for data-driven decisions and optimization of marketing strategies.
5. Comprehensive Property Management
InvestGlass CRM allows agents to manage all aspects of property management, from tracking listings and generating reports to managing tenant relationships and handling maintenance requests. This comprehensive approach ensures that properties are well-maintained, attracting high-quality tenants and maximizing rental income.
6. Digital Onboarding and Client Management
The digital onboarding feature simplifies the process of onboarding new clients and collecting necessary documents. A streamlined onboarding experience not only saves time but also leaves a positive impression on clients, potentially leading to referrals and long-term relationships.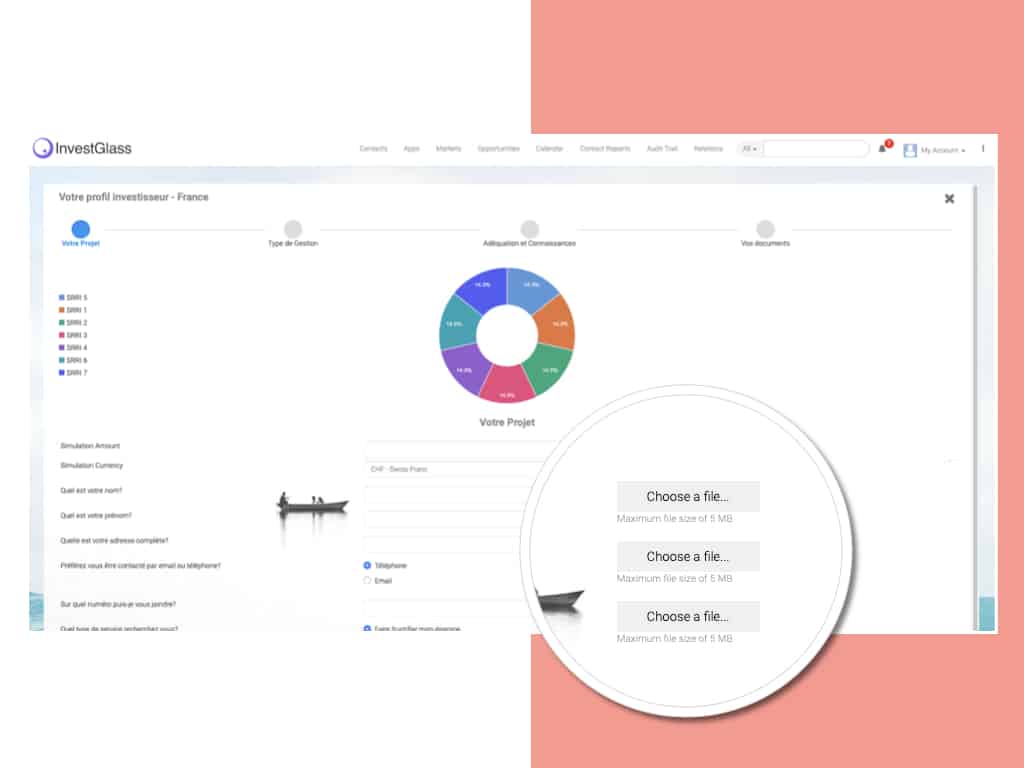 7. Data-driven Decision Making
InvestGlass CRM provides real estate agents with valuable insights and analytics to make data-driven decisions. This includes tracking key performance indicators (KPIs), identifying trends, and monitoring market conditions. Armed with this information, agents can optimize their strategies and focus on areas with the highest potential for growth and profit.
By leveraging the powerful features of InvestGlass CRM and property management system, real estate agents can improve their efficiency, build stronger client relationships, and ultimately increase their profitability.
Swiss Neutrality and Data Protection: InvestGlass CRM Advantages for Saudi Arabia
InvestGlass CRM, being a Swiss-based platform, benefits from Switzerland's robust data protection regulations and its long-standing reputation for neutrality. These factors provide significant advantages for users in Saudi Arabia who have specific data protection requirements. Here are the key reasons why Swiss neutrality and data protection regulations are advantageous for Saudi Arabian users:
1. Strong Data Protection Laws
Switzerland is well-known for having some of the most stringent data protection laws in the world. The Swiss Federal Data Protection Act (FADP) and the Swiss Federal Data Protection and Information Commissioner (FDPIC) ensure that data privacy and security are maintained at a high level. InvestGlass CRM, being a Swiss company, adheres to these strict regulations, providing a solid foundation for data protection for users in Saudi Arabia.
2. Political Neutrality
Switzerland has a long-standing reputation for political neutrality, which makes it a trusted jurisdiction for data storage and protection. This neutrality ensures that InvestGlass CRM can provide its services without any political interference or influence, safeguarding the privacy and security of its clients' data in Saudi Arabia.
3. International Reputation
Switzerland's international reputation for privacy, security, and stability makes it an attractive location for global businesses seeking a reliable data storage solution. InvestGlass CRM, being a Swiss company, inherits this strong reputation, instilling confidence in users from Saudi Arabia that their data is secure and protected.
4. Strict Banking Secrecy Laws
Switzerland has long been known for its strict banking secrecy laws. Although InvestGlass CRM is not a bank, these laws create a strong culture of privacy and discretion, which extends to other industries, including the technology sector. This ensures that InvestGlass CRM places a high priority on maintaining the confidentiality and security of client data.
5. Compliance with International Standards
Swiss data protection regulations are designed to be compatible with international standards such as the EU's General Data Protection Regulation (GDPR). As a Swiss company, InvestGlass CRM is well-positioned to adapt and comply with any additional data protection requirements that may be introduced in Saudi Arabia, ensuring ongoing compliance and compatibility.
In conclusion, InvestGlass CRM's Swiss origin and adherence to stringent data protection regulations offer a strong advantage for users in Saudi Arabia. The platform's commitment to neutrality, privacy, and security, combined with its compliance with international data protection standards, make it a reliable and trustworthy choice for managing and protecting sensitive data in the real estate sector.