How Do You Promote a Crypto Platform?
Promoting a crypto project requires a well-thought-out and data-driven crypto marketing strategy. With the ever-growing crypto space, the challenge is not only getting your project off the ground but also making sure that it stands out from the multitude of other crypto projects.
Marketing in the crypto world involves reaching out to a targeted audience, fostering a robust crypto community, and maintaining an effective reputation management strategy. With the help of powerful tools like the InvestGlass CRM, these tasks can become significantly more manageable.
Crypto Marketing Strategy
Incorporating various elements into your crypto marketing strategy is crucial. These include social media marketing, influencer marketing, content marketing, email marketing, direct marketing, and referral programs. All these combined can lead to a successful crypto marketing campaign.
Social Media Marketing
An excellent place to start your crypto marketing efforts is on social media platforms. With their massive user base, they provide a perfect opportunity for reaching out to potential users. You can leverage these platforms for promotion campaigns, direct messaging, and even hosting crypto events.
Influencer Marketing
Crypto influencers are prominent figures within the crypto community, with vast followers of crypto enthusiasts. By leveraging top crypto influencers, you can gain significant visibility for your crypto brand. InvestGlass' Collaborative Portal provides a comprehensive space for direct interaction and engagement with these influencers.
Email Marketing
Implementing targeted marketing emails is one of the most effective marketing strategies. InvestGlass' Digital Onboarding tools help automate this process, sending out custom messages to interested users while keeping track of the responses. InvestGlass email marketing tool is equiped with GDPR and LDAP rules to make sure that direct messaging is always compliant with your company policy. InvestGlass is also leveraging CHATGPT to target audience with niches that you would not be able to target with a regular social media campaign or traditional press releases.
Referral Programs
Referral programs are an effective marketing strategy in the crypto space. They encourage users to invite others to use your platform in exchange for rewards. It's a win-win situation for both parties and an excellent way to gain new users. InvestGlass helps you build tailored referral program as well as track business introducers.
Content Marketing
One way to increase organic traffic to your crypto website is through content marketing. Posting articles about blockchain technology, the cryptocurrency market, or upcoming digital coins can attract interested parties. You can also host crypto blogs on InvestGlass' Marketing Tools.
Leveraging Artificial Intelligence
Artificial Intelligence (AI) offers a broad range of applications in the crypto marketing industry. From identifying marketing trends to helping streamline crypto marketing campaigns, AI tools like those offered by InvestGlass provide immense value. The InvestGlass' Automation Tools leverage AI to improve efficiency, deliver targeted ads, and enhance customer experience.
We help you build your Crypto Project with a Swiss based CRM
Crypto businesses have a unique set of challenges, especially when it comes to reaching their target audience. Crypto marketing strategies involve a variety of tools and techniques to promote a crypto project effectively. Among these tools are referral programs, online marketing, affiliate marketing, and understanding the latest crypto marketing trends.
Online press release websites and press releases are valuable resources for making public announcements, particularly about an upcoming digital coin. They can also serve as effective marketing channels. On the other hand, community marketing techniques involve tapping into specific communities called subreddits or online community forums. These communities often have enthusiastic crypto audiences who can turn into potential customers.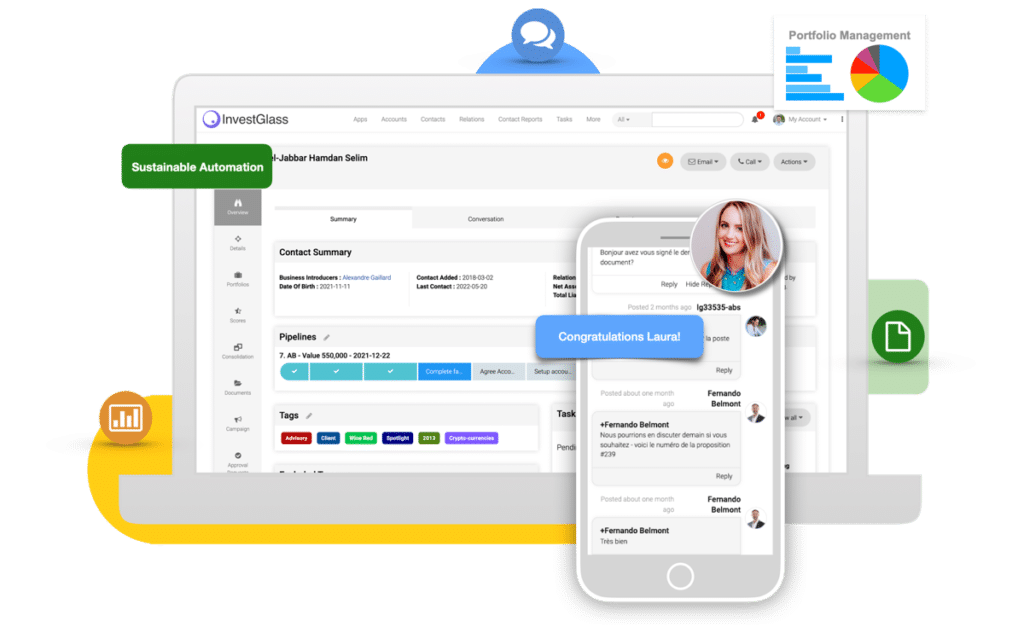 Google Ads and email marketing services, like those offered in InvestGlass' Digital Onboarding tools, can assist in directing a targeted email marketing campaign. Crypto ads on various online platforms can help gain visibility for your crypto exchange or exchange platform. Similarly, affiliate marketing can be a valuable tool in a marketing campaign. An affiliate marketer promotes your project to their audience in exchange for a commission on each transaction made through their referral.
However, it's important to note that managing negative publicity is just as crucial as these marketing tactics. A single mishap can harm the reputation of crypto brands. Therefore, investing in effective reputation management strategies is essential.
Crypto business also involves advertising on social media channels. The approach to advertising strategy on these platforms can vary, depending on the platform itself. The key is to understand each platform's dynamics and adjust your marketing efforts accordingly. This approach ensures that you reach out to your audience in the most effective and engaging manner possible.
Choosing the Right Crypto Marketing Agency
Partnering with a reputable crypto marketing agency can elevate your crypto marketing strategy. They can guide your marketing efforts, handle reputation management, and provide access to crypto ad networks. However, it's essential to choose a crypto marketing agency that understands the crypto industry, digital currencies, and the nuances of the crypto market.
Conclusion
Promoting a crypto platform is no easy task. It requires a well-thought-out strategy, collaboration with a crypto marketing agency, and effective use of AI tools. With the right approach, it's possible to ensure a successful crypto launch and make a lasting impact in the competitive crypto world. By harnessing the power of tools like InvestGlass CRM, you can boost your crypto business's productivity and reach your desired audience effectively