InvestGlass, The Swiss Sovereign CRM, Expands Its Horizons: Servicing Chinese Clients Outside China
Partnering with China Mobile and Huawei Cloud for Enhanced Customer Satisfaction and Seamless Service
Introduction of InvestGlass the CRM for Chinese Companies
InvestGlass, the Swiss sovereign Customer Relationship Management (CRM) software, has garnered significant attention for its innovative approach to delivering exceptional customer service and cutting-edge technology. The company has successfully provided wealth management and banking services within Europe, and now it has set its sights on a new market: Chinese clients outside China.
With a strong focus on customer satisfaction and advanced technology, InvestGlass has tailored its CRM system to meet the unique needs of Chinese clients. Partnering with China Mobile and Huawei Cloud, the platform now offers multilingual support, including Chinese, and is accessible to a wide range of users.
The Cloud Act and Customer Data
The Cloud Act, or the Clarifying Lawful Overseas Use of Data Act, is a United States federal law enacted in 2018, which allows American law enforcement agencies to access data stored on servers located outside the US. The act has raised privacy concerns, as it grants US authorities the right to access sensitive information stored by US-based cloud service providers, even if the data belongs to non-US citizens or companies.
InvestGlass Swiss sovereign CRM presents an ideal solution for expanding Chinese companies that prioritize data privacy and security. As a Swiss-based CRM system, InvestGlass operates under strict Swiss data protection regulations, which are renowned for their strong privacy standards. By choosing InvestGlass, Chinese companies can rest assured that their sensitive information remains secure and protected from unwarranted access, providing a clear advantage over CRM platforms that fall under the jurisdiction of the Cloud Act. In addition, InvestGlass's tailored features, multilingual support, and seamless integration with popular Chinese platforms like WeChat further solidify its position as the CRM of choice for expanding Chinese businesses.
InvestGlass: The Solution for Chinese Clients Outside China
The Swiss CRM software is highly adaptable and customizable, making it an ideal solution for Chinese clients who reside or operate their businesses outside China. InvestGlass's customer relationship management system caters to these clients' specific requirements, offering a platform that provides wealth management, banking, and financial services in their native language.
This ensures increased customer satisfaction and enhances customer data management, ultimately leading to better customer retention. By using the CRM platform, clients can streamline their business operations and maintain strong customer relationships.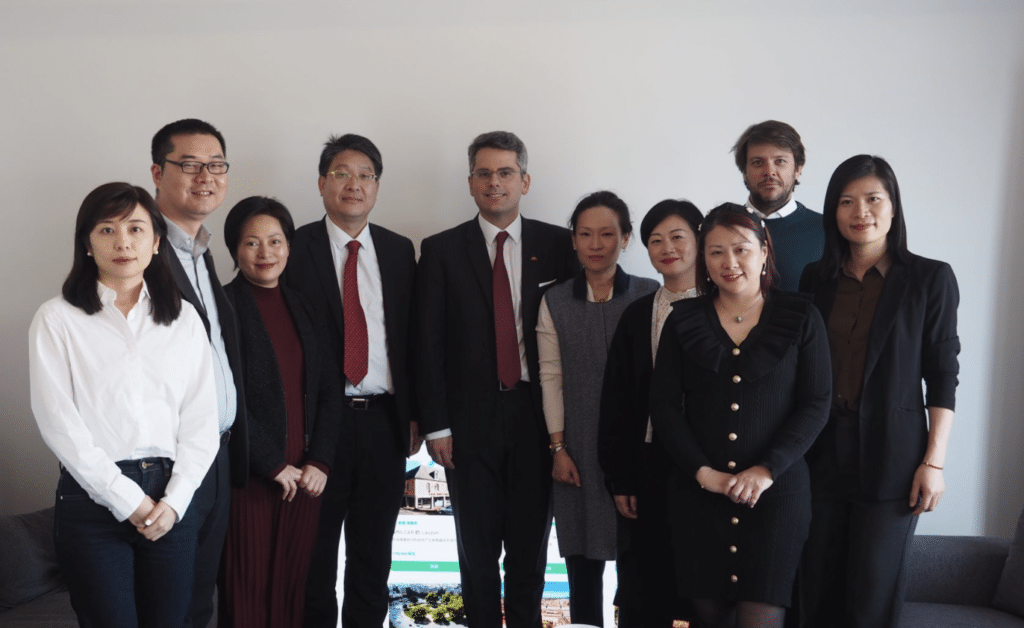 Partnership with China Mobile and Huawei Cloud
InvestGlass has strategically partnered with China Mobile and Huawei Cloud, two leading technology providers in the Chinese market. These partnerships not only enable the platform to offer seamless connectivity and advanced cloud computing technology but also ensure that InvestGlass stays up-to-date with the latest technological advancements and security measures.
China Mobile, the largest mobile telecommunications corporation in China, provides reliable connectivity and excellent coverage, crucial for a CRM system that caters to a global clientele. Offering its services through China Mobile ensures that Chinese clients outside China can access the InvestGlass CRM platform with ease.
Huawei Cloud, a leading cloud service provider, offers robust and secure infrastructure. InvestGlass leverages Huawei Cloud's cutting-edge technologies, such as Artificial Intelligence and Big Data, to provide a seamless and efficient user experience. By utilizing Huawei Cloud's services, InvestGlass ensures that its CRM software remains reliable, secure, and compliant with relevant data privacy regulations.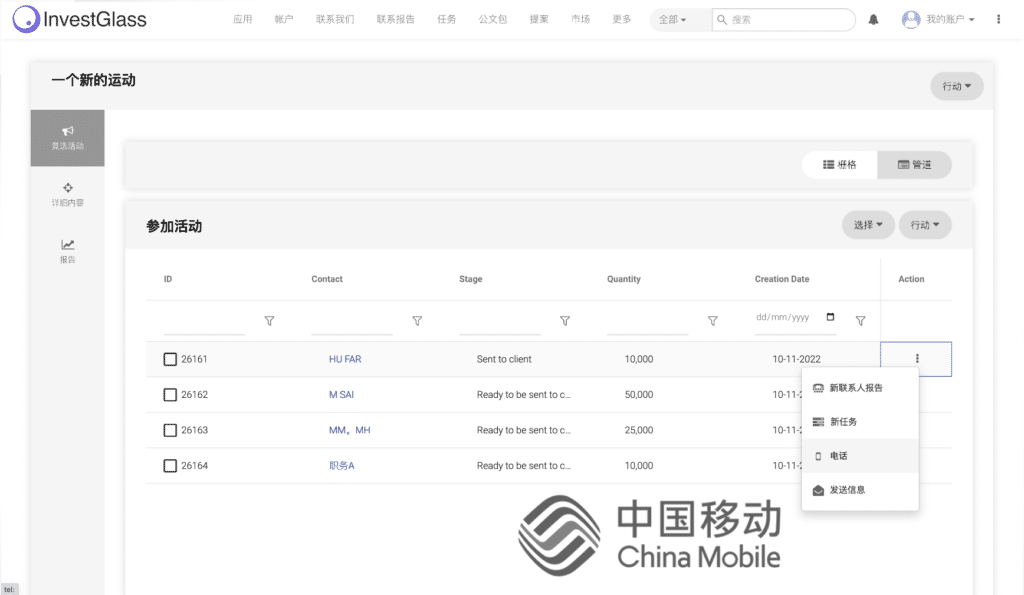 Multilingual CRM Software Platform
InvestGlass recognizes the importance of language in delivering top-quality customer service. The CRM system is now available in multiple languages, including Chinese, allowing clients to access the platform and manage their financial affairs in a language they are comfortable with. This not only ensures customer satisfaction but also enhances the user experience by eliminating any language barriers that could potentially hinder effective communication.
The CRM software's multilingual capabilities also allow sales teams to better manage leads and customer interactions, ultimately improving sales management and business growth.
Serving the Chinese Customer Relationship Management Market
InvestGlass is well-positioned to make a significant impact on the Chinese CRM market. By catering to Chinese clients outside China, InvestGlass is providing a much-needed solution for those who require CRM systems with native language support and features tailored to the Chinese market.
The CRM software's advanced features, seamless integration with China Mobile and Huawei Cloud, and support for multiple languages make it a strong contender in the Chinese CRM industry. The solution can be connected to social media and your existing tools such as QE code, wechat platform, phone calls VOIP of China Mobile. All the data collection is centralised into the Swiss CRM.
How to use a CRM to increase customer satisfaction?
Increasing customer satisfaction is a key driver of business growth and success, and a tailored CRM solution like InvestGlass can play a vital role in achieving this objective. By focusing on CRM usability and offering a streamlined workflow, InvestGlass ensures efficient and effective management of customer interactions, ultimately leading to a better customer experience. The machine uses modern CHATGPT to increase sales efficiency and relevancy.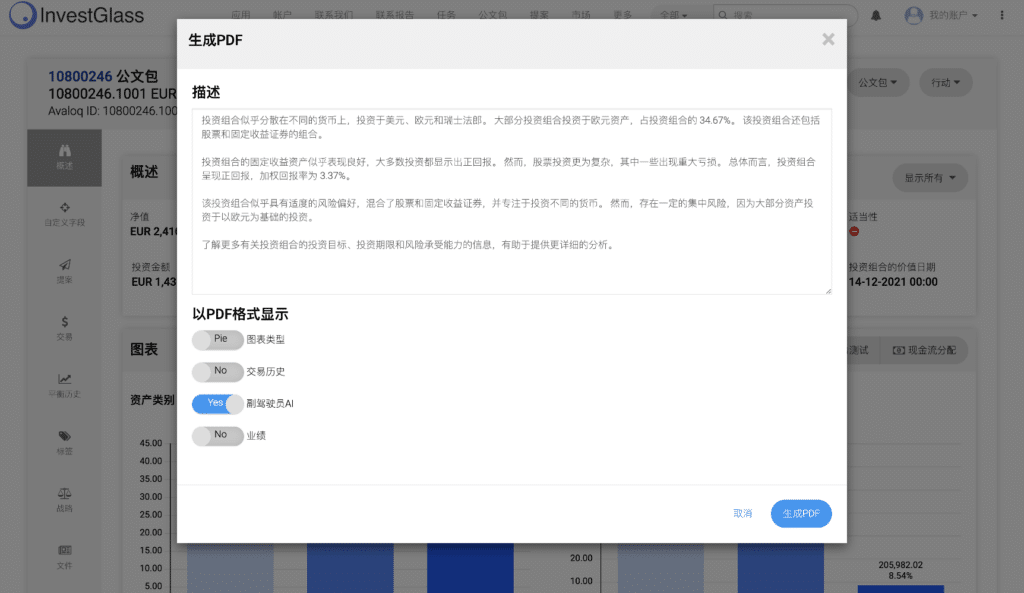 InvestGlass is a cloud-based CRM that provides real-time data and advanced features, enabling businesses to respond to market trends and customer needs more swiftly. Its easy-to-use interface empowers sales teams to improve the sales process and function, enhancing customer engagement and loyalty. The lead scoring system helps to manage mass data and achieve sustainable growth on social media matching any industry business needs. Contrary to traditional CRM software, InvestGlass is a cloud crm fully flexbile. A customer loyalty program can be connected to flexible process management.
InvestGlass CRM's adaptability allows businesses to align their customer support and customer relations strategies with their unique needs and industry-specific requirements. Furthermore, the platform's integration with popular communication channels, such as WeChat CRM and other social media platforms, enables businesses to deliver better customer support, ultimately leading to increased customer satisfaction.
By offering software as a service (SaaS), InvestGlass ensures a seamless customer experience for both e-commerce and offline businesses alike, providing essential tools and real-time data access through mobile networks. This all-encompassing CRM solution helps companies stay ahead of the competition by staying in tune with customer preferences, market trends, and the ever-evolving demands of the World Trade Organization.
In conclusion, InvestGlass CRM's tailored approach and focus on usability, customer engagement, and efficient communication channels make it the ideal choice for businesses seeking to increase customer satisfaction and drive growth in today's dynamic and competitive market.
CRM Efficiency and WeChat Connection
InvestGlass understands the importance of CRM efficiency and has developed a streamlined workflow to improve user experience and data collection. One key feature is the integration of InvestGlass CRM with WeChat, one of the most popular Chinese platforms for communication and social networking.
This integration enables clients to manage leads and collect valuable data on user behavior, customer information, and customer interactions directly through the WeChat platform. The cloud-based CRM system eliminates the need for additional hardware devices, making it more accessible and cost-effective for Chinese SMEs undergoing digital transformation.
By leveraging the WeChat platform's features, such as QR code scanning, InvestGlass CRM can collect and analyze lead data more efficiently, helping businesses identify loyal customers and gather valuable feedback. This data-driven approach allows businesses to tailor their services and marketing strategies to enhance customer satisfaction and retention.
InvestGlass's seamless integration with WeChat distinguishes it from other CRM solutions by providing a more efficient, user-friendly, and data-centric CRM system that caters specifically to the needs of Chinese clients outside China. The ability to access customer information and manage leads through familiar channels, such as WeChat, ensures a more seamless experience for both businesses and customers, ultimately leading to better communication and improved results.
Conclusion
InvestGlass sets a benchmark for other CRM software providers by offering a Swiss sovereign CRM system tailored to Chinese clients outside China. The platform's partnership with China Mobile and Huawei Cloud, coupled with its multilingual capabilities, demonstrates InvestGlass's commitment to customer satisfaction and excellence in customer relationship management.
This innovative approach not only ensures the platform's success in the Chinese CRM market but also serves as a model for other CRM companies to follow when catering to a diverse and international clientele.