The problem is that most form builders are either too expensive or don't allow you to easily create your own forms.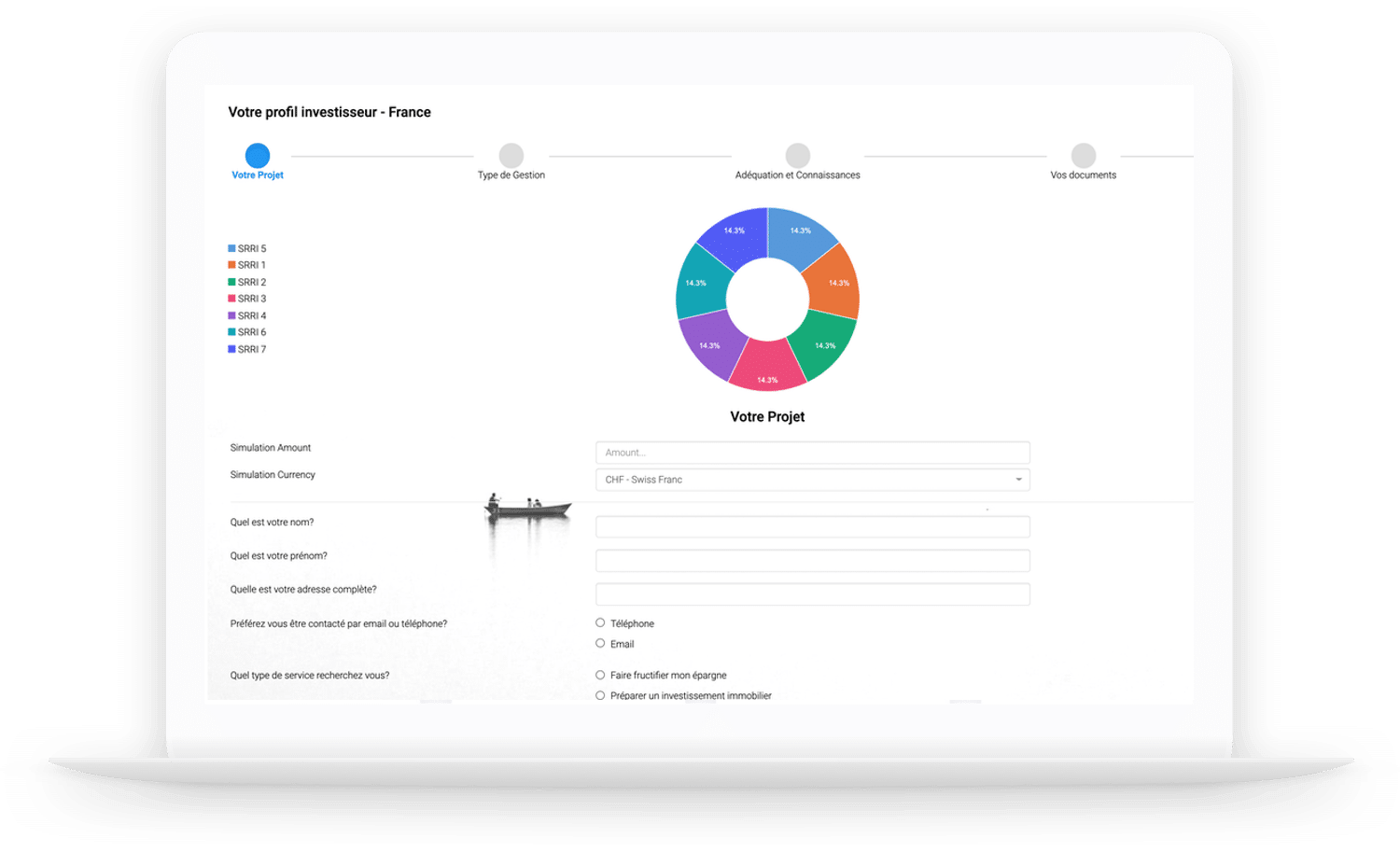 Online forms your prospect will finish
But collecting online form responses isn't always easy. You have to create a form that people will actually fill in and answer honestly. Then you need to collect all these responses, which takes time and effort. Finally, you also need to analyze this data so it's meaningful – and that's not always straightforward either!
Create forms with the only CRM + Form hosted in Switzerland
With InvestGlass Form Maker we've made creating online forms easier than ever before by giving our users access to powerful tools they can use from their own web browser. So now there's no excuse for not doing regular customer research with InvestGlass Form Maker! Forms are used for employee satisfaction, customer satisfaction, marketing target audience, net promoter score, honest feedback, form questions. Simply use your own questions to collect information and feedback. Market research is seamless and you will note your customers like never before.
Shorter and smarter online forms
InestGlass form logic to make your InvestGlass form more interactive by allowing it to respond based on how people answer. You can also use question branching, multiple-choice and conditional logic to make sure the audience sees only the most relevant questions. Multiple choice questions will save precious time for your response.
An online form should take a maximum of 5-10 minutes to complete. A progress bar helps respondents understand where they are and how much is left. Then respondents can decide to finish later.
Create your online form that is user friendly and with no code
The online form maker will perfectly fit your organizational culture. From lead capture to a more complex questionnaire, the form maker will be the perfect questionnaire for your landing pages. It's an easy online form maker with multiple-choice forms, score forms, online exams form templates, interact forms, or fun forms. Online forms can include advanced features such as image questions, branching logic, or custom CSS. You can host the online form on any landing page with an SSL certificate. The form is visible on any screen size from a telephone to a computer.
For healthcare and finance, you can use an online form maker for personality forms and then share personality tests to better segment your offering. Online form results are collected into the Swiss bass CRM. Answer choices, correct answers, are collected into a reporting tool that produces excel or CSV file. Scored form data is stored on a Swiss server InvestGlass. This is an additional data encryption guarantee for you.
The online form builder is connected to InvestGlass marketing automation system. When a lead form is submitted, the CRM can send to new leads direct message, email, contract to be signed. Automation is the ultimate online assessment revolution.
Track form takers performance with Google Analytics
For all business purposes, you may want to track behavior, user submits and demographics to see how well your form is performing with different data range versus groups. Paste your Google Analytics web tracking code into the InvestGlass form builder.
Send online form maker captured leads to Mailchimp
When you are using a form to collect leads, then our Mailchimp integration is perfect to connect form builder and emails. Use our form maker to create an interactive, professional form, capture leads, make sure to ask for name and email, and it zaps the contact info to Mailchimp. You can also send scored form feeds directly to google sheets.
When the online form is completed send certificates or vouchers via your email
Once your form taker has completed the form, you want to automatically send them a voucher, contract or certificate of completion. InvestGlass can craft a nice contract and send it using your email credentials. Creating forms has never been easier and your sales team will enjoy generating leads with InvestGlass form maker. Responses will be directly recorded inside the contract and the contract will match your brand guidelines.
Start a free trial of the Swiss #1 service solution.
No credit card required. No software to install.