InvestGlass
Position Tracking for financial professionals
If you're a financial professional, then you know that a good PMS is essential to success. And one of the best ways to stay ahead of the curve is by using InvestGlass tools. Our portfolio manager tool allows you to keep track of your holdings and make informed decisions quickly and easily.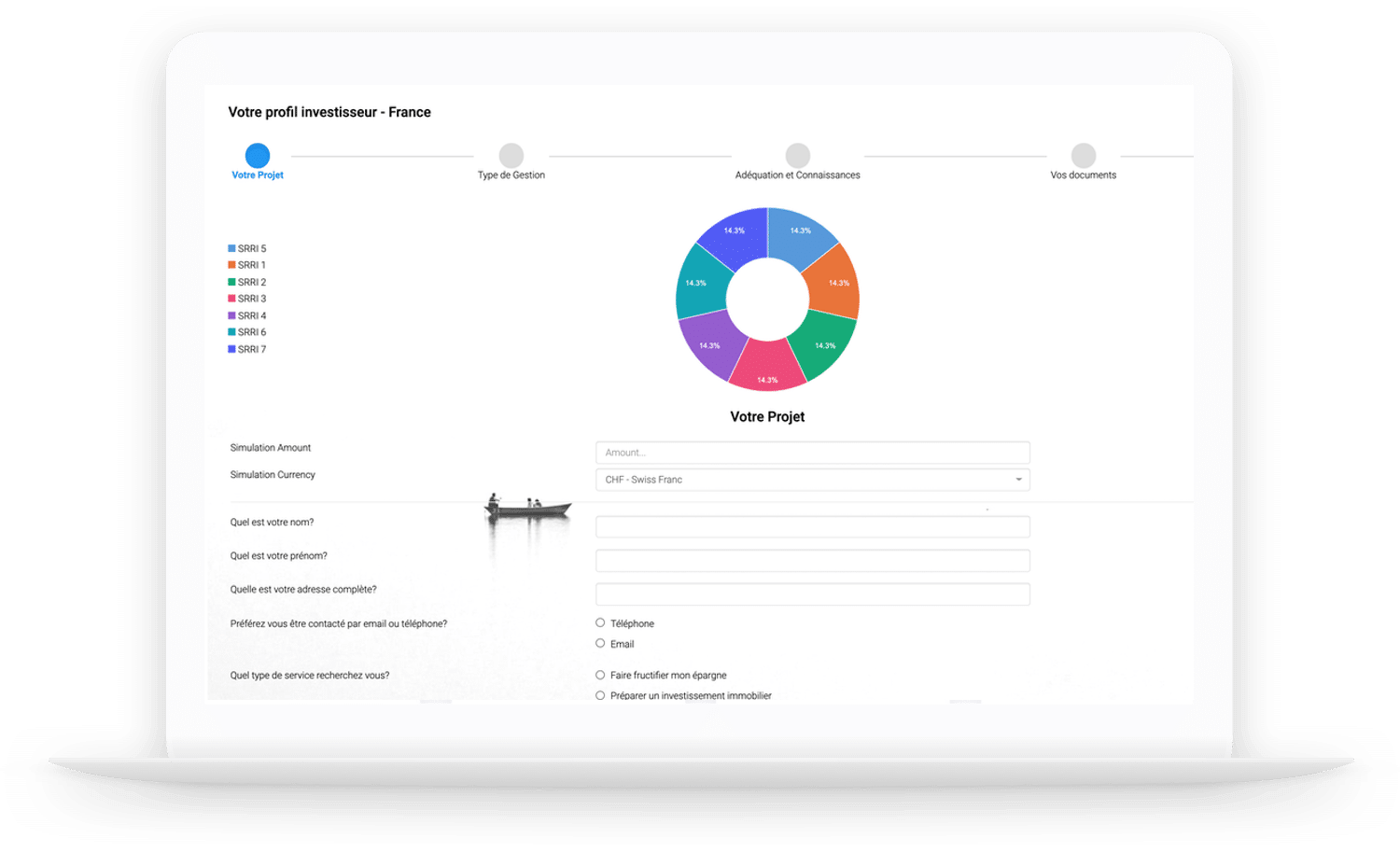 Portfolio Management System
InvestGlass offers a unique combination of CRM and PMS. Our software is dedicated to small and medium-sized advisory firms. It is the only tool on the market that offers both a customer relationship management (CRM) system and a portfolio management system (PMS) in one single application.
InvestGlass helps advisory firms to improve their customer relationships and increase their revenues.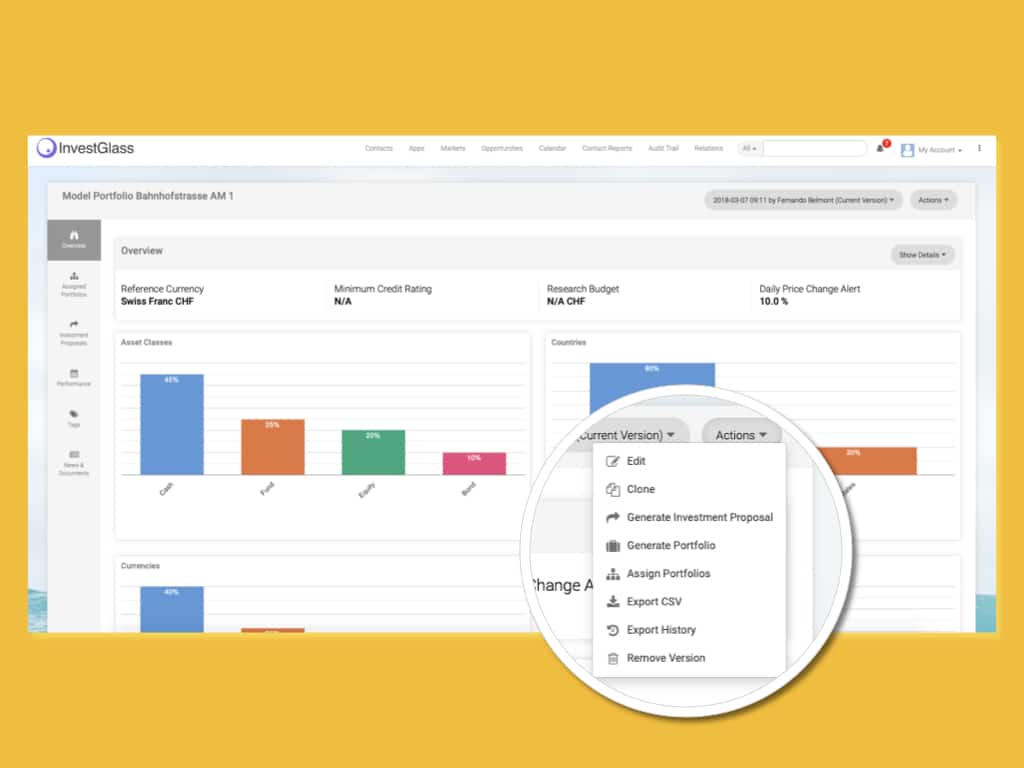 Build your model portfolio
Create model portfolios from any kind of securities: bonds, equities, alternative investments… Select a group of portfolios and apply dynamic rebalancing.
Once rebalanced, generate pre-built trading ledger for your banks / custodians. InvestGlass works with bank-grade rebalancing tools.
Robot advisory
Build digital onboarding forms and link them to InvestGlass rebalancing tool to produce your own robot advisor. The robot will help you to generate trade blotters from your model portfolio blueprints. Rebalancing will screen the CRM KYC to make sure that you respect each client's suitability before you trade.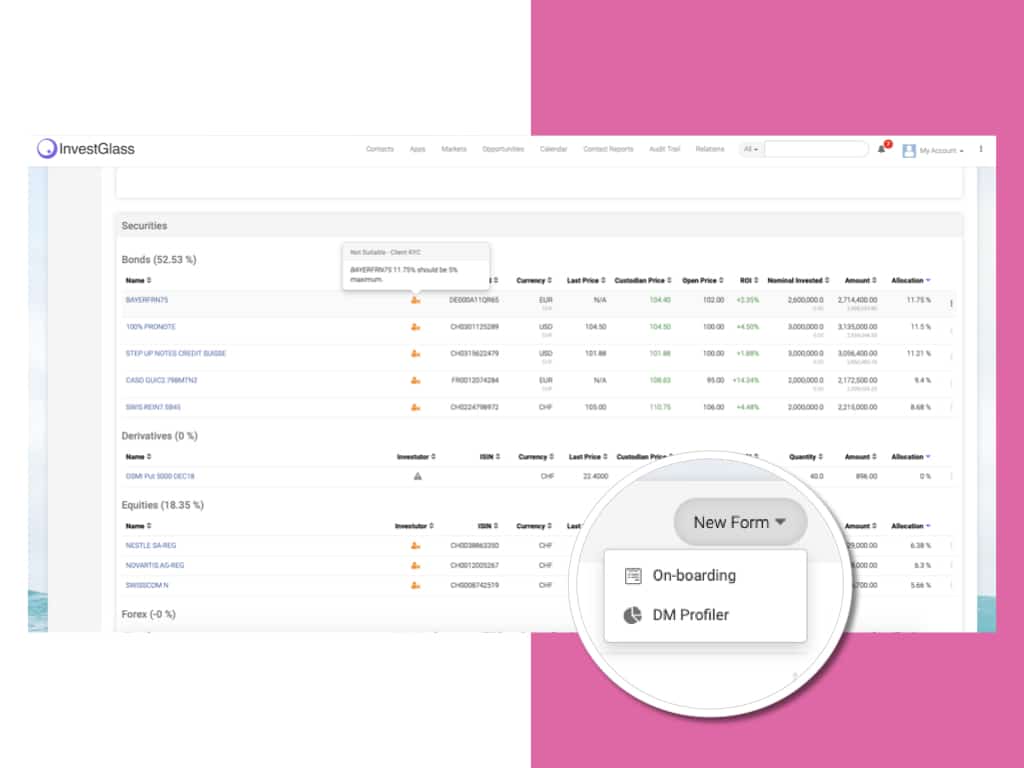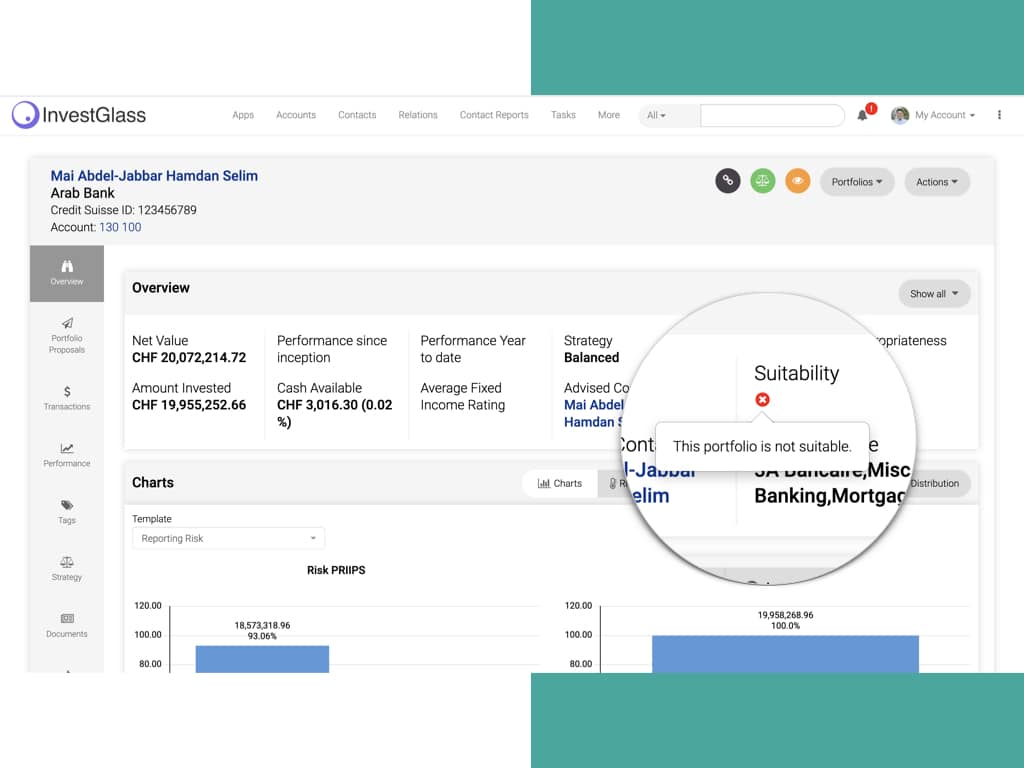 Suitability, Appropriateness
InvestGlass is built for banking level reporting. The solution will help you screen each position and transaction based on suitability and appropriateness.
InvestGlass offers the following tracking : 
– Suitability 
– Appropriateness
– Risk indicator 
– Universe list
– Favourite securities and flavour of the month
– Concentration limit 
– Fund concentration
– Max drawdown limits 
– Max VAR and CVAR
Regulations
Regulations, restrictions, cross-border issues, and so forth are the main problems in today's financial investments. InvestGlass and our partners provide a platform that automatically indicates when regulations concerning a client's assets or securities change. An alert also arises when portfolio propositions are not compliant with cross-border regulations or other laws.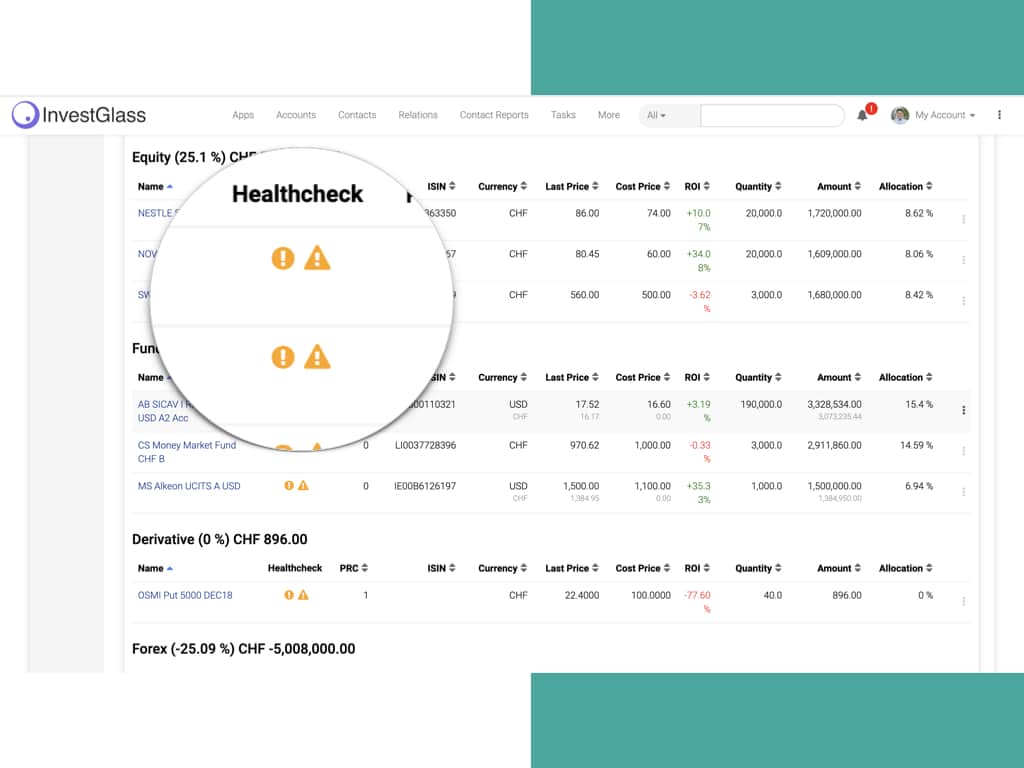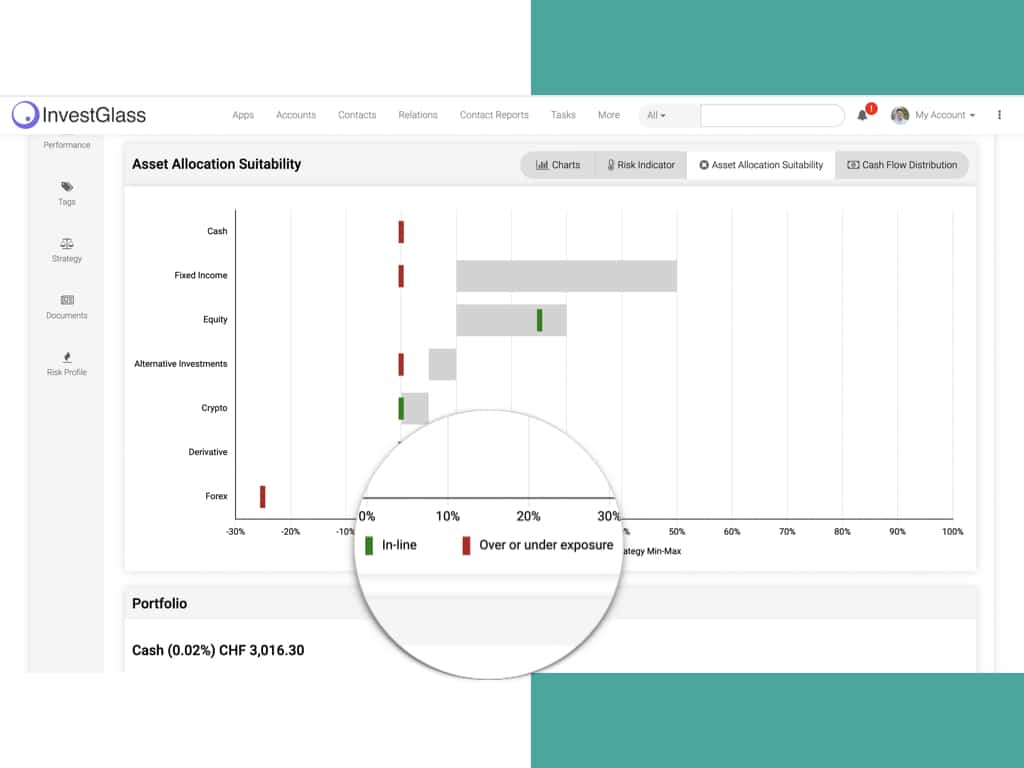 Automated advisory
In the past, you needed to rely on human advisors to find the right investments for your portfolio. However, with InvestGlass's artificial intelligence-powered advisory service, you can get recommendations tailored specifically for your needs. This means that you can receive recommendations based on your investment goals.
Invoice
Generate invoices for fees and expenses.
With the invoicing functionality, you can generate single or consolidated invoices. This allows you to define the rentability of clients, set intermediary compensation, and monitor fee payments. This tool also enables an in-depth analysis of the client's profitability.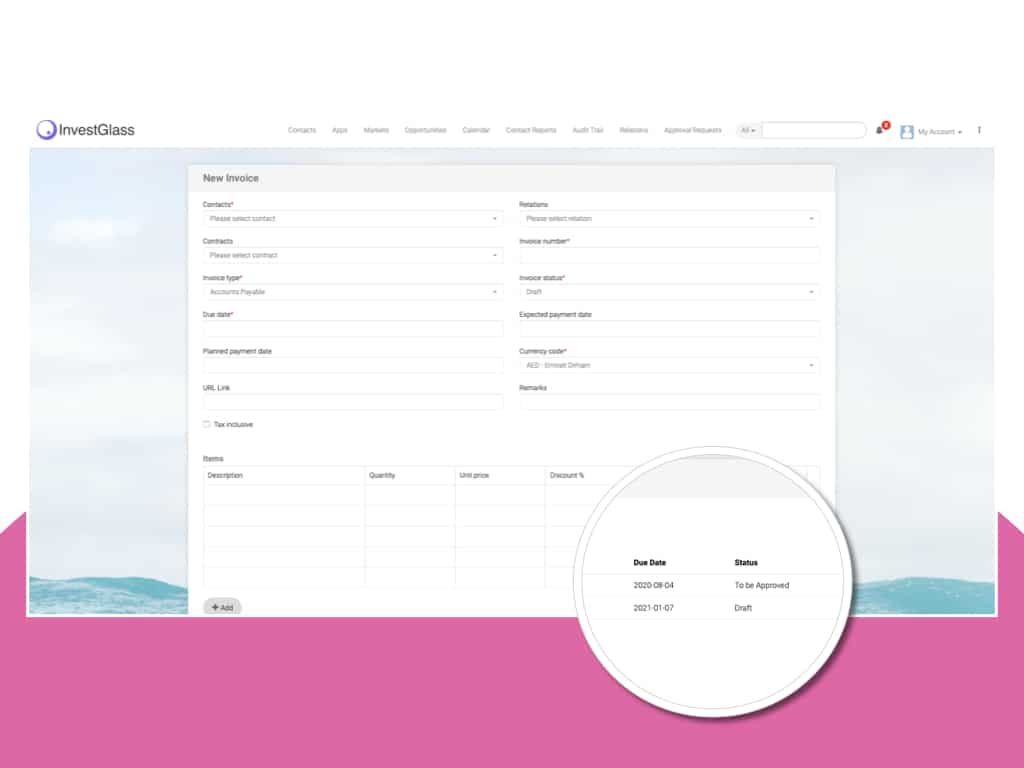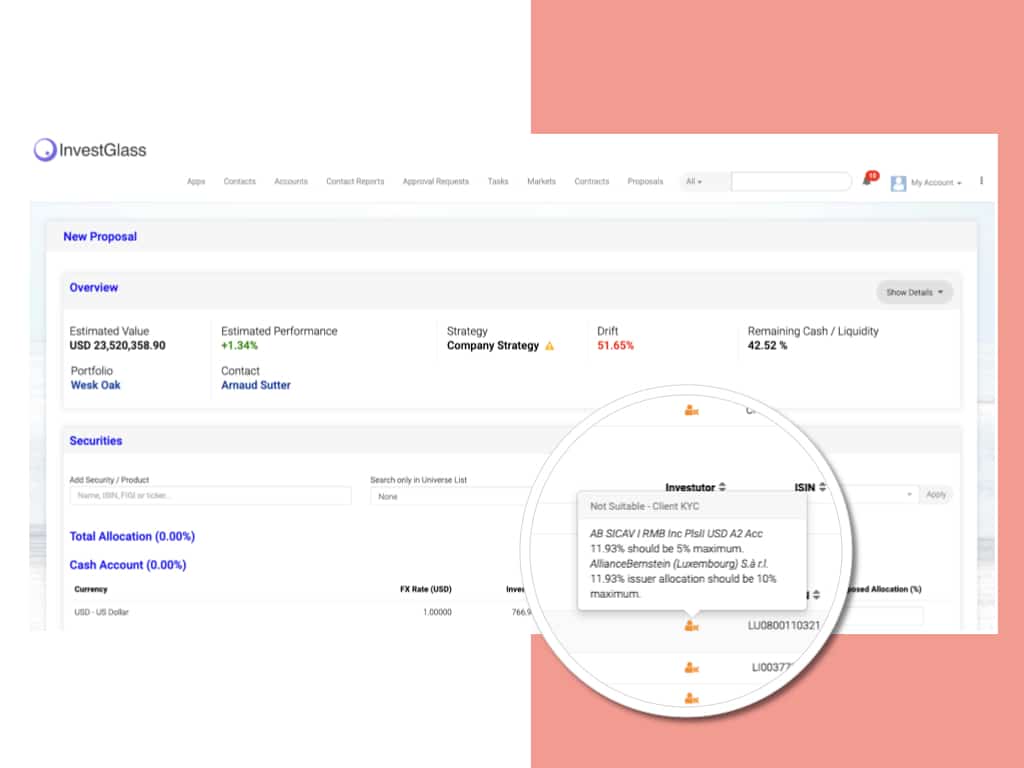 Higher Investor Satisfaction
The rebalancing functionality enables a user-friendly reallocation of assets within a portfolio. Your clients can demand certain rebalancing by entering the wished related allocation in their client portal. You can also rebalance directly according to their wishes from your portal, or reallocate according to the artificial intelligence recommendations.
Risk and performance
InvestGlass's platform automatically assesses and constantly updates the risk exposure of a model portfolio. The suitability tutor provides additional advice in order to correct and minimize said risk. Your performance is also accessible and assessable via the platform, graph formation, and report analysis. Additionally, you can add a partner to compare your performance to peers, regarding risk exposure and returns. The piece of the code is freely modifiable in R and Python.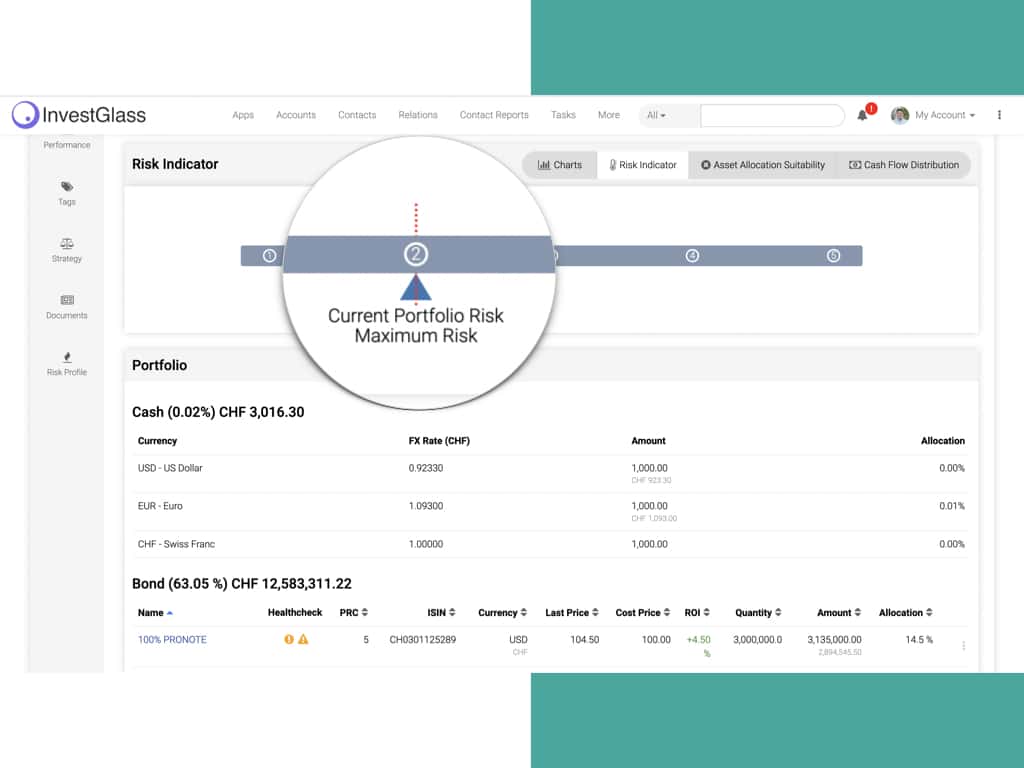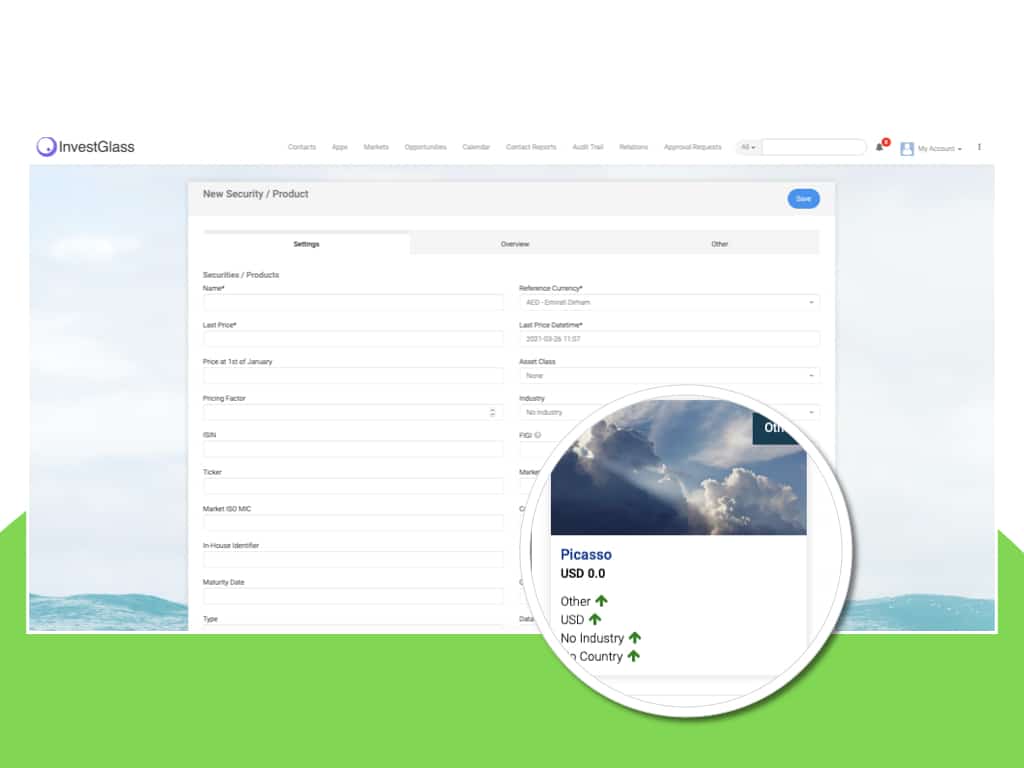 Non-bankables
The InvestGlass features enable the customizability of portfolios. We provide the opportunity to add non-bankable assets to your portfolios such as real estate and art collections.
Feed & Consolidation
InvestGlass API and flat files are directly connected to your banks feed. Although InvestGlass does not offer "aggregation & cleaning" services for banks' feed, we serve over 20 custodian and brokerage sources. If you wish to include another source InvestGlass will setup a SFTP / SWIFT / API service for you.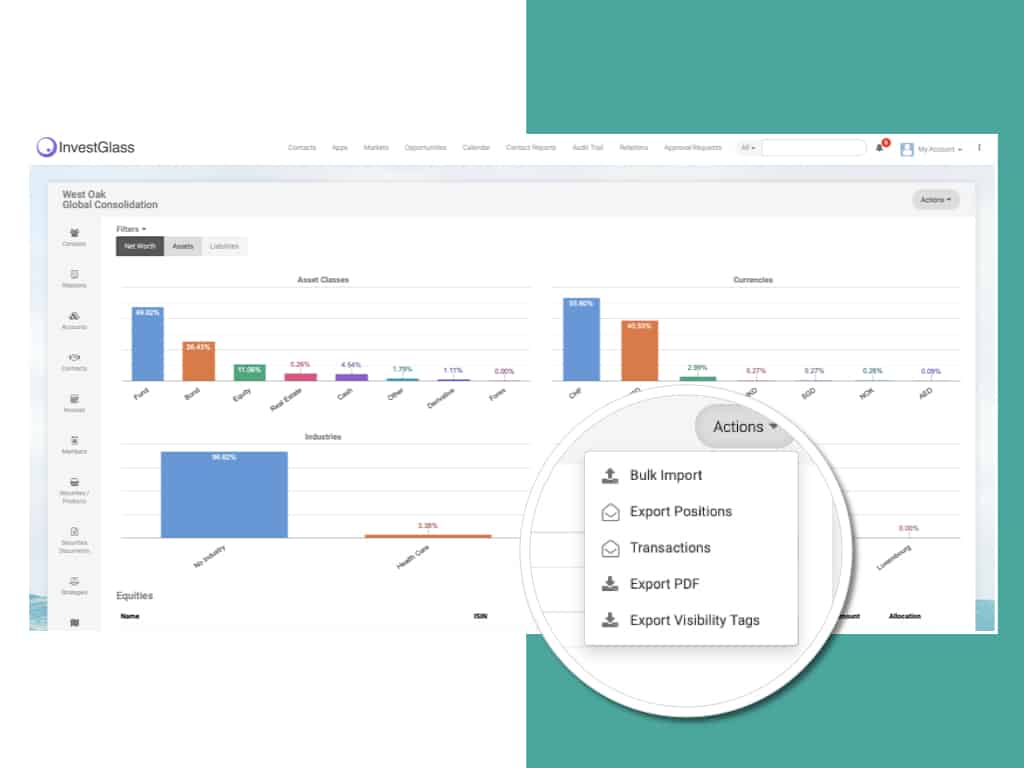 Start a free trial of the Swiss #1 cloud service solution.
No credit card required. No software to install.