InvestGlass
CRM for Healthcare
InvestGlass's adaptability improves your knowledge about your patients and affects the result.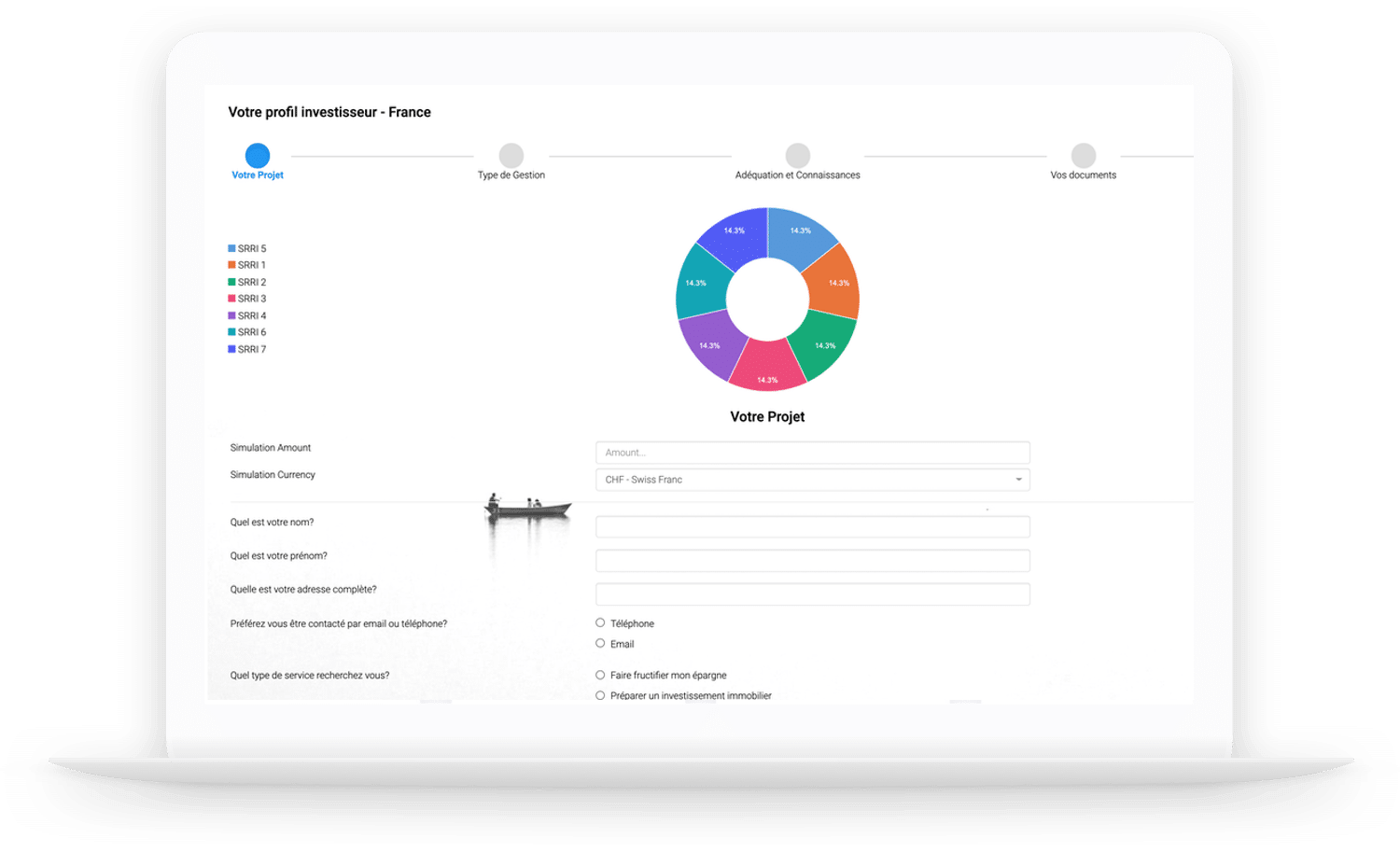 Offer accurate and timely customer service processes within the healthcare industry.
The global healthcare CRM market is lately developing at a higher rate than previously. This is created by CRM solutions recognizing the current necessities of healthcare providers and healthcare professionals to cope with business data. The current pandemic exacerbated the trend and healthcare organization demands electronic health records.
Challenge of healthcare CRM software
Indeed, the pandemic has disrupted the health and life sciences industry to the extreme and tighten the pressure on CRM adoption in the healthcare industry. For years, health care services' interest in CRM was increasing for multiple reasons. First, the communication prior, during, and after the care is always cumbersome. Second, assessing electronic medical records and the identification process is complex and errors may occur. Third, monitoring performance from healthcare staff is extremely difficult and time-consuming. In addition, the medical team can use the healthcare CRM as a task management tool and improve patient care. Finally, automation is a huge component needed by the industry to enhance efficiency.
The CRM has been built to connect with your legacy systems while making sure that medical teams will find all services needed such as automated messaging frees, marketing tools, medical history, and a clear patient data screening solution. Making InvestGlass a complete healthcare CRM system.
The current health and social crisis have augmented the importance of digital transformation and efficient time and team management from healthcare companies. One of the main concerns remains, however, the question of data security and compliance, even if healthcare CRM systems may be the best tool to protect patients' health information.
It's all about Patient Satisfaction
InvestGlass's adaptability is key when considering the platform's role in the healthcare industry. Yet, the all-in-one solution offers the ideal applicability to the health services as the creation of client portals can ease communication as well as patient record and identification approvals. InvestGlass approval processes can automate the entire workflow and ease staff administrative burden. Monitoring characteristics can also help assess staff performance as well as their involvement and feedback. Post appointment feedback surveys can automatically be filled and send to patients as well as automating the creation of contact reports for each stage of the patient's journey.
The CRM tools are bundled to a patient portal which is key to collect patient intake and share medical billing, medical histories, and more. Indeed the patient is king! Patient records are easily accessible for existing patients and the creation of records is quick and effortless. This easiness enhances your patient service. Prevention can also be strengthened by sending emails via a targeted marketing campaign to targeted groups with health tips and best medical practices. Educational event alerts are even actionable automatically for nurses to enhance and develop their skills.
InvestGlass offers best-in-class onboarding digitalization as well as Pipeline and Order Management System. The pipeline system enables medication management which is vital to manage the patient relationship. The all-in-one solution possibilities for the health industry are enhanced by premade templates and an invoice system that considers the time taken for each patient.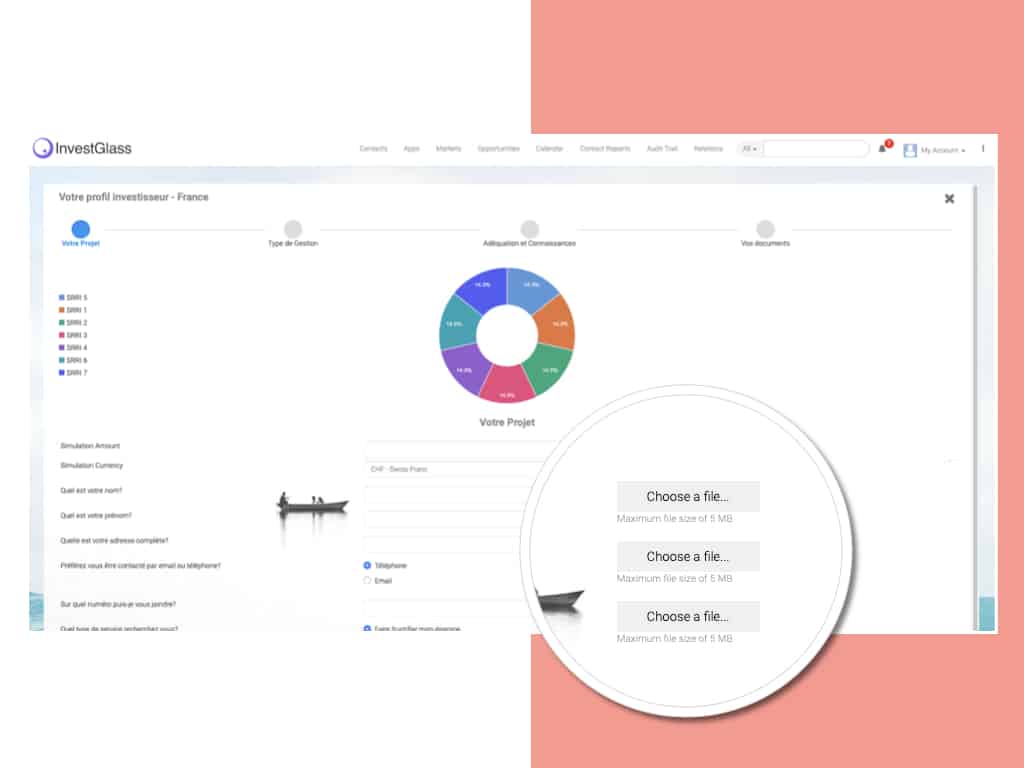 Pre-built onboarding
InvestGlass's digital onboarding feature helps you collect information from your new prospects and existing clients quickly and easily. InvestGlass allows you to create digital forms that can be completed by your prospects and clients online. InvestGlass also includes a digital signature feature, so you can collect signatures electronically. This makes it easy to get the information you need from your prospects and clients without having to print out forms or send them by mail. InvestGlass's digital onboarding feature is a valuable tool for any investor who wants to save time and simplify the onboarding process.
Pipelines
In order to properly forecast and plan growth, it is essential to have a clear understanding of the life cycle of your product or service. By tracking each sale or deal from beginning to end, you can gain valuable insights into which stages of the process are most successful and where improvements can be made. InvestGlass's pipeline functionality makes it easy to stay organized and track progress, empowering you to make informed decisions about your business's future. With this valuable tool at your disposal, you can confidently forecast and plan for growth, knowing that you have the data to back up your decisions.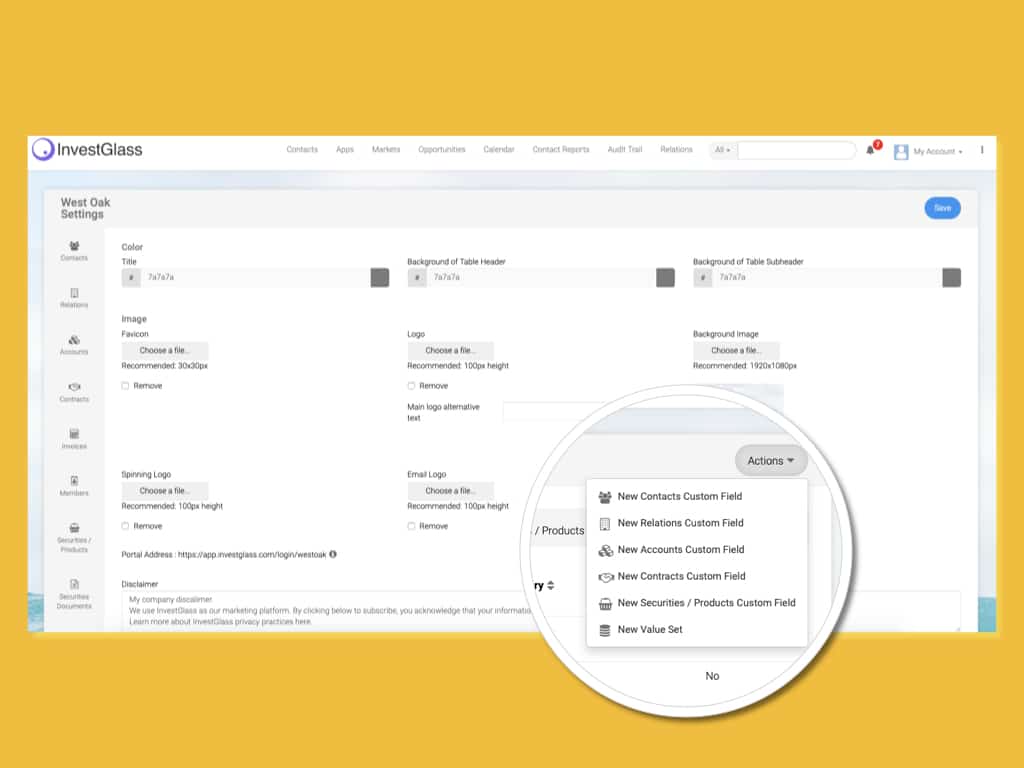 Fully flexible CRM
InvestGlass is a flexible CRM that can be customized to meet the specific needs of your business. The no-coding characteristic makes it easy to use, even for those with no prior knowledge in coding. You can customize each of the standard tabs and types of records, including adding custom fields and setting page layouts. InvestGlass also provides a wide range of reports and dashboards to help you track your progress and make informed decisions about your business. Whether you're just getting started or you're already an experienced user, InvestGlass is the perfect solution for you.
Automation
InvestGlass' automation capabilities are some of the best in the business. InvestGlass takes your CRM and makes it work for you by automating many of the tedious and time-consuming tasks that come with managing a CRM. Automation can be set up for things like the approval process, email responses, event creation, or follow-up notifications. InvestGlass' templates feature combined with its automating processes make it one of the most powerful CRMs on the market. InvestGlass' automation capabilities will save you time and money in the long run, making it an invaluable tool for any business.
InvestGlass offers a wide range of automation for banks and insurance. For example, InvestGlass can automate the approval process, email responses, event creation, or follow-up notifications. InvestGlass also offers a template feature that allows you to create complex automations. InvestGlass is the perfect tool for banks and insurance companies who want to improve their customer service.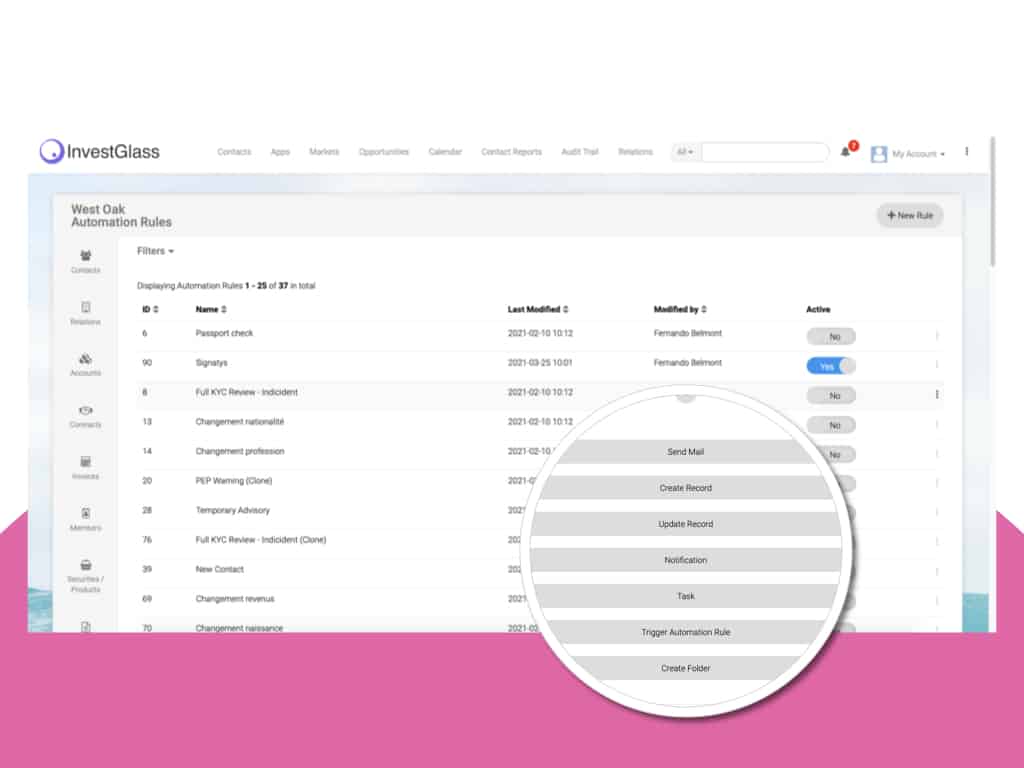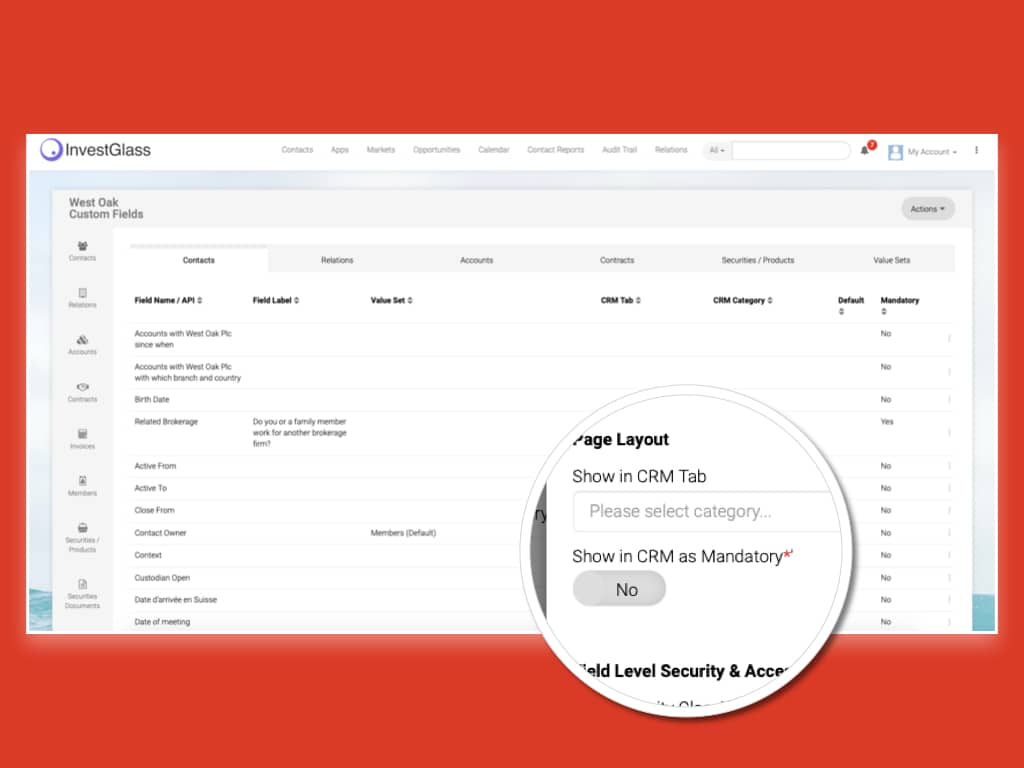 Approval process
InvestGlass' approval process is a great example of how businesses can use different levels of approval to ensure quality work. The InvestGlass Approval process requires all work to be approved by two different managers, or groups before it can be completed. This ensures that all work is of the highest quality and that any potential problems are caught early on. InvestGlass' approval process is just one example of how businesses can use different levels of approval to ensure quality work. 
Record permission and Audit
Industry regulations compliance is an important part of any business. InvestGlass allows you to grant objects permissions to control the access to your data fields and records. Each object can be set up with a specific level of access to create, read, edit, and delete those records. This level of access will define the extent a user has to manipulate a field record.
Field Audit Trail lets you retain archived field history data up to 10 years from the time the data was archived.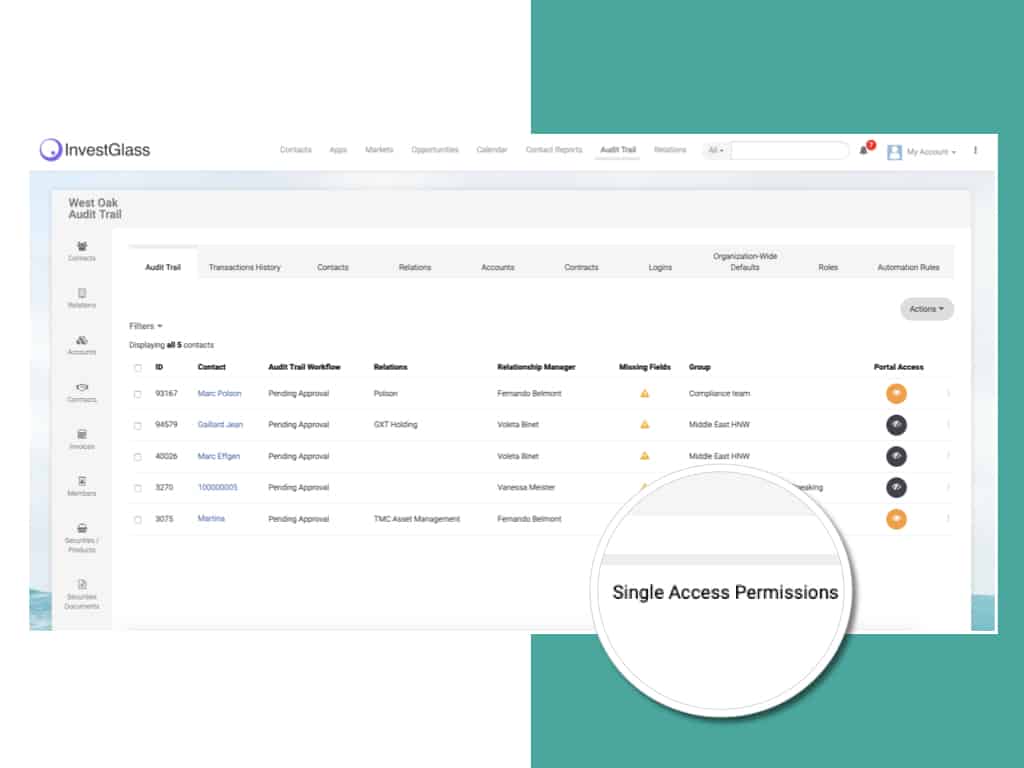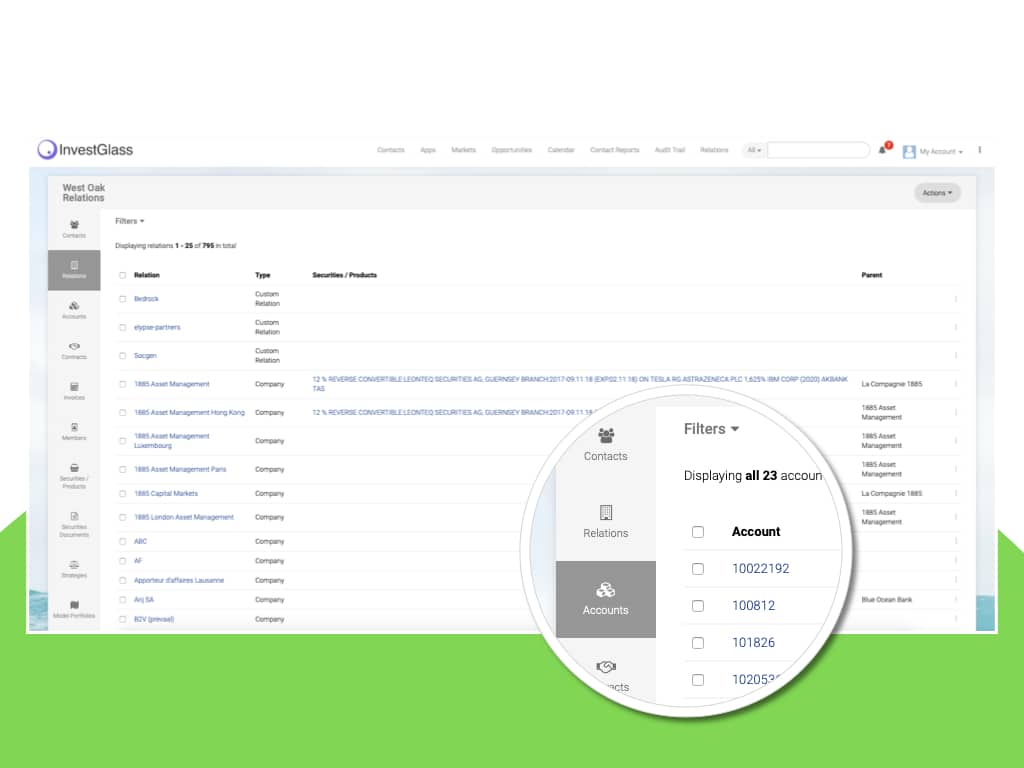 Relations and Accounts
Relationships, Contacts and Accounts are key components of customer relationship management. Clearly, the details needed as well as the accessibility to said details can be used for assessing the quality of a CRM.
Calendar
InvestGlass's Calendar is a great way to keep track of all your clients' meetings in one place. The Calendar automatically generates all your clients saved meetings into one generic calendar, so you don't have to miss a beat. You can also add, edit, or delete events manually. InvestGlass also categorizes events by customizable colors, so you can easily keep track of what's going on. And if you need a little privacy, InvestGlass also has a clients-only calendar. So check it out today!.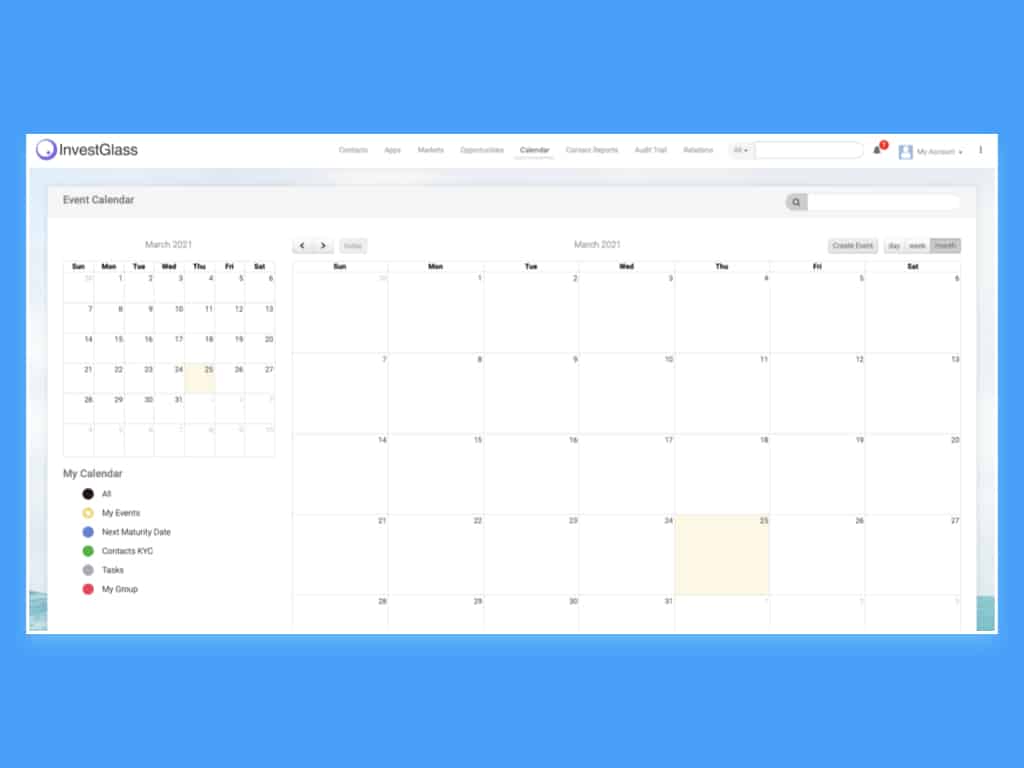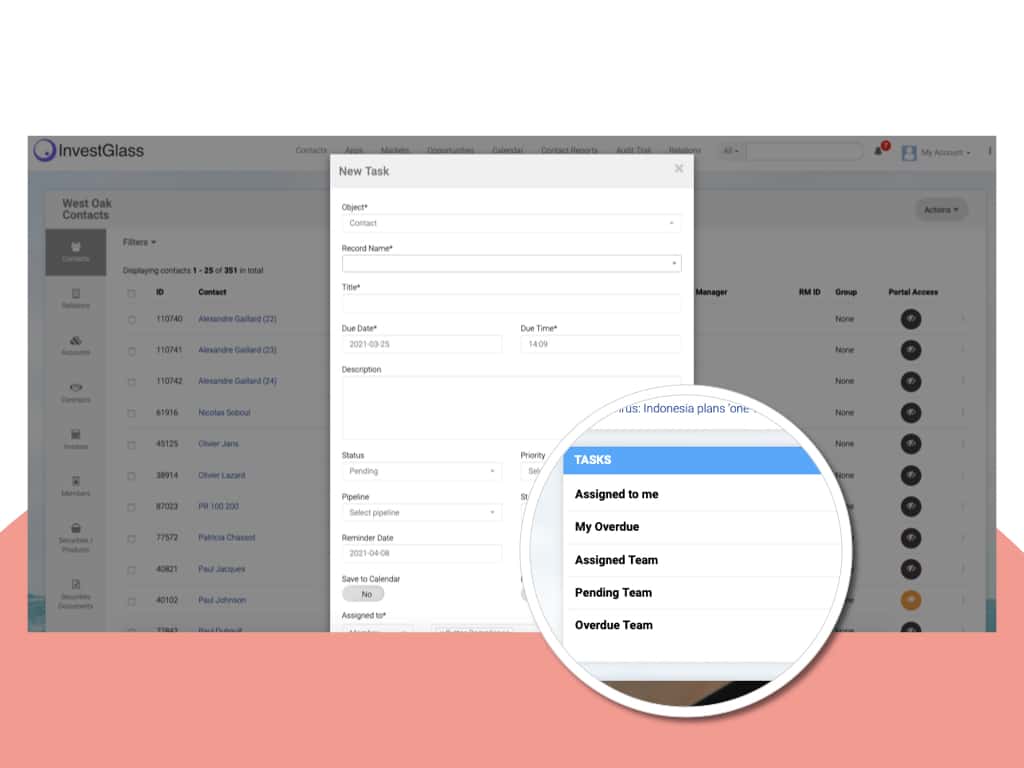 Tasks
InvestGlass task automation can help you keep track of the required actions and, if chosen, get a reminder in your calendar. Tasks may be created around four focus objects: Account, Contact, Portfolio, and Security/Product. A task can be prioritized, connected to a pipeline, and assigned to any member of your team. This allows you to keep track of the required actions and, if chosen, get a reminder in your calendar. InvestGlass automates the tasks for you so that you can focus on other things. Additionally, InvestGlass offers templates for different types of tasks, which makes it easy to get started. InvestGlass is a great tool for anyone who wants to save time and be more organized.
Campaign and Email/SMS Marketing
InvestGlass email and campaign system enables you to connect your email credentials and send hyper-targeted message to your customers. Respect GDPR regulation via the audit trail system capturing customers consent and preferences. InvestGlass also provides detailed reports on your email campaign performance, including opens, clicks, unsubscribes, and more. With InvestGlass, you can be confident that your email campaigns are compliant with GDPR regulations. InvestGlass is the perfect tool for any business that wants to send targeted, personalised email campaigns to their customers. Thanks to the powerful InvestGlass platform, you can create sophisticated marketing campaigns that reach your customers where they are most active – their inbox. So why wait? Sign up for InvestGlass today and start sending hyper-personalised email campaigns that get results!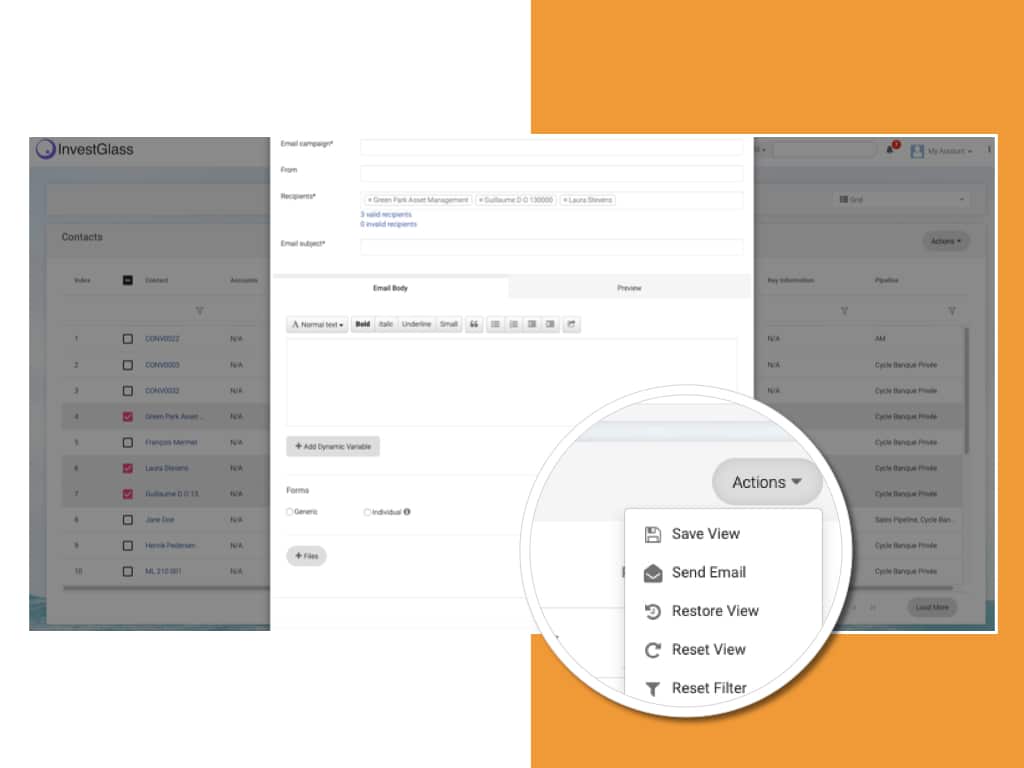 Start a free trial of the Swiss #1 service solution.
No credit card required. No software to install.