InvestGlass
Client Relationship Management
Automate the whole customer journey with #1 Swiss CRM. No programming is needed.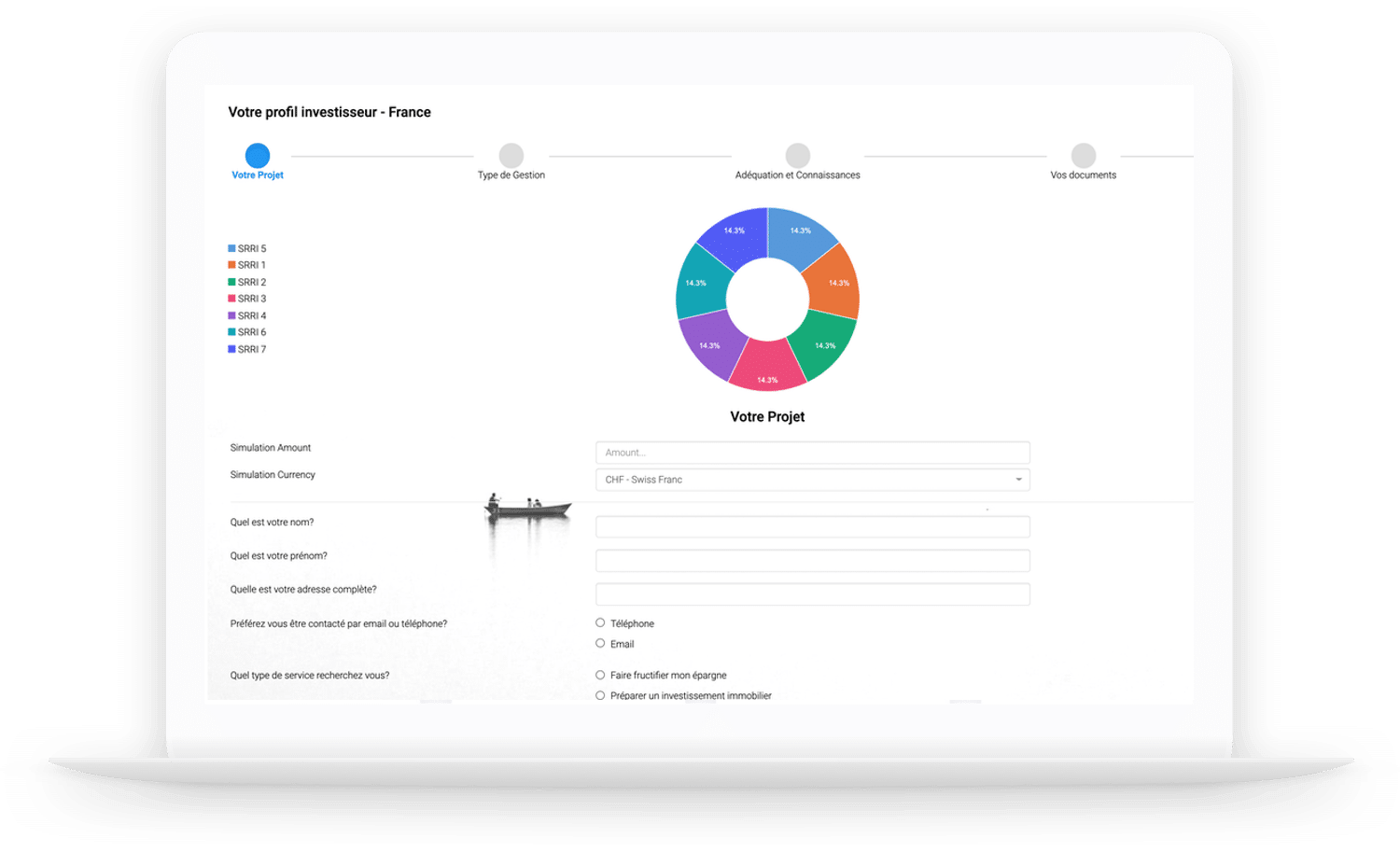 Client Relations Management
Get more leads, turn conversations into customers, and grow revenue at your pace with InvestGlass CRM.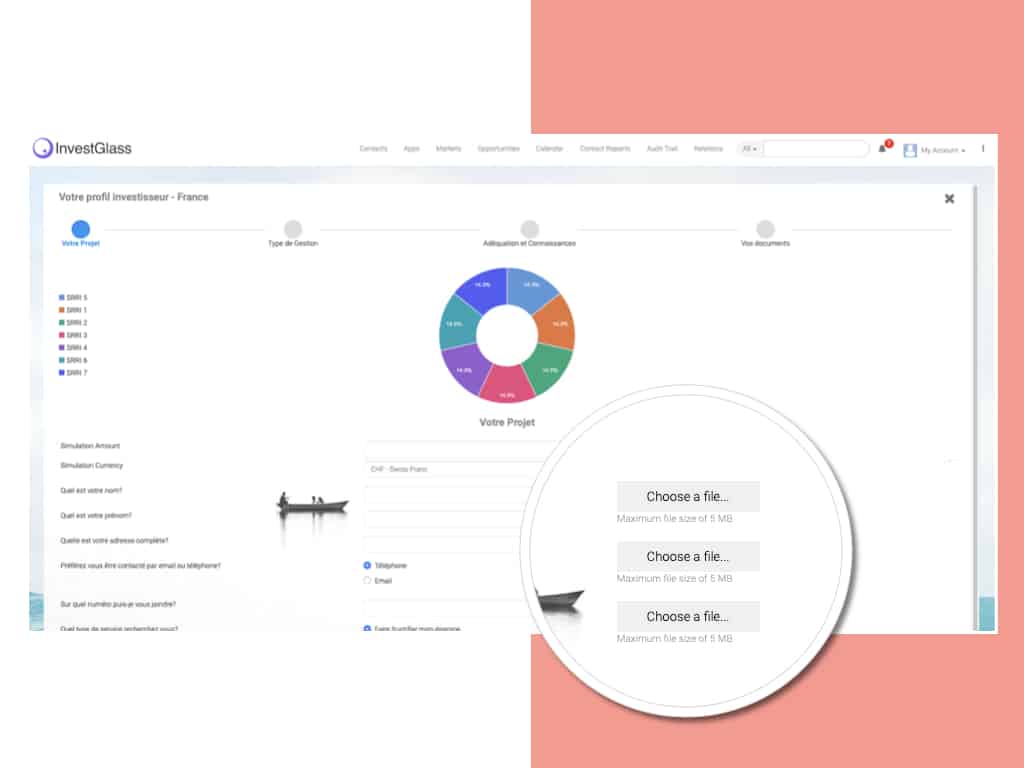 Pre-built onboarding
Collect information from anywhere.
One of InvestGlass most advanced feature is digital onboarding which helps you to collect information from your new prospects and existing clients. Digital onboarding includes a digital signature.
Pipelines
Pipeline refers to a tabular representation of the sales/deals between your company and your accounts. InvestGlass's pipeline functionality allows you to define which stages of a process are needed and to specify tasks and an agenda for each. This function empowers great organization as well as forecasting. Updating clients on your advancements is easily made based on this functionality.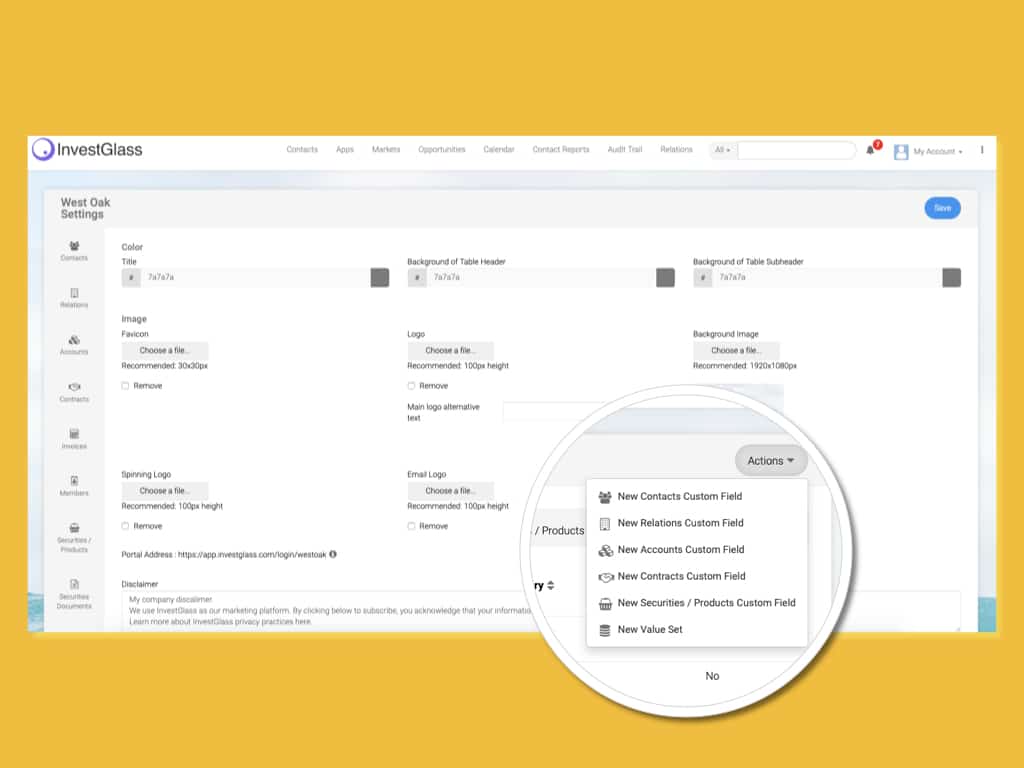 No-coding CRM
Yes but highly customizable.
InvestGlass's CRM is based on a no-coding characteristic, meaning that clients do not need any prior knowledge in coding as not required. You can customize each of the standard tabs and types of records, including adding custom fields and setting page layouts.
Automation
The CRM works for you.
Automation can be set regarding many actions such as the approval process, email responses, event creation, or follow-up notifications. From simple automation to complex ones, InvestGlass combines its templates feature with automating processes.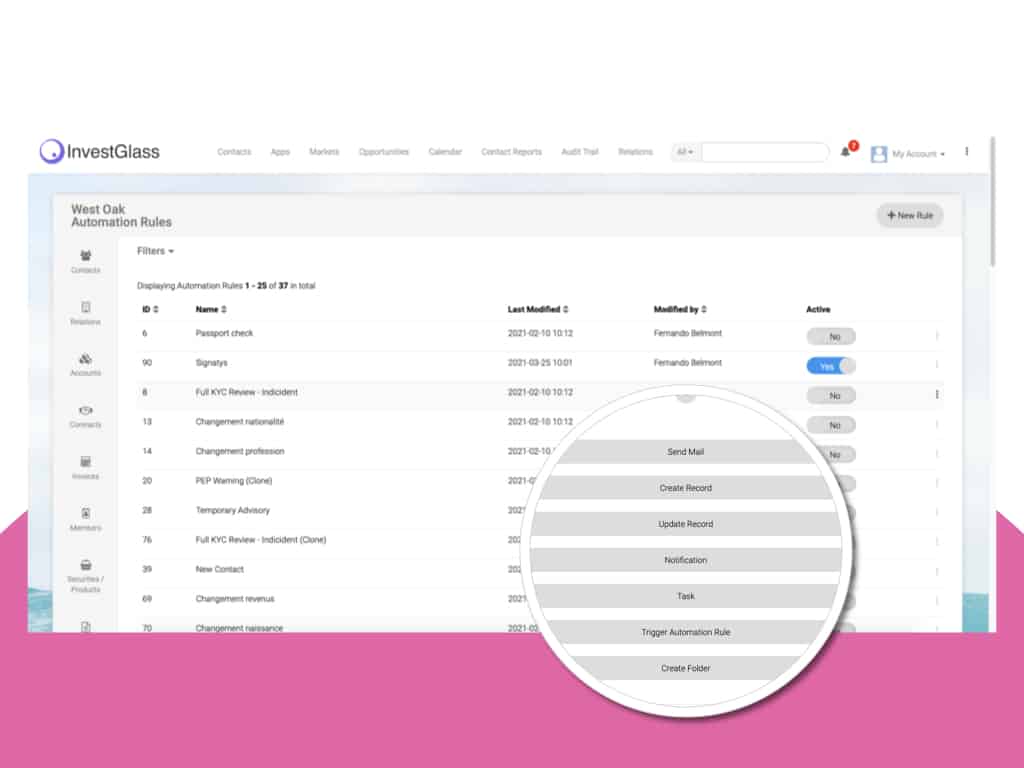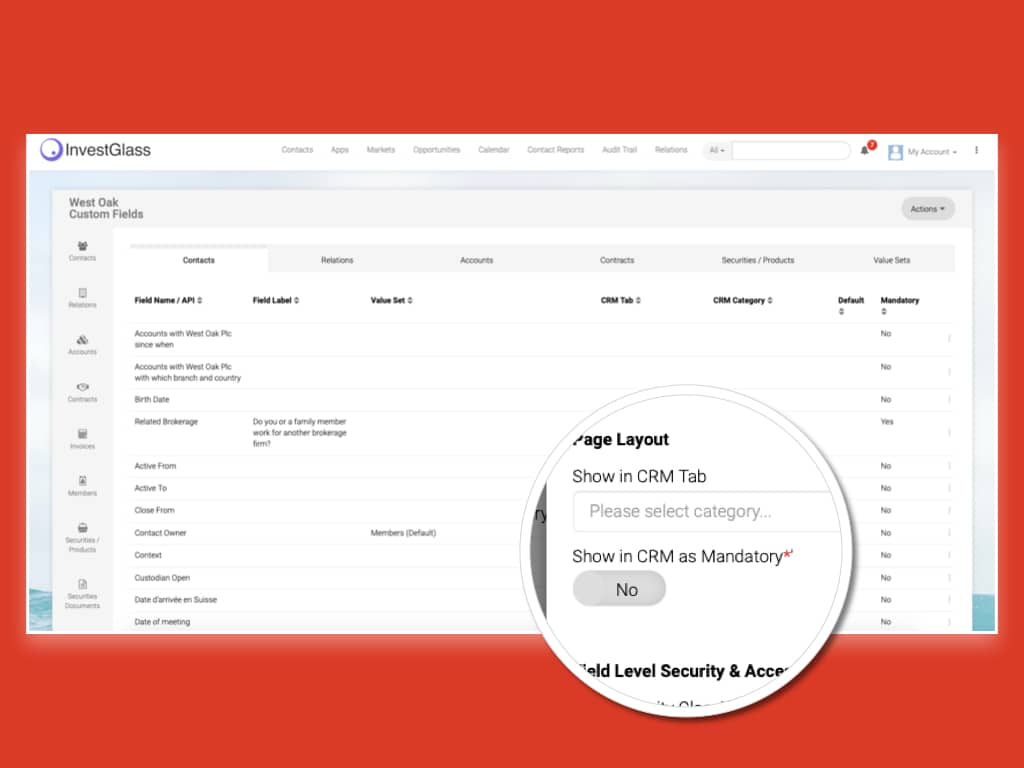 Customizable Fields
Tailored fields to fit your business processes.
InvestGlass's CRM is fully customizable as well as the functionalities incorporated in it. Ranging from the home screen to the setting of particular mandatory fields when creating a contact, the customizability allows you to personalize your CRM to your needs and work.
Record permission and Audit
Create, edit, update, and delete.
Industry regulations compliance is an important part of any business. InvestGlass allows you to grant objects permissions to control the access to your data fields and records. Each object can be set up with a specific level of access to create, read, edit, and delete those records. This level of access will define the extent a user has to manipulate a field record.
Field Audit Trail lets you retain archived field history data up to 10 years from the time the data was archived.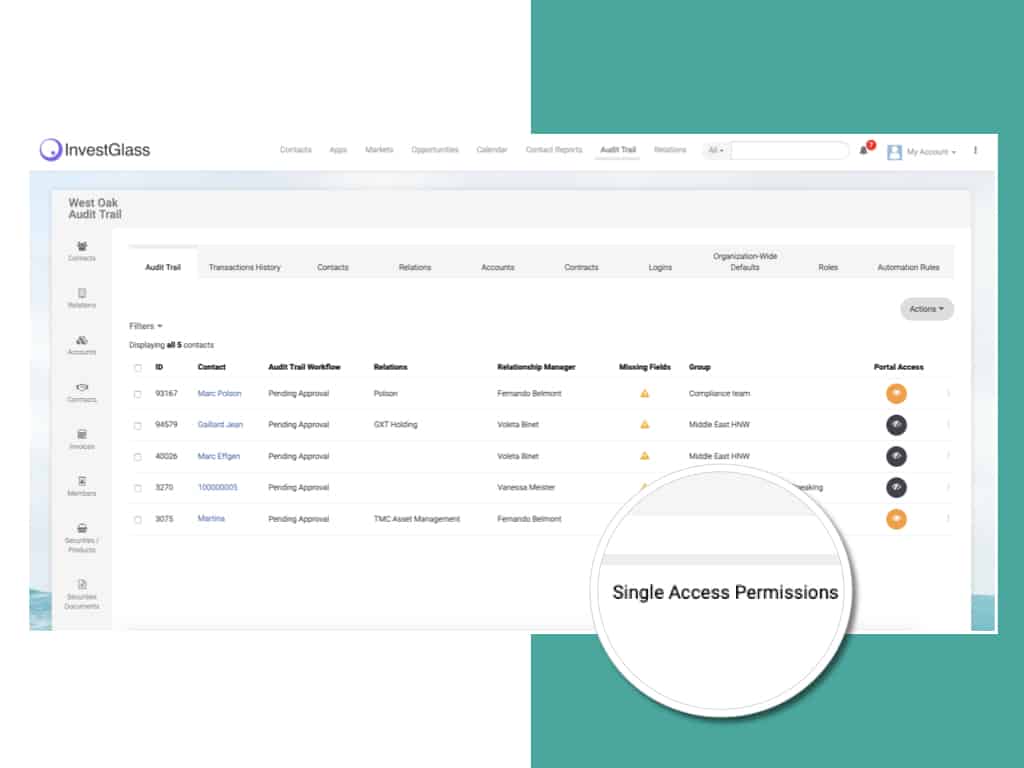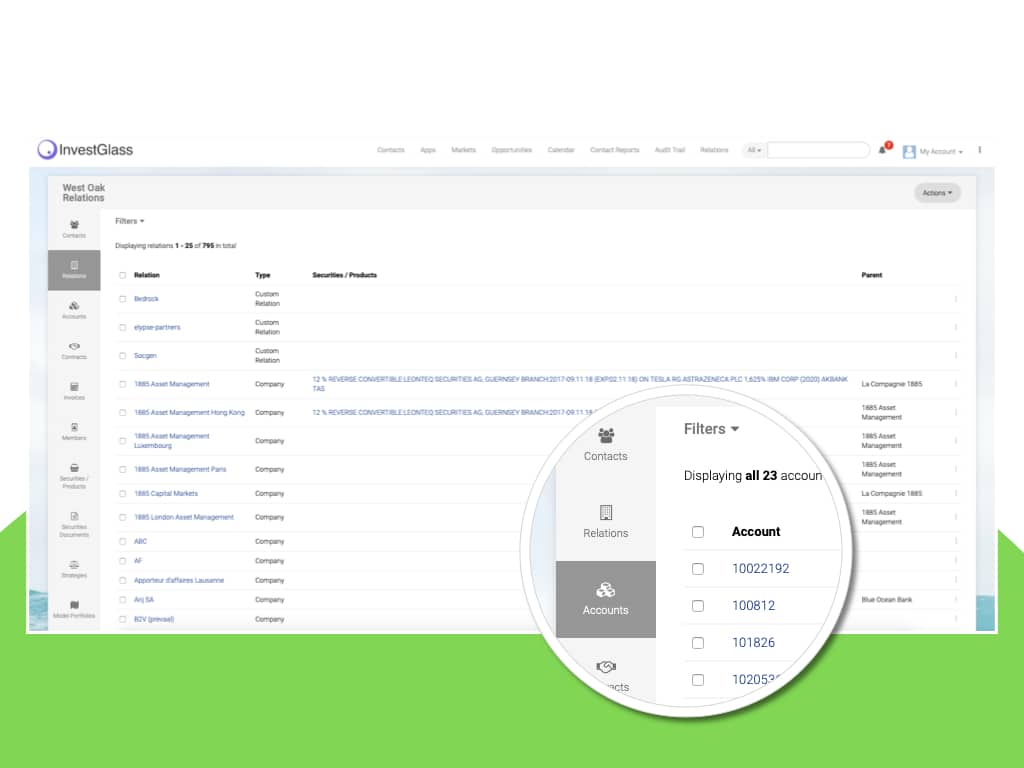 Relations and Accounts
Create and enrich relationships.
Relationships, Contacts and Accounts are key components of customer relationship management. Clearly, the details needed as well as the accessibility to said details can be used for assessing the quality of a CRM.
Calendar
Manage your team and customers events.
InvestGlass's calendar is a functionality which generates automatically all your clients saved meetings into one generic calendar. Events can also manually be added, edited, or deleted. Events categories are tagged by customizable colors. A clients-only calendar is also available.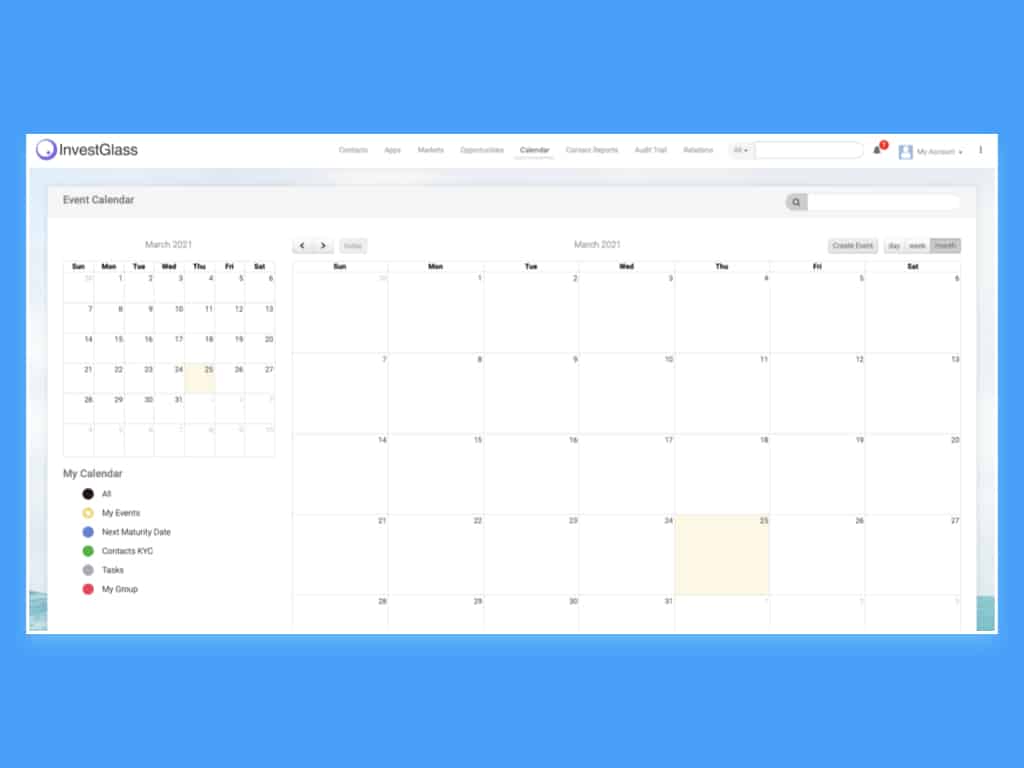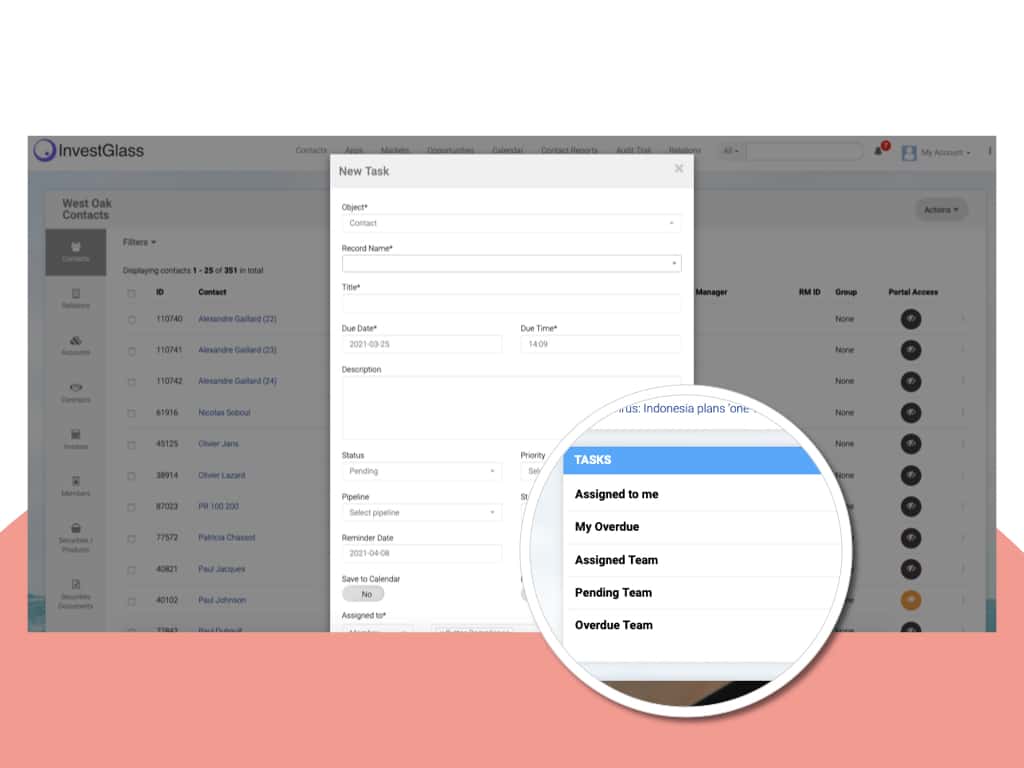 Tasks
Manage your team and prioritize tasks.
Tasks may be created around four focus objects: Account, Contact, Portfolio, and Security/Product. A task can be prioritized, connected to a pipeline, and assigned to any member of your team. This allows you to keep track of the required actions and, if chosen, get a reminder in your calendar.
Email & Marketing
Customized marketing emails.
Connect your email credentials to InvestGlass mail system and send hyper-targeted message to your customers. Respect GDPR regulation via the audit trail system capturing customers consent and preferences.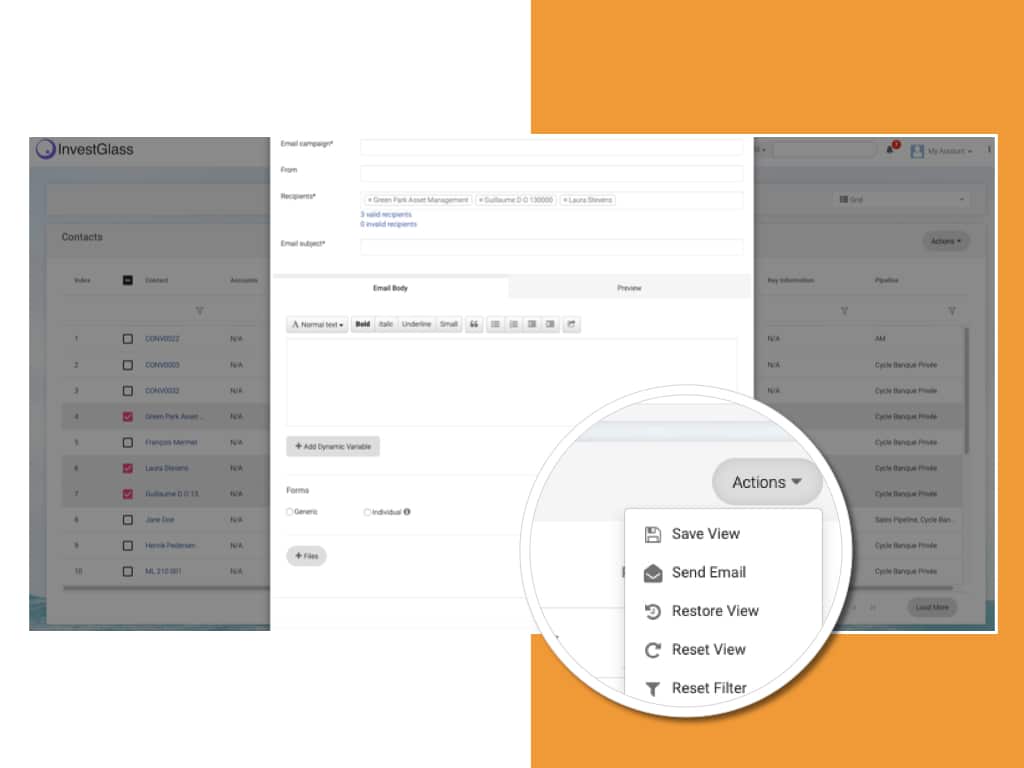 Start a free trial of the Swiss #1 service solution.
No credit card required. No software to install.