InvestGlass
Portfolio Management System
A single platform for portfolio management system, order, trades, payments
and risk management, FINSA, MIFID and more.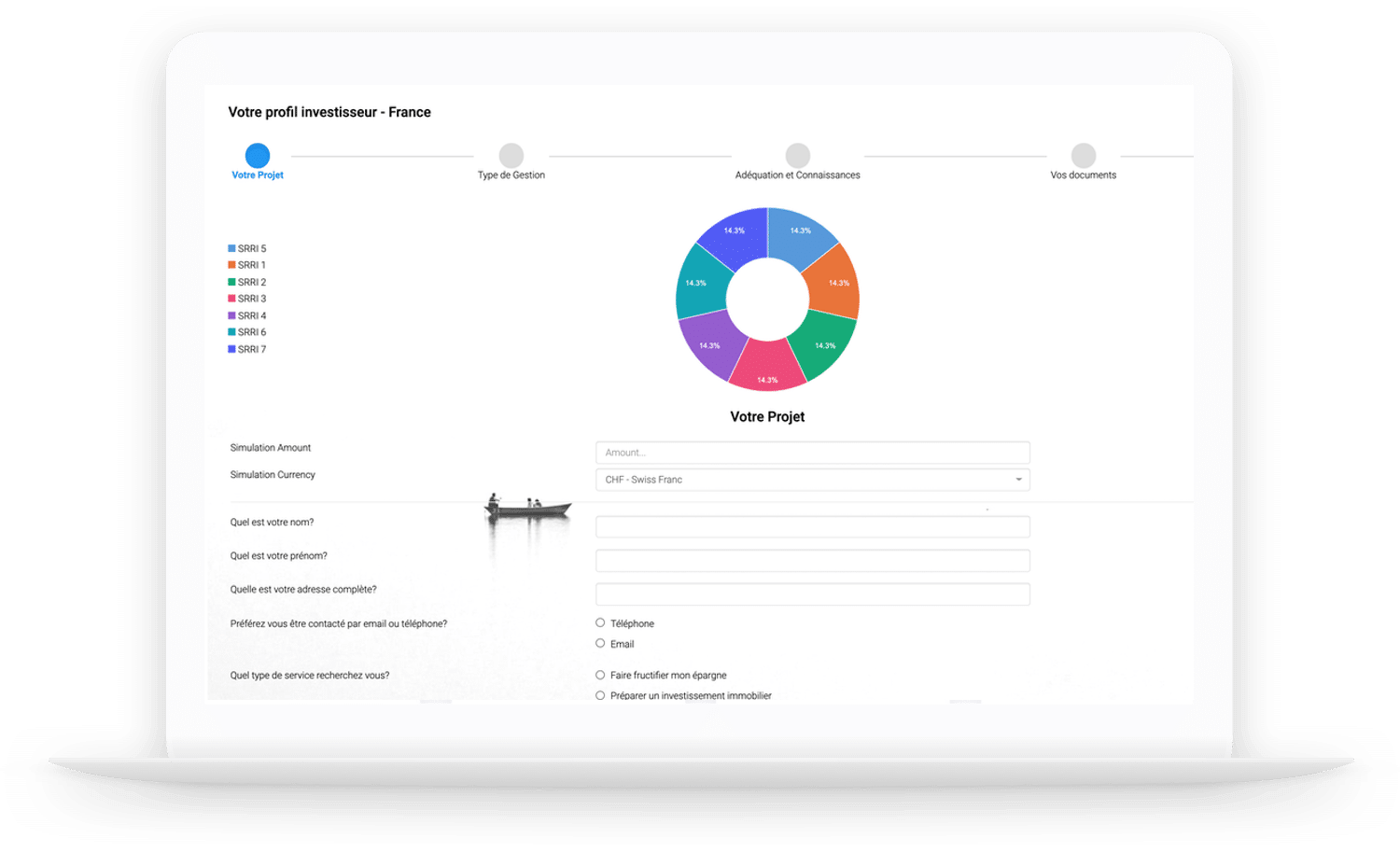 Portfolio Management System
Personalize investment advices. Automate and mitigate manual errors. Set regulations and risks alerts.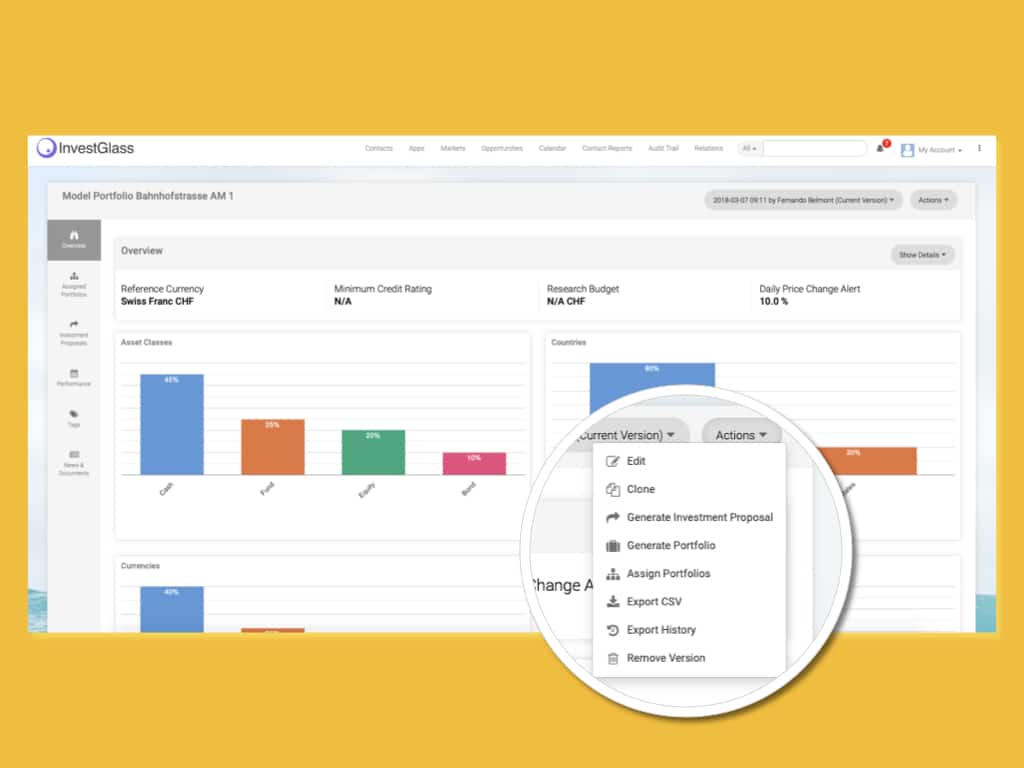 Models
Mimic any DPM strategies.
Create model portfolios. Choose with which clients or group of clients you share the portfolio. Add this portfolio to the relevant clients and accounts.
Robot advisory
Build your robot advisor in 10 minutes.
Build digital onboarding forms and link them to InvestGlass rebalancing tool to produce your own robot advisor. The robot will help you to generate trade blotters from your model portfolio blueprints. Rebalancing will screen the CRM KYC to make sure that you respect each clients' suitability before you trade.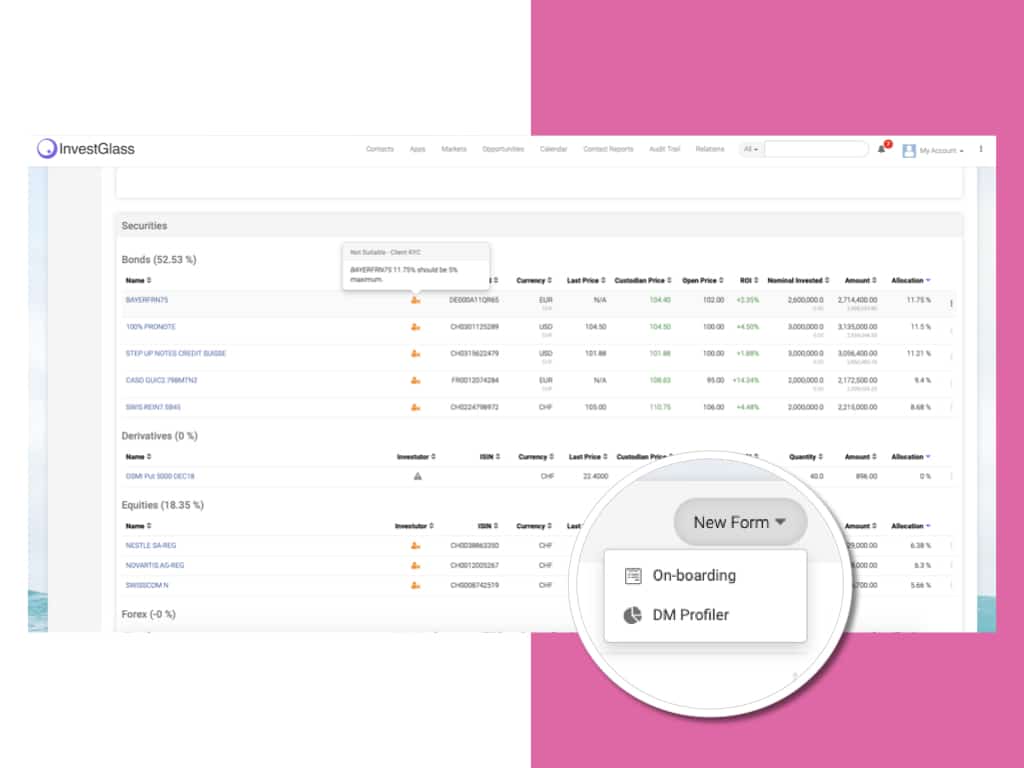 Tailored customer needs
Develop stronger customer relations.
Use real-time insights and data-based recommendations to tailor your advice to your customers' needs. The tagging option allows you to classify your clients into various categories, such as risk-averse and risk lovers, or sports fans and technology optimists. You can thus tailor your offering to your clients' perspective and increase their satisfaction. Adding some comparative tools, you are also able to assess your performance against your peers.
Regulations
Regulations, restrictions, cross-border issues, and so forth are the main problems in today's financial investments. InvestGlass and our partners provide a platform that automatically indicates when regulations concerning a client's assets or securities change. An alert also arises when portfolio propositions are not compliant with cross-border regulations or other laws.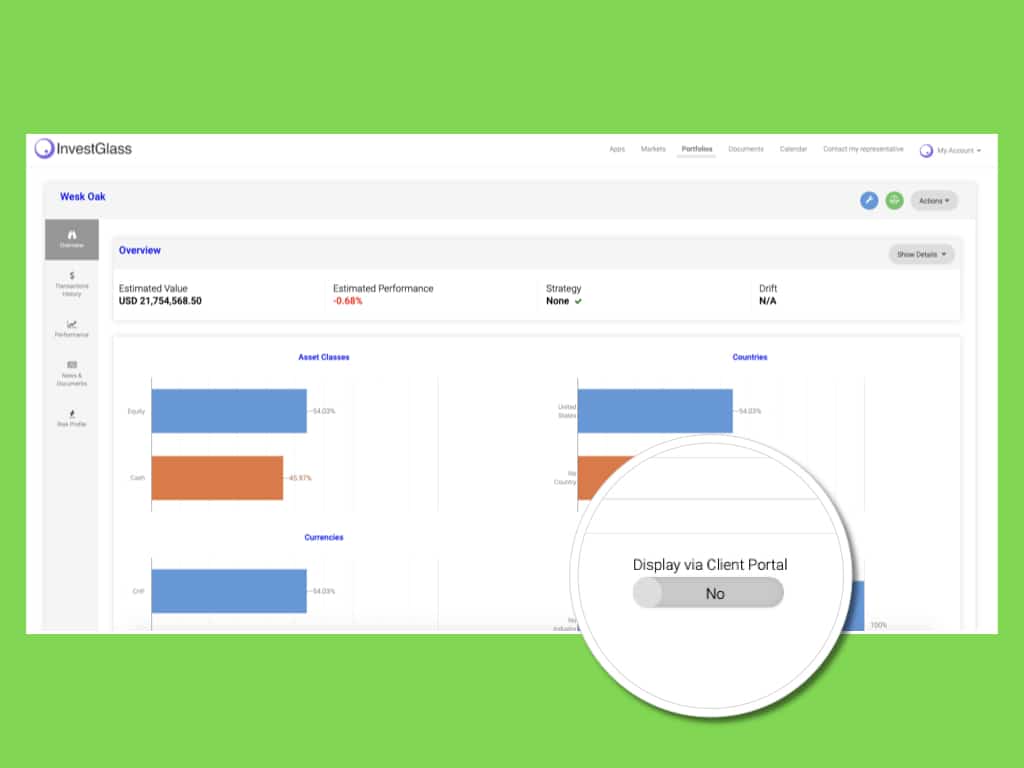 Shared portfolio
You might be benchmarking your portfolio or exchanging information about a managed fund which you can share information directly on the client portal. 
Invoice
Generate invoices for fees and expenses.
With the invoicing functionality, you can generate single or consolidated invoices. This allows you to define the rentability of clients, set intermediary compensation, and monitor fee payments. This tool also enables an in-depth analysis of the client's profitability.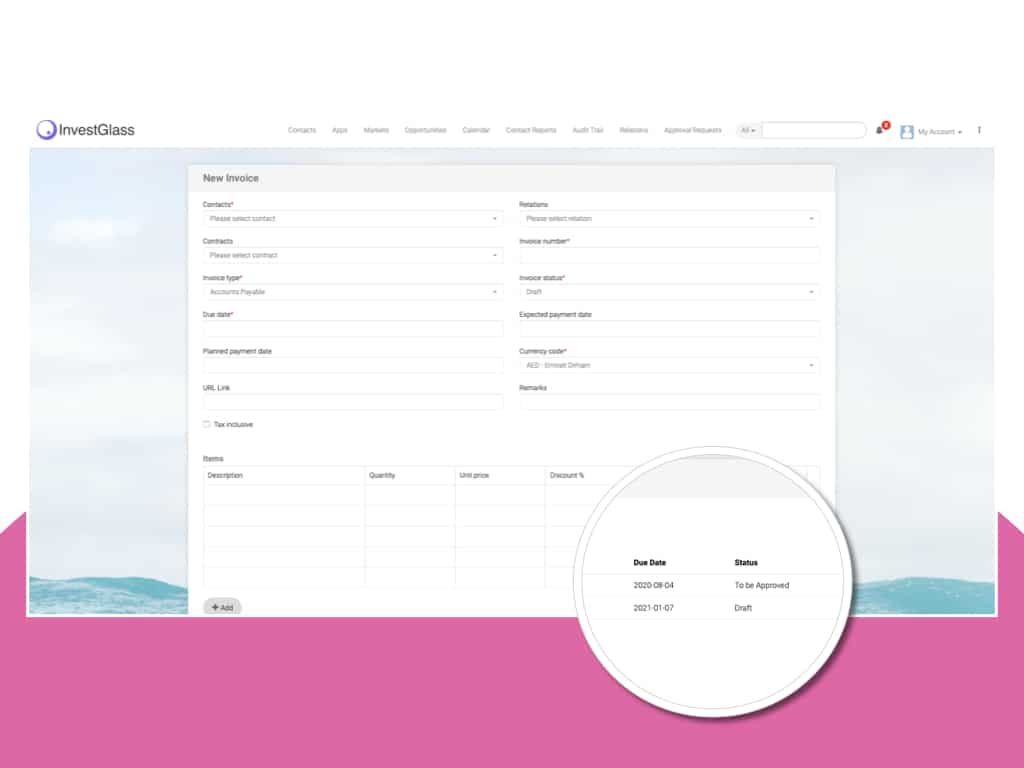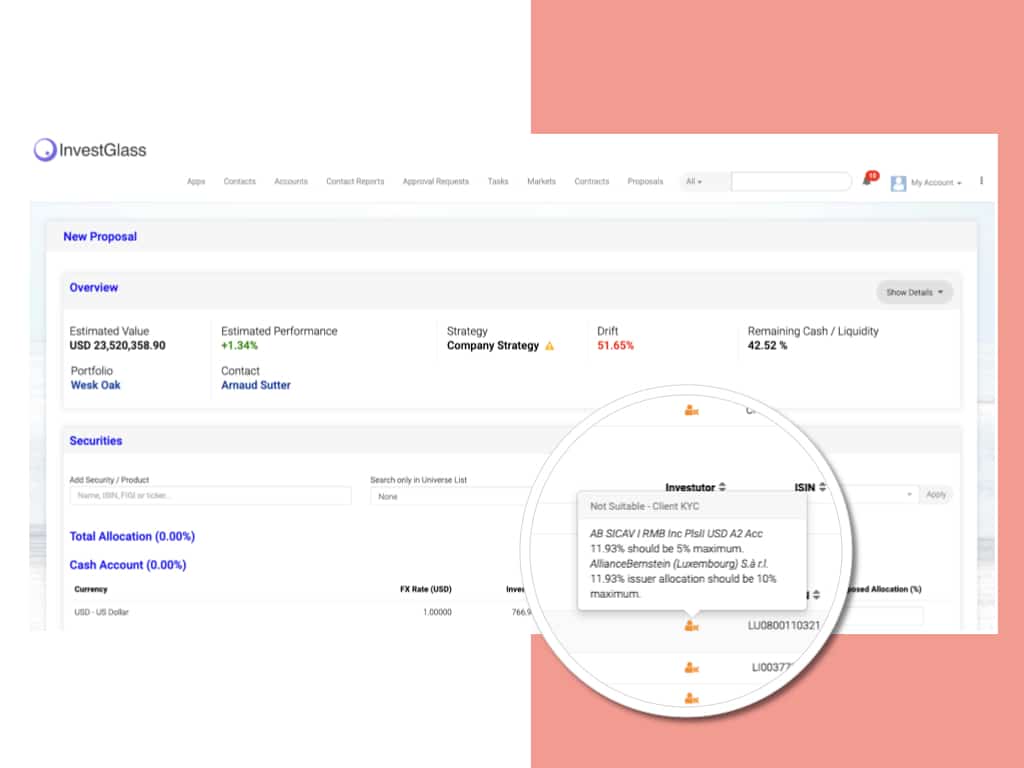 Rebalancing
The rebalancing functionality enables a user-friendly reallocation of assets within a portfolio. Your clients can demand certain rebalancing by entering the wished related allocation in their client portal. You can also rebalance directly according to their wishes from your portal, or reallocate according to the artificial intelligence recommendations.
Risk and performance
InvestGlass's platform automatically assesses and constantly updates the risk exposure of a model portfolio. The suitability tutor provides additional advice in order to correct and minimize said risk. Your performance is also accessible and assessable via the platform, graph formation, and report analysis. Additionally, you can add a partner to compare your performance to peers, regarding risk exposure and returns. The piece of the code is freely modifiable in R and Python.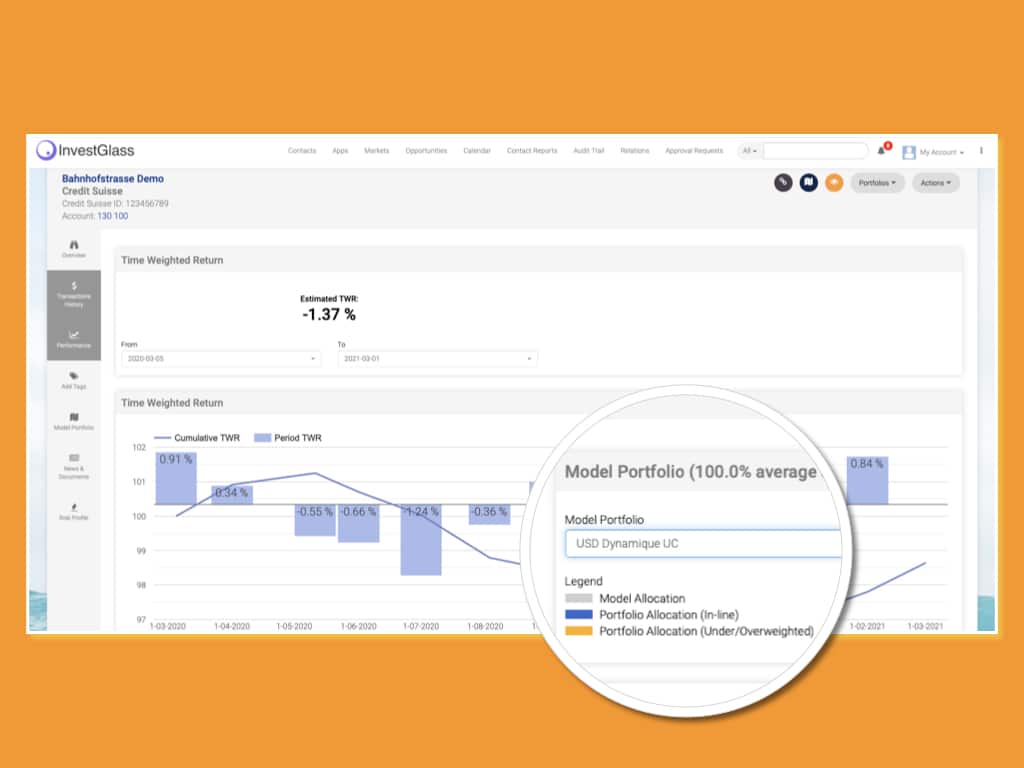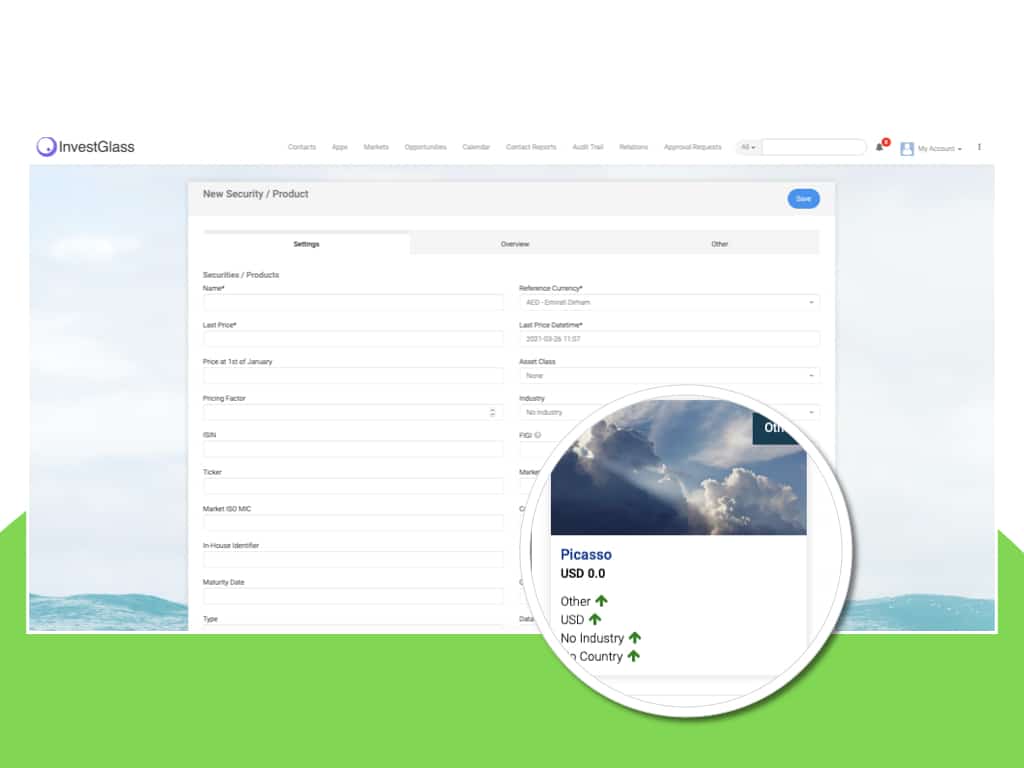 Non-bankables
The InvestGlass features enable the customizability of portfolios. We provide the opportunity to add non-bankable assets to your portfolios such as real estate and art collections.
Feed & Consolidation
InvestGlass API and flat files are directly connected to your banks feed. Although InvestGlass does not offer "aggregation & cleaning" services for banks' feed, we serve over 20 custodian and brokerage sources. If you wish to include another source InvestGlass will setup a SFTP / SWIFT / API service for you.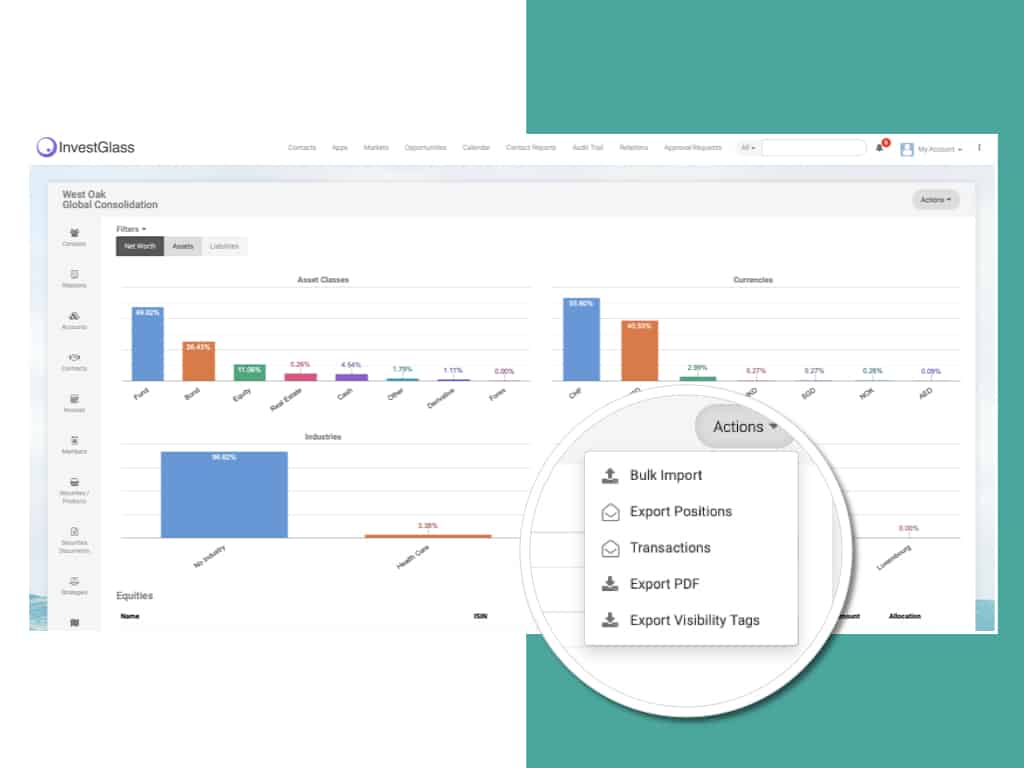 Start a free trial of the Swiss #1 cloud service solution.
No credit card required. No software to install.