InvestGlass
CRM for Mortgage Loan Officers & Brokers
MAXIMIZE YOUR EFFICIENCY WITH INVESTGLASS. MANAGE LOAN PORTFOLIOS, CONVERT NEW CUSTOMER FASTER, RETAIN CUSTOMER DATA.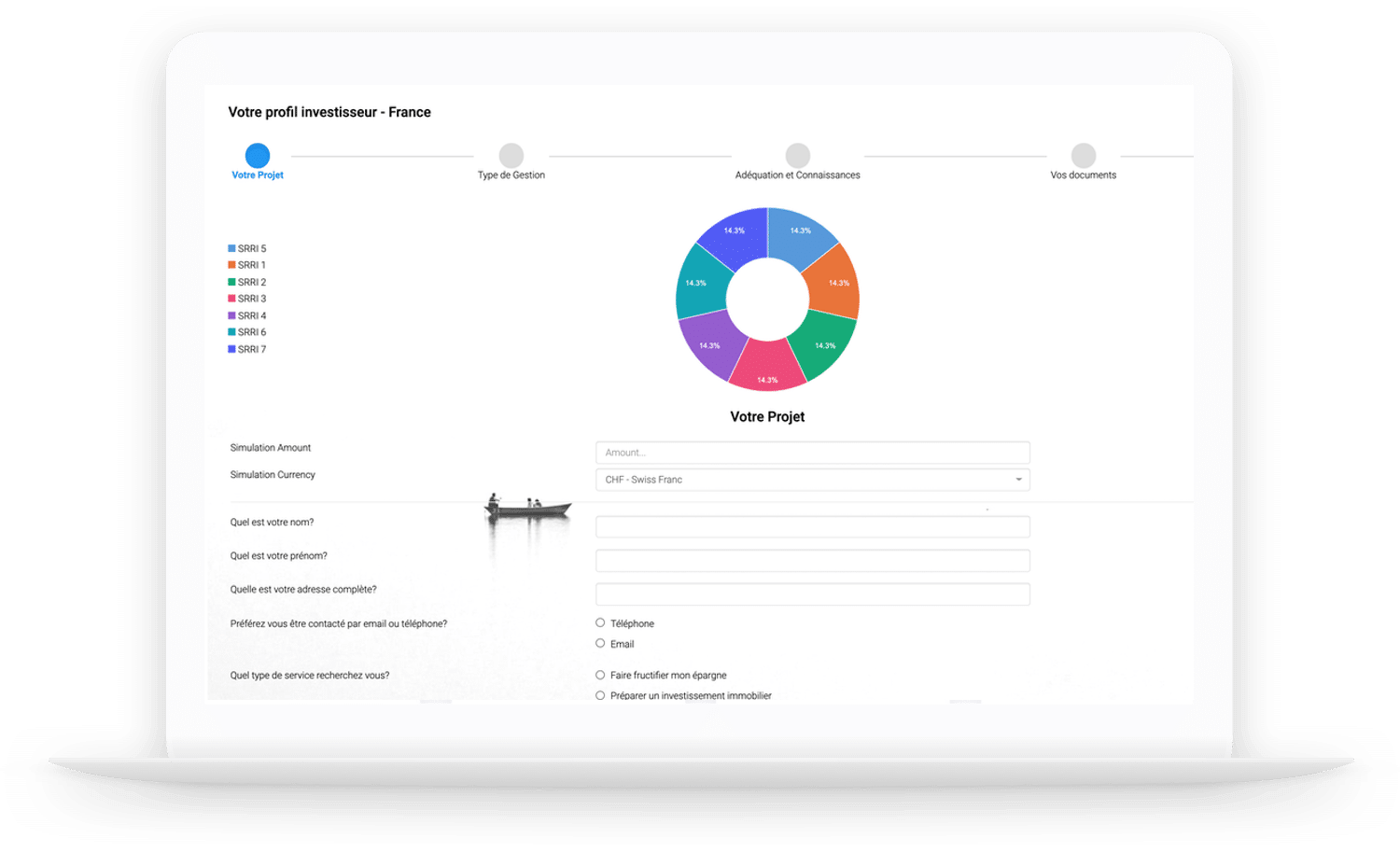 Mortgage loan officers work hard for the money, and so should their CRM. It's a tough job to find that perfect system with all the bells and whistles at an affordable price. Luckily, we've got your back with our own mortgage lead management software – InvestGlass Lead Manager! InvestGlass is easy to use, provides you with everything you need in one place, and won't break your bank account. 
Connect your mortgage broker CRM software to InvestGlass
The challenge for a mortgage loan officer is finding the perfect CRM software – affordable, user-friendly, and with all the right features.
Luckily for you, we've got your back! We offer a mortgage lead management system that ticks all those boxes. InvestGlass offers lead capture tools to capture new customers. Forms can capture loan process, real estate bid, and referral partner marketing information.
Digital onboarding is easy to create and does not require programming. You can connect the digital solution to the digital signature solution such as Connective and Sysmosoft.
The lending process and mortgage process are easily integrated into InvestGlass mortgage CRM. Mortgage brokers, reals estate agents, will work easily with collaborative tools collecting all mortgage loans and key information for the mortgage business.
All operations are stored in the mortgage CRM and organized with workflows and sales force automation will ensure that the loan process is respected.
Inside the CRM, the mortgage officer will loan reports – in form of contact reports and attachments will be stored in our Swiss Cloud document management solution. Your loan document management can also be recorded on your premises. InvestGlass CRM software offers both cloud-based and on-premise.
Digital onboarding forms
The digital onboarding forms are used for gathering information on new customers, making the process quick and easy. With our mortgage CRM software, you can easily collect loan application information, real estate bid forms, and referral partner marketing data. Our digital onboarding tools make it simple to get started and guarantee that all your information is stored in one central location on Swiss servers.
The digital forms are made to fit :
You don't need a loan origination software as InvestGlass forms a fully customisable and adapted to the mortgage lending industry. The forms are connected to the loan pipeline management and referral partners marketing tools via smart automations.
The mortgage industry needs perfect marketing tools
InvestGlass is not only a mortgage CRM, it's also a powerful email marketing tool that individualizes marketing campaigns based on customer relationship history. This is what we call automated marketing. Automated marketing is needed because the mortgage industry is not an easy one to work in.
Renewed marketing campaigns are needed because the traditional ways of advertising do not always work as well, and instead need a more personalized approach.
The individualized marketing will be based on recent customer relationship history with renewals at stake – it will be smarter than naive mass-market Based on the mortgage process or stage pipeline ( customer lifecycle) your customers will receive different messages. InvestGlass campaign managers track who opened your email reducing marketing efforts to A B email marketing strategies that works! Automated email marketing campaigns are easily customisable from the CRM fields that you created. If you are using SMS, InvestGlass offers a multi-channel marketing tool to push hyper-targeted messages to each customer.
InvestGlass mortgage CRM can connect to existing legacy systems thanks to an API or via a flat-file upload. Integrated compliance modules are enabled with InvestGlass App and Iframe system.
Are you ready to test #1 marketing automation tool and boost your revenues?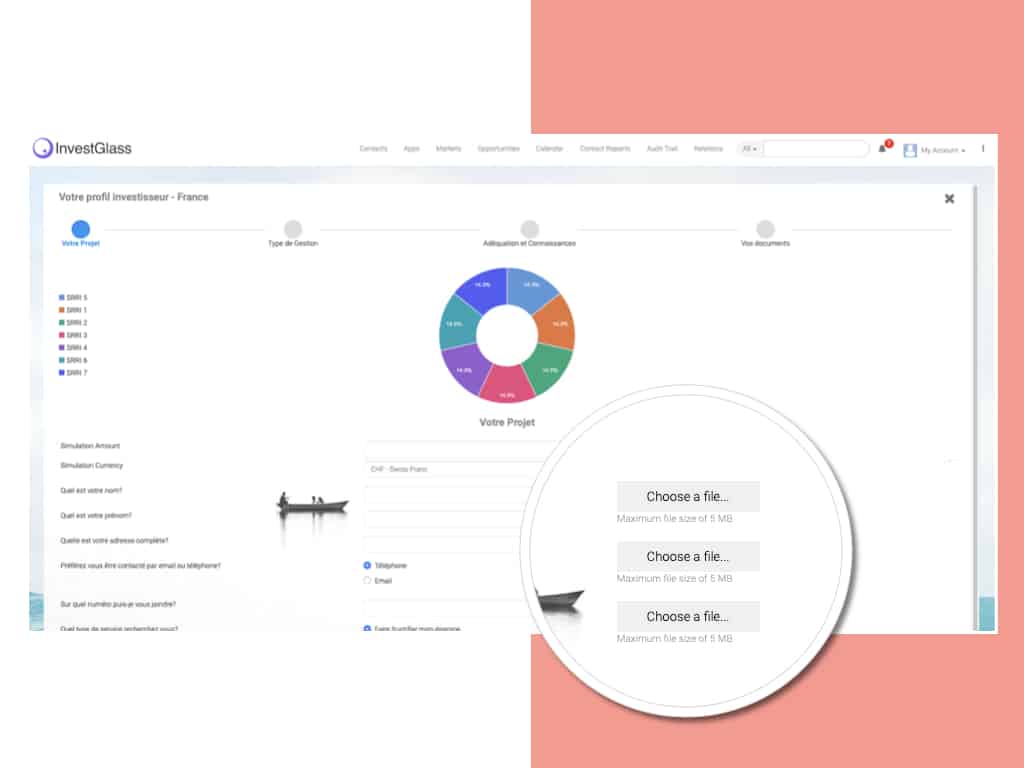 Pre-built onboarding
InvestGlass's digital onboarding feature helps you collect information from your new prospects and existing clients quickly and easily. It's the perfect tool to collect customer information and we built it for the mortgage industry with a risk metric feature. InvestGlass allows you to create digital forms that can be completed by your prospects and clients online. InvestGlass also includes a digital signature feature, so you can collect signatures electronically. This makes it easy to get the information you need from your prospects and clients without having to print out forms or send them by mail. InvestGlass's digital onboarding feature is a valuable tool for any investor who wants to save time and simplify the onboarding process.
Pipelines for mortgage brokers
InvestGlass's pipeline management makes it easy to stay organized and track progress, empowering you to make informed decisions about your business's future. With this valuable tool at your disposal, you can confidently forecast and plan for growth, knowing that you have the data to back up your decisions. The pipelines are flexible to reflect any sales process: support tickets, onboarding client journey, bank statements, and automated workflows. The sales pipeline will present the expected deal flow and revenues. The tool is suited for small businesses as well as for larger organizations. The managing director will appreciate the reporting view to analyze data in a few seconds.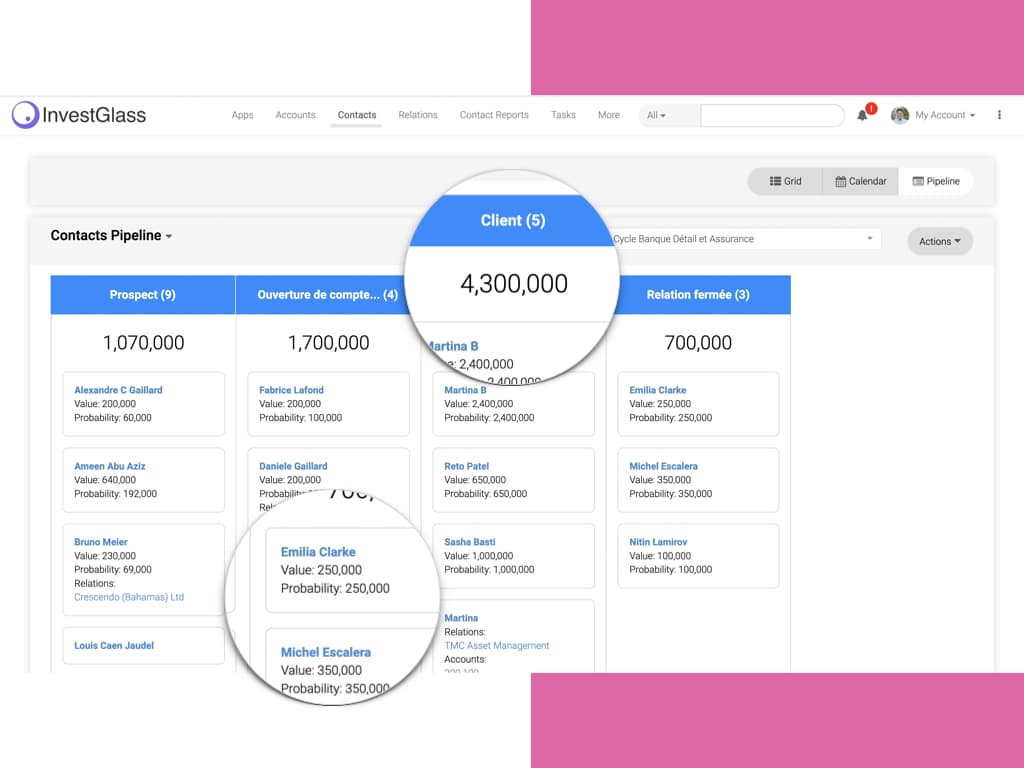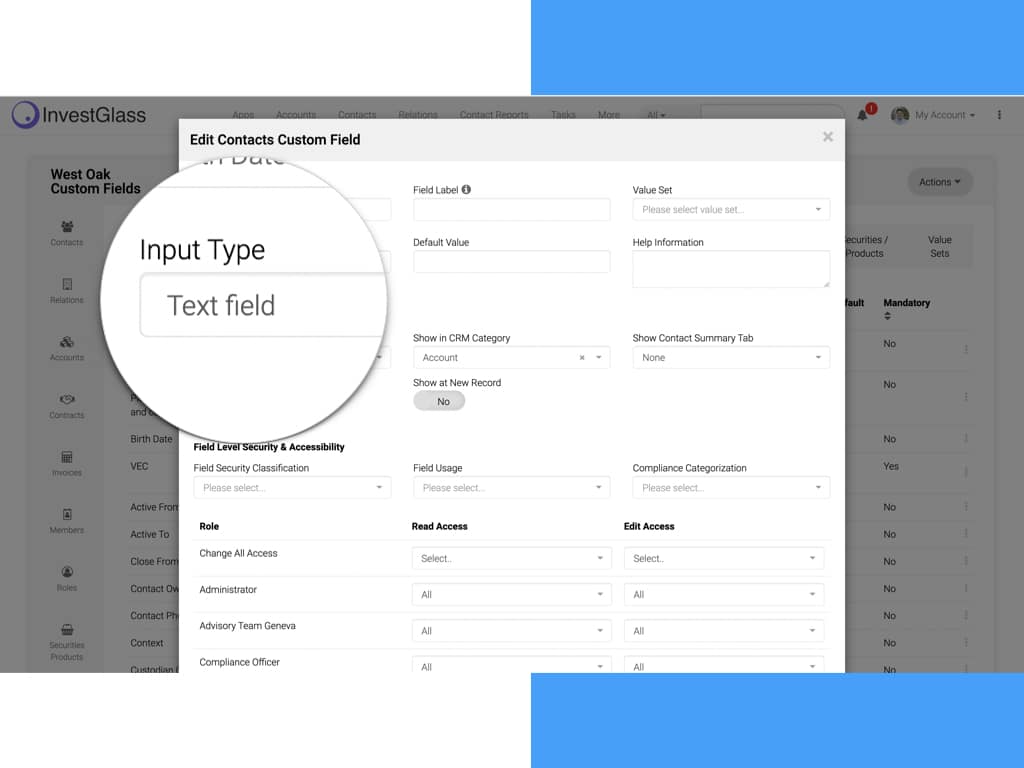 Fully flexible CRM
InvestGlass is a flexible CRM that can be customized to meet the specific needs of your business. The no-coding characteristic makes it easy to use, even for those with no prior knowledge in coding. You can customize each of the standard tabs and types of records, including adding custom fields and setting page layouts. InvestGlass also provides a wide range of reports and dashboards to help you track your progress and make informed decisions about your business. Whether you're just getting started or you're already an experienced user, InvestGlass is the perfect solution for you. The CRM will match multiple purposes: project management, marketing efforts, team collaboration.
Fundraising and automated marketing
Data-driven decision making is critical for success in any fundraising process. However, these days most software used by fundraisers is either too simple and doesn't offer enough features, or it's so complex that it's hard to use. That's why we developed InvestGlass - a software solution that offers the perfect balance of simplicity and power.
InvestGlass' automation capabilities are some of the best in the business. InvestGlass takes your CRM and makes it work for you by automating many of the tedious and time-consuming tasks that come with managing a CRM. Based on client contact information, the automation tool will automatically spot quality leads, send notifications which will help you to increase sales.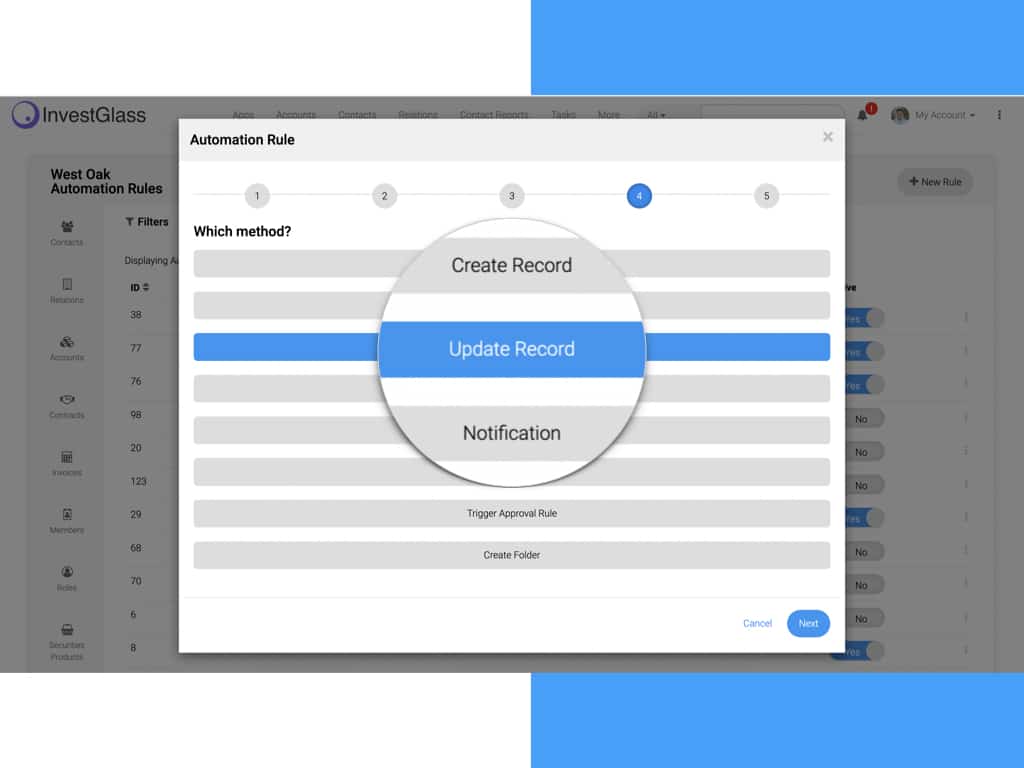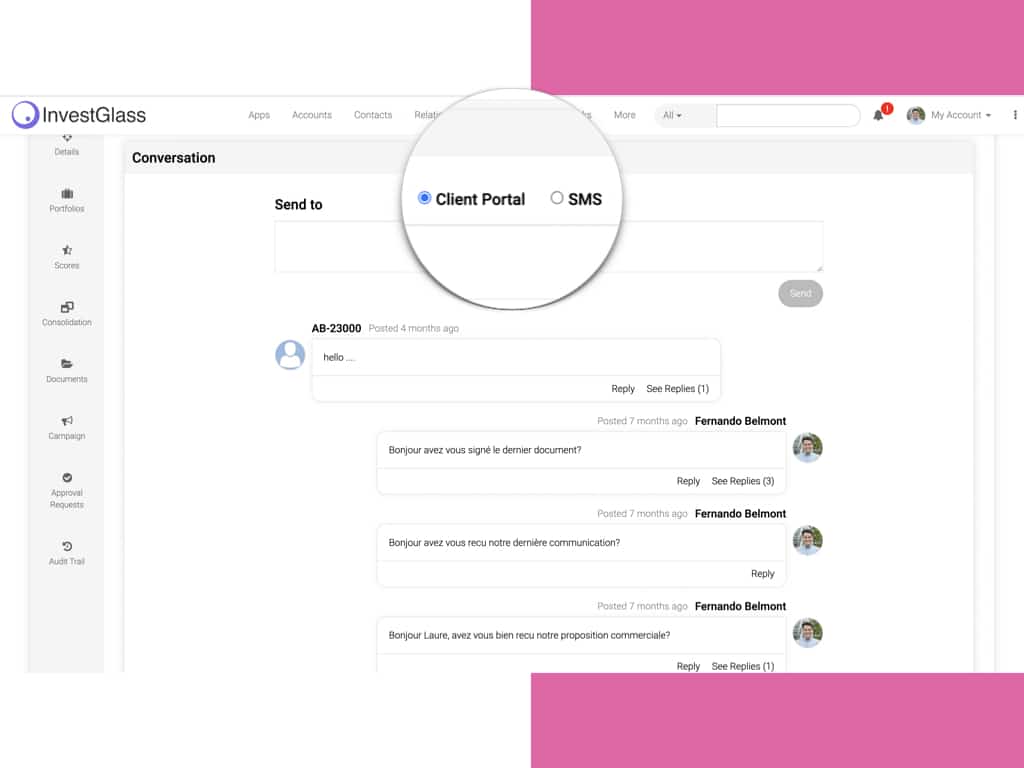 Email and SMS communications
Every successful fundraiser knows that communication is key to keeping potential investors updated and informed about the progress of their fundraising campaign. However, maintaining regular communication can be time-consuming and difficult to manage manually.
InvestGlass provides an easy-to-use email and SMS communications platform that makes it simple to keep your investors updated on your progress.
Email and SMS sequences can be set up to automatically send messages at predefined intervals. This ensures that investors are kept up-to-date on the progress of your campaign, without requiring any manual effort on your part.
Record permission and Audit
Industry regulations compliance is an important part of any business. InvestGlass allows you to grant objects permissions to control the access to your data fields and records. Each object can be set up with a specific level of access to create, read, edit, and delete those records. This level of access will define the extent a user has to manipulate a field record.
Field Audit Trail lets you retain archived field history data up to 10 years from the time the data was archived.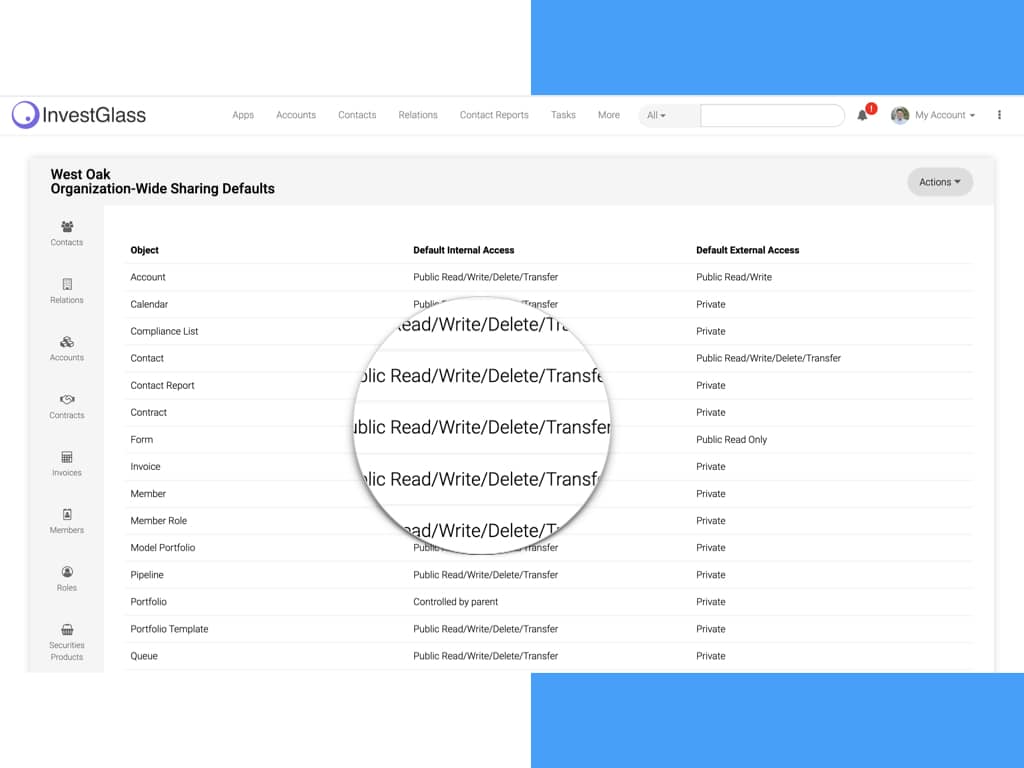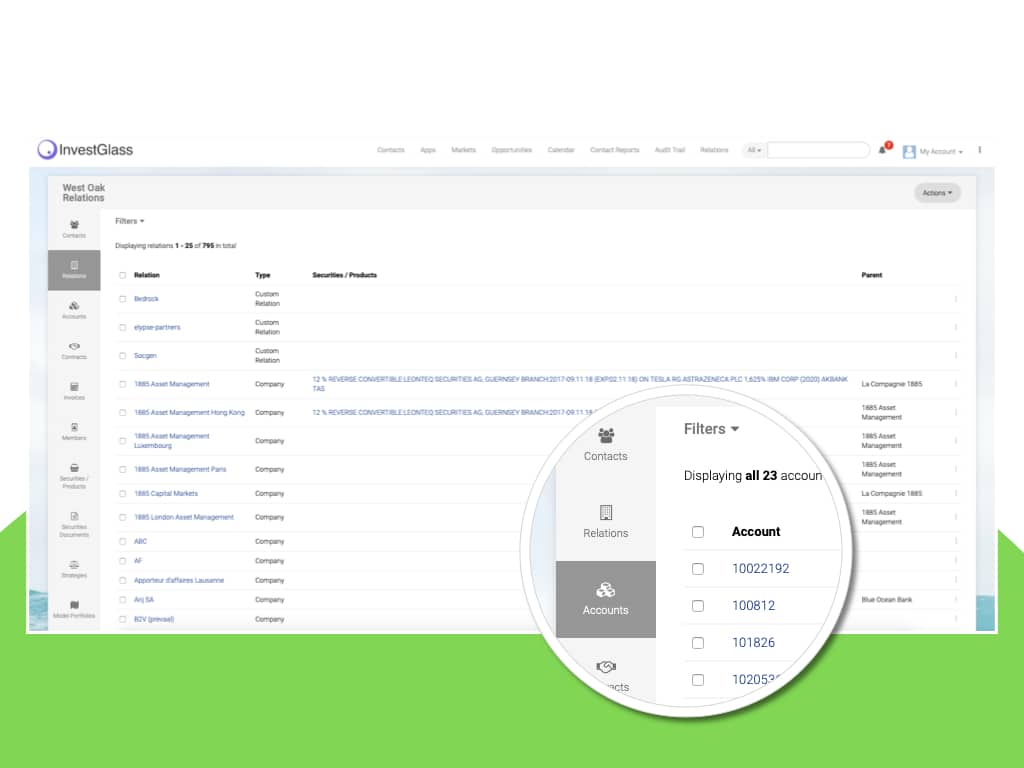 Relations and Accounts
Relationships, Contacts and Accounts are key components of customer relationship management. Clearly, the details needed as well as the accessibility to said details can be used for assessing the quality of a CRM. The CRM is fully flexible so you can store all your data in the cloud-based solution.
Calendar
InvestGlass's Calendar is a great way to keep track of all your clients' meetings in one place. The Calendar automatically generates all your clients saved meetings into one generic calendar, so you don't have to miss a beat. You can also add, edit, or delete events manually. InvestGlass also categorizes events by customizable colors, so you can easily keep track of what's going on. And if you need a little privacy, InvestGlass also has a clients-only calendar.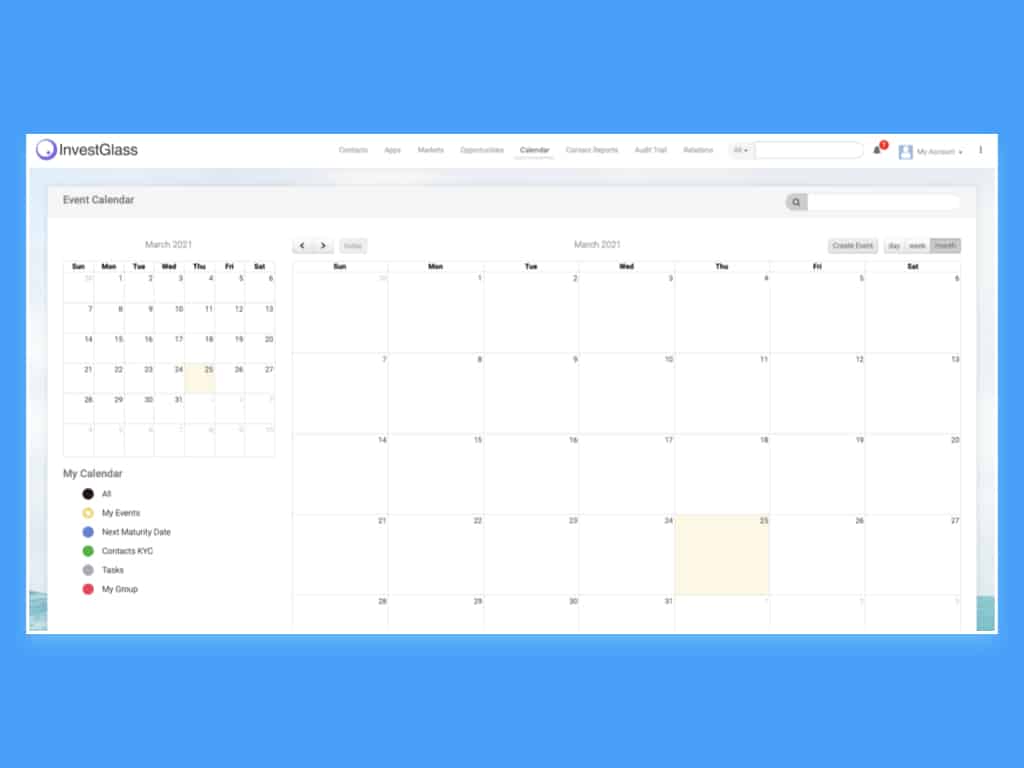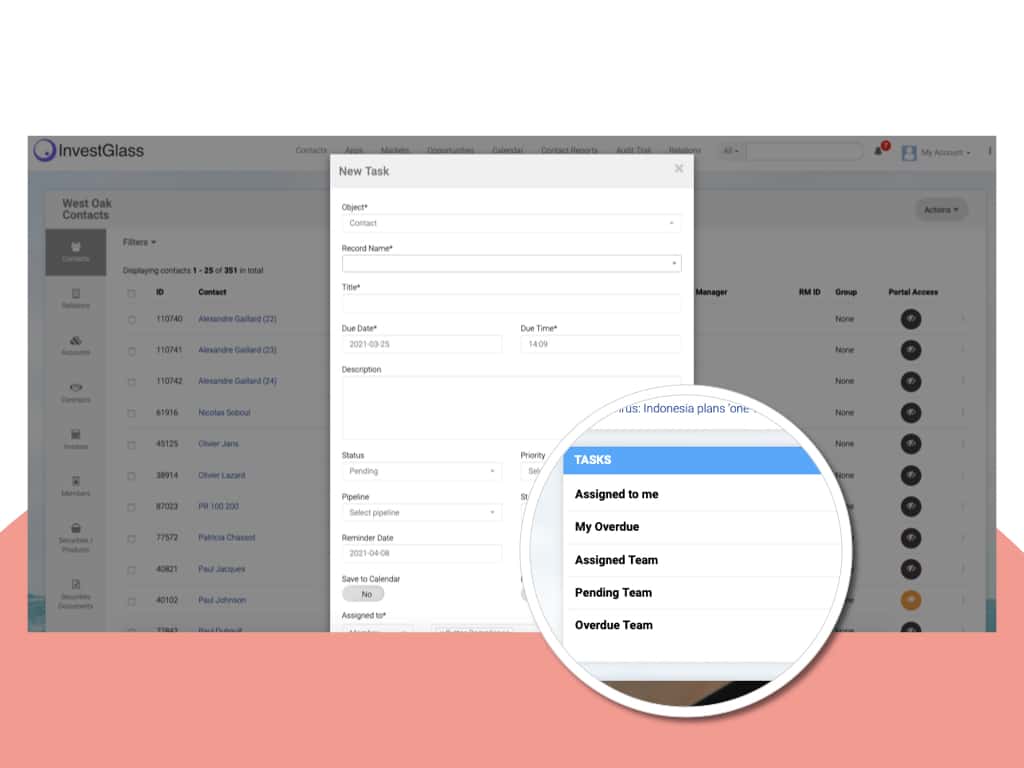 Task management
InvestGlass task automation can help you keep track of the required actions and, if chosen, get a reminder in your calendar. Tasks may be created around four focus objects: Account, Contact, Portfolio, and Security/Product. A task can be prioritized, connected to a pipeline, and assigned to any member of your team. This allows you to keep track of the required actions and, if chosen, get a reminder in your calendar. InvestGlass automates the tasks for you so that you can focus on other things. Additionally, InvestGlass offers templates for different types of tasks, which makes it easy to get started. InvestGlass is a great tool for anyone who wants to save time and be more organized.
Fundraising Campaign
Select contact into a campaign and start engaging with each contact. The campaign will help you focus on your goals, and make sure no contact is left behind. The software provides a streamlined process for fundraising. It includes everything from creating a campaign to tracking progress and engaging with investors.
Connect your voice over IP to contact each participant. The software will automate repetitive tasks, leaving you more time to focus on your goals. Measure your campaign success based on commitments and average deal size.
InvestGlass CRM software is a powerful tool gathering all you need in one place to manage your fundraising campaign and achieve success. Client information and portfolio management are gathered into Campaign key features. InvestGlass offers a portfolio management tool that will help your support team track received payments and transactions.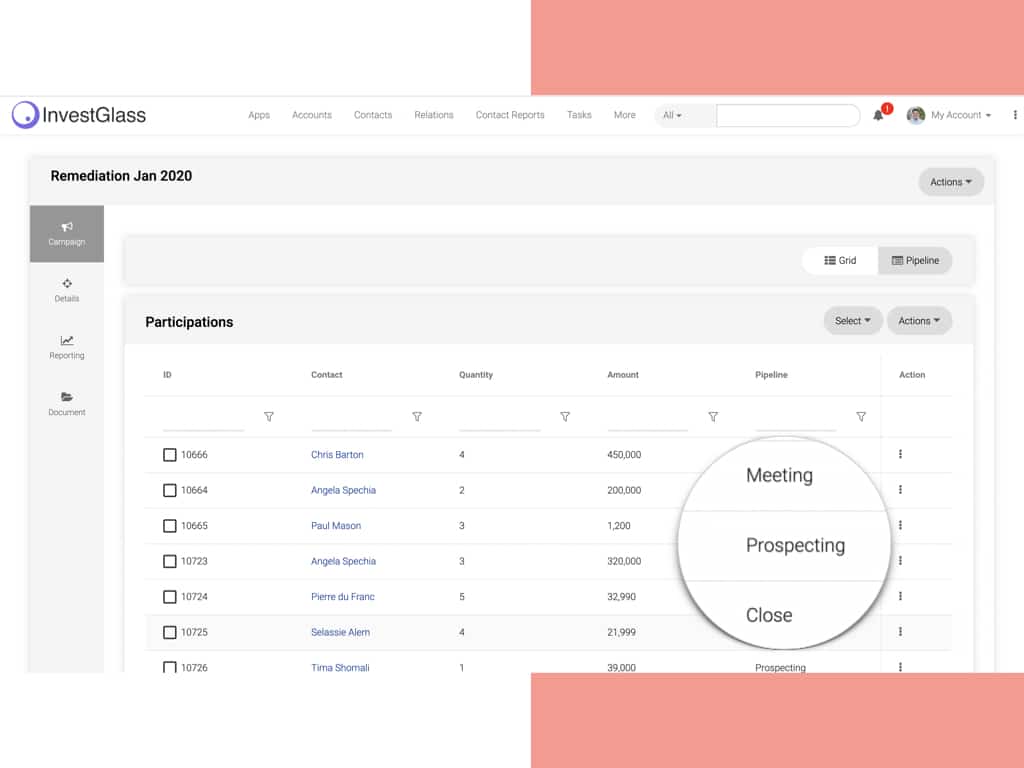 Start a free trial of the Swiss #1 cloud service solution.
No credit card required. No software to install.